Overview
Hot Springs Peak is located north of Golconda Nevada which is between Winnemucca and Battle Mountain. What makes this relatively gentle mountain range of interest is that the range highpoint may or may not actual have 2000 feet of prominence. It depends on the list you are following. For example, on the
Lists of John website
, it is listed as having 2000 feet of prominence as #172 on that list, but on peakbagger.com, it falls just short with a prominence listing of 1960' and thus falls short of making the
2000' ranking list.
I personally follow both lists so being on one of the lists was reason enough for me to go pursue this one. The peakbagger page uses clean prominence which is different from the prominence used by Lists of John. Confusing? Yes, a bit.
Moving on from the aspect of being important due to being on a certain list, this area is interesting in that it is totally treeless and somewhat remote. If you aren't motivated by prominence, then perhaps you might be intested in the fact that its range highpoint is not a difficult "grab". Located on BLM land, there is no access problems to deal with and roads (dirt) take you within a couple miles of the range highpoint. This is a good one to "grab" if you are traveling on I-80 and are looking for a break as you travel across the state. It is also a good one to "grab" when snow blocks the access to higher mountains in the area. Yes, I am doing my best to "sell" you on this one but probably you quit reading about this one when you saw the profile picture since it really isn't very photogenic or attractive. This range would be spectacular in perhaps Kansas with its elevation of almost 7000' but not so much even in Colorado, Idaho or Montana. So, welcome prominence peakbaggers, this page is for you.
Getting There
Best approached from I-80, exit 194 in Golconda and head north towards Eden Valley. After a half mile, cross railroad tracks and turn left, crossing another railroad track after a bit more than a mile. After you cross the Humboldt River on a nice bridge, the pavement ends and when I was there, a good graded road begins. The road will take you to the Eden Valley Road and be aware that this is open range country and cattle are often on or near the roadway.After 20 miles or so from I-80, watch for a dirt track that heads toward the range highpoint. If the track is muddy, park and walk from the Eden Valley road. This track doesn't show on older topo's but we found our way using this one and some other ones up to near Cherry Spring (which is marked on older topos). The driving total from the main road was about 2.25 miles and that left us with a hike of 1 1/3rd miles. The turn off was at waypoint 41.1917 117.3951. Consider the trailhead to be near Cherry Springs
Cherry Spring trailhead 41.2013 117.4295 Elev 5660 (lat/long nad 27)
Route
If you can drive to near Cherry Springs as I did, this is a very easy hike. The elevation gain was under 1300 feet and the round trip distance was under three miles. See the map above. However, if the roads are muddy, consider parking just off the Eden Valley road and hiking it from there. Both Ken Jones and Dennis Poulin have listed trip reports on their routes and have included helpful GPS tracks. For them, the elevation gain was around 2300 feet and around 6 miles round trip. Even from the road as you can see, it isn't a tough hike. As Dennis mentions on his trip report, the biggest concern would be not stepping in one of the numerous badger holes and I would add to keep an eye out for ticks in the spring and perhaps early summer.
Summit register and views
Peakbagger
records ten visits to this summit by its members and of course they are the same folks that you see on almost every register of prominence peaks in Nevada. The original register was placed by Gordon MacLeod and Barbara Lilley but that register is in very poor shape and a newer one was placed in 1995. The newer was placed in 2008 by John Vitz and is also signed by Ron Moe, not shown on the peakbagger listing.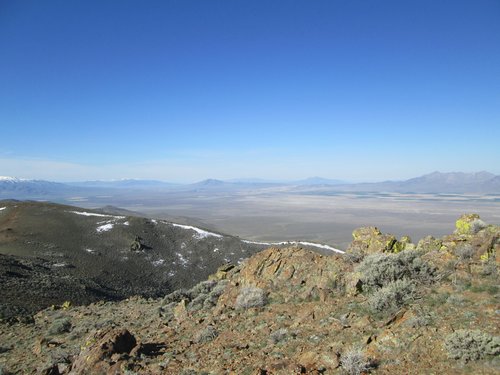 Red Tape
None that I am aware of. This is BLM land and there is no indication of access problems for the area you would be hiking in.
When to Climb
This one could probably be climbed in any season with exceptions created by too much snow, too much rain or too much heat. Don't drive out to the Eden Valley if there has been a big snowfall. Leave this one for a different time when there isn't snow to contend with.
Camping
You could car camp in the area using the "leave no trace" ethics but more than likely, you won't find it necessary to camp overnight for this one. Motels available in nearby Winnemucca and Battle Mountain. No services are available in Golconda except for a bar.
External Links
Add External Links text here.