Overview
Geographical classification:
Alps - Eastern Part
>
Dolomites
>
Tre Cime di Lavaredo
>
Innerkofler Route-Cima Ovest di Lavaredo
Innerkofler Route or Normal Route (Cima Ovest di Lavaredo) - A long trip on the tracks of the pioneers
Who doesn't know the
Tre Cime di Lavaredo
? This three stunning peaks just represent the symbol of the Dolomites: a world famous and celebrated scenery, well known also by the simple tourists. The
Innerkofler route is the normal way to reach one of this superb peaks, Cima Ovest, the Westernmost summit amongs the three
: it's a complex trip on a historic route,
the first one realized in 1879 on Cima Ovest di Lavaredo by the great Alpine Guide Michel Innerkofler, with his pal G. Ploner,
who found a relatively easy way to reach this magnificent and impressive summit with masterly intuition. As a matter of fact the climb develops itself on an easy ground among most difficult and severe walls, giving a strong and unforgettable sensation of a logical way to be followed to reach a very important summit. More than a century after the first ascent this route is still a quite profitable destination in a wonderful setting.
Tre Cime di Lavaredo Group -
"Tré Thime"
in ladin dialect,
"Drei Zinnen"
in German - is located in a secluded situation on the boundary ridge between Bolzano Province on the North side and Belluno Province on the South side. During the WWI
Tre Cime di Lavaredo were situated on the
war's front between Austrian and Italian troops
; several military ruins are still visible inside the massif and particularly on Monte Paterno.
History


Michel Innerkofler
(1848-1888) was a famous Alpine Guide from Sesto in Pustertal, a resolute conqueror of the most difficult summits of the Dolomites.. Head of a family of famous guides and one of the strongest mountaineers of his era, he counts many important climbs in Eastern Dolomites in addition to Cima Ovest di Lavaredo, as Croda dei Toni, Cima Piccola di Lavaredo, Cristallo North Face and Croda da Lago.
Getting there
Road access
The best starting point is
Misurina m. 1752
, a small village lying on the shores of the namesake lake, which can be approached from Trento or Bolzano (Adige Valley) following the Brennero Motorway - exit Bressanone - and then taking the Val Pusteria as far as Dobbiaco; from Dobbiaco follow on the right the road to
Val di Landro
, reaching Carbonin mt. 1432 and Misurina. The Lavaredo group can be approached also from Belluno via Longarone, Cortina d'Ampezzo and Tre Croci Pass.From Misurina a private toll–road leads to the Rifugio Auronzo m. 2330, situated at the road's end in an amazing position below Tre Cime di Lavaredo South faces. Parking.
Walking approach
From Rifugio Auronzo m. 2320
reach the highest parking, where it starts a good path following the water pipeline and skirting Cima Ovest foreparts. The trail is quickly getting to
the third scree gully, situated
between Cima Ovest on the left and Cima Grande on the right
, and rising steeply towards
Forcella della Cima Grande,
a characteristic saddle showing a great war-cave, where a superb view over Tre Scarperi group is appearing. About 10 meters before getting to the saddle follow on the left-hand side a scree gully. Starting point of the climb. (0,50 minutes from Rifugio Auronzo).
Innerkofler Route report
Innerkofler Route or Normal Route report
Summit altitude: m. 2973
AD, UIAA II and III, max IV (crux)
Climbing length: 650 m.
Equipment: a few pegs along the pitches, various equipped belays and abseils'anchors
Exposure: S and W
First ascent: Michel Innerkofler – G. Ploner 1879, august 28th
Starting point: Misurina (BL) m. 1752
Huts: Auronzo Hut m. 2330
A fine route on good rock leading to a superb and panoramic summit. It's convenient to climb roped up only six pitches, as a matter of fact the route's remaining part can be climbed loose or proceeding "tight rope".
Starting point about 10 meters before getting to Forcella della Cima Grande (orange marks), below an obvious scree gully.
Climb the gully, dividing itself into three branches after about 70 m.; follow the left one, leading to a scree terrace, slanting towards left below the peak's South face. Climb a rocky gully (II), then rise along a trail leading towards a fine white wall with very good holds. Follow it with pleasant climb (II, III), then head towards right along a small ledge, reaching the main gully (II) some meters below the saddle between Cima Ovest and its South forepart named Croda degli Alpini. A steep wall can be climbed along a fine chimney (III) leading to the great ring-like ledge, a non-stop ledge which surrounds East, South and West sides and a North face's part. Follow the ledge towards left (West) by walking an after about 120 meters, nearby a white block, begin climbing up again, at first directly, then heading towards left and in the end traversing again towards right (cat's move, III). Climb a small chimney (III-), then some steps slanting towards right (II), reaching a dark ledge. Follow it towards right, climb a steep little wall (III), then traverse right reaching a new chimney. Climb it to a narrow saddle; from here climb a steep wall (IV, crux) leading to the summit ridge. Easier rocks lead to a steep but short wall; climb it (III+), then skirt two detached needles on the left-hand side getting finally to the beautiful summit (cross and summit book). A breathtaking view towards Cima Grande dark and overhanging North face is appearing.
Descent: reversing the same route, mainly climbing and abseiling in the crux pitches (abseil anchors in place)
Essential gear
Ropes 1x60, helmet, some friends and slings, some quickdraws.
Huts

- Rifugio Auronzo
m. 2330
- Forcella Longeres (CAI Sez. Auronzo)
Other huts in Lavaredo Group: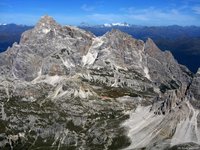 - Rifugio Locatelli Innerkofler
m. 2450
- Rifugio Lavaredo
When to climb
Normally the best period goes
from middle June to middle September
.
Red tape
No particulary restrictions in climbing; all the group is situated inside Northern Dolomites Area, one of the Dolomites' nine areas admitted in the year 2009 in the list of
Unesco Natural Sites
.
More info about Dolomiti Unesco World Heritage:
Dolomites living mountains
Dolomiti Unesco
Guidebooks and Maps
"Arrampicare a Cortina d'Ampezzo e dintorni – Le vie più belle nelle Dolomiti"
by Mauro Bernardi
Athesia Editore

"IV grado in Dolomiti"
by Emiliano Zorzi – Idea Montagna Editore
"Dolomiti Orientali" Vol. I Parte II
by Antonio Berti – Guide dei Monti d'Italia CAI-TCI
Map:
Tabacco n. 010 – Dolomiti di Sesto
1:25.000
Meteo
ARPAV DOLOMITI METEO
DOLOMITI METEO - VENETO
ARPAV DOLOMITI METEO
Phone +390436780007 fax +390436780008
CENTRO VALANGHE DI ARABBA
Phone +390436755711 fax 043679319 e-mail cva@arpa.veneto.it