Overview
Magic Fern is a high quality 2 pitch 5.9 crack climb located on the Private Idaho cliff at Index. This route features good clean crack climbing, excellent protection, and great rock. Recommended.
Getting There
Drive to the town of Index (see the main page). Park in town then hike over to the railroad crossing. Follow the railroad tracks to the west until you see a trail exiting off into the forrest to the right. There will be a small wooden bridge to cross the stream here.
Hike up the trail for 10 minutes until you reach the junction. Turn right here and continue up and to your right to reach the base of the Private Idaho cliff. The route starts in the middle of the cliff, look up to find the obvious detached pillar about 70 feet up.
Route Description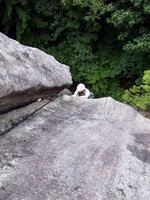 Pitch #1
- 5.9 - Start by jambing the obvious clean fingercrack up and to your right, the crux is right off the ground. Pull around the corner and up into the slot. Power directly over the roof (5.8) using stemming, jambing, and the rail. Now jamb the steep handcrack (sustained 5.8) for 30 feet to the ledge. Belay off the fixed anchor. 130 feet
Pitch #2
- 5.9 - Start this pitch by traversing around to your left. Do not go straight up, this is another route. Jamb the steep handcrack (5.9), then pull up onto a less steep section and jamb the finger to thin hands crack (5.8 / 5.9) to reach a ledge. You can belay here or continue up and to the right to reach the belay / rappel bolts. 70 feet
Down
- Rappel off the bolts all the way to the ground. A single 60 meter just barely makes it.
Essential Gear
Doubles to #3 Camalot
Set of nuts
A few slings and draws
60 meter rope
External Links
Add External Links text here.
style="display:block"
data-ad-format="autorelaxed"
data-ad-client="ca-pub-6523272176520096"
data-ad-slot="7132222476">