Overview
Mont Gioberney is nice horse-shoe looking peak located in
Massif des Ecrins
.
Precisely in Vallon de la Pilatte, North West of Les Bans.
It can be a great summit for beginners as it offers a very easy normal route, with a small glacier crossing ; as well as a nice rock & snow ridge for mountaineers with a bit more experience.
Getting There
From the little town of La Bérarde (right in the middle of Massif des Ecrins), walk South to
Pilatte Hut
(about 12km away and 800m up).
Very well indicated, no chance to get lost.
From the hut to the different routes see below.
To reach La Bérarde, the easiest is by car.
Twice a day in summer, buses drive from Bourg d'Oisans (about 40km NW of La Bérarde).
Red Tape
Gioberney is located in Parc National des Ecrins.
As in any park you have to be very respectful with nature, and take away your trash with you.
Sleeping
You can either camp neither the Pilatte Hut (quite cold as it is quite windy there, and 2577m high.
Or you can sleep and/or eat in the Hut, warmly recommended. All details on the
Club Alpin Français
website.
Routes to the Top
There are two usual routes to get on top of Gioberney :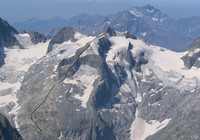 1. NORMAL ROUTE
F / 800m / glacier crossing and ridge walk
- Leave Pilatte Hut towards North for a few hundred meters, then start walk up on right-hand side. The path is marked.
- After about an hour you will reach Glacier du Gioberney.
Easy crossing with few crevasses.
- Another later you will arrive on Col du Gioberney (3251m).
From there, a very easy ascent on the South ridge to reach the summit (about 20-30 minutes)
- Descent on the same way.
2. NORTH-EAST RIDGE
PD / 800m with 200m climb level II with a very short IV section / glacier on the way down
- The start is the same as the normal route
- About half-way to the glacier you will two ridges in front of you (and a third one far on the right, wider than the other two).
When you face these two ridges you will climb on the right one.
- It's a II+ climb at the beginning so you can really go for the easiest path.
- After about 100m of ascent you will reach a very nice snow ridge.
Crampons can be useful for that part if the ice is frozen.
- At the other end of the snow ridge, you will face a 10-15m wall to climb.
Level IV with 3-4 pitons in the rock.
- Once on top, the way down is via the normal route.
There is a third route in Vallon de la Pilatte to climb Mont Gioberney, from
Carrelet Hut
, rather than Pilatte :
3. VOIE DU MUR DE GLACE
AD / 1450m with 100m climb of up-to-70° ice climbing
Start very early for good ice conditions as the sun gets to it quite quickly.
- From Carrelet Hut walk up the Glacier du Says (about 1000m), to reach the second Serac (the first one is too dangerous and the third one too far high).
- 3 to 4 pitches of ice climbing on the right part of the Serac.
The first pitch is the most technical.
- Once on top of the Serac, you walk on the right-had side (the summit will be on your left), for about 300m up.
- You will then the summit on its short South ridge.
- Descent on the normal route.
Essential Gear
For routes 1 and 2 :
- 1 50m rope with harnesses
- 1 ice-axe with crampons
- 4 quickdraws and a couple of slings
- No abseiling but glacier crossing (ice screws necassary in case of crevasse rescue).
For route 3 :
- 2 50m ropes with harnesses
- 2 ice-axe with crampons
- quickdraws, slings and ice-screws for ice climbing
- No abseiling but glacier crossing
Books and Maps
For routes 1 and 2 :
Massif des Ecrins, les 100 plus belles
by Gaston Rébuffat
For route 3 :
Ecrins, ascensions choisies AD à D
For routes 1-2-3 :
Guides du Haut-Dauphiné
And a good IGN Map :
Meije/Pelvoux 3436ET