Overview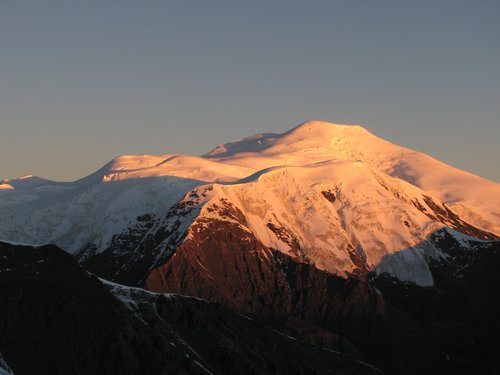 Noijin Kangsang
(7'206m / 23'641ft) is the closest major Himalayan peak to Lhasa, the capital of Tibet.
It belongs to the
Lhagoi Kangri belt
, a heteroclite juxtaposition of sub-ranges squeezed between the Yarlung Tsangpo (Brahmaputra) river to the north and the High Himalaya to the south.
Noijin Kangsang is the highest peak of the massif extending around the Karo La group, to which belongs
Kaluxung / Kalurong (6674m)
, and several other little know snow-capped mountains over 6'000m, many of them still unclimbed.
The massif is conveniently accessed from the Nagartse – Gyantse road near the 5'036m high Karo La pass. The lips of two major glaciers dropping from Kaluxung North Face and Noijin Kangsang South Face reach to within a few hundred meters from the highway. It is located near to the large, scenic Yamdrok Yumtso Lake, one of the main Tibetan holy lakes.
The approach to Noijin Kangsang offers very fine view to the mountain from both the Northeast (approach via Gampa La) and Southwest (approach via Gyantse), but the mountain can also be spotted very briefly from the main road Shigatse-Lhasa along Brahmaputra River near Ringpuk.
Name, Altitude and Prominence of Noijin Kangang
Noijin Kangsang
is known with many variations such as
Nojinkangsang, Norin Kang, Nojin Kangsang, Nojin Kangtsang, Ninchin Kangsa, Ningqin Kangsa, Ningchin Kangsha, Nodzinkangsa, Nozin Khangsa
and
Noijin Khangsang
. Other authoritative websites (
8000ers.com
,
viewfinderpanoramas.org
,
peaklist.org
) use the name
Norin Kang
. In this page, we chose the name of Noijin Kangsang, as it appears on the 1:50'000 Chinese map.
There are confusing information about the altitude of Noijin Kangsang, with different sources giving an altitude of 7'191m, 7'206m, 7223m and 7'252m. The most detailed map gives an official altitude of 7206m.
Prominence of Noijin Kangsang is 2'160m (7'087ft), with a saddle located at Karo La (5'036m) connecting with higher peaks at the Tibet-Bhutan border.
First ascent and current climbing route
Noijin Kangsang was first climbed on 28 April 1986 by Chinese-Tibetan team from the South. Currently, most expeditions ascend it via the East ridge, which does not presents important technical difficulties and objective dangers.
Recently, it has gained more attention with a few commercial expeditions attempting its summit each year. However, it remains a very interesting expedition goal for small groups with low budget due to its easy access and uncomplicated logistic requirements.
Getting There
See Red Tape section for travel restrictions in Tibet.
From mainland China to Tibet:
By train.
Since the opening of the Qinghai-Tibet railway in 2006, train has become a very convenient way to travel to Lhasa. The new line between Golmud and Lhasa crosses the Qinghai-Tibetan plateau in a 1142km journey, most of it above 4'000. At 5'072m, Tanggula is the highest railway pass in the world. Trains are very comfortable in both first class (soft sleeper) and second class (hard sleeper). Third class (hard seat) is much cheaper and also OK if you don't mind sitting for quite a long time. During the peak season, trains are usually fully booked, so tickets need to be purchased as soon as they are on sale (usually 10 days in advance). There are currently direct trains to Lhasa from Beijing (47h), Chengdu (48h), Shanghai (49h), Guangzhou (56h) and Chongquing (47h). Trains can also be boarded on the way at Xi'an, Lanzhou, Xining or Golmud.
By road.
Four main roads are connecting Tibet with Xinjiang, Qinghai, Sichuan and Yunnan Provinces. These roads can be officially travelled by organised tour groups only, but an increasing number of independent travellers and cyclists are succeeding to travel through.
Flying.
Daily domestic flight to Lhasa from main Chinese towns (flights via Chengdu).
From Kathmandu (Nepal) to Lhasa:
Overland.
Foreigners can enter Tibet at the Dram/Khasa/Zhangmu border only if they are member of an organised expeditions or tour group. The travel on the friendship highway to Lhasa offers fine view on Shisha Pangma (8027m), Cho Oyu (8201m) and Chomolangma (8848m).
Flying.
Daily flight Kathamdu-Lhasa from spring till autumn. In winter, once or twice weekly.
From Darjeeling (India) to Lhasa:
Overland.
The historic trade road between Darjeeling in Sikkim and Lhasa passing through Nathu La, Yadong and Gyantse has reopened for trade in 2006 after 44 years of interruption. It is currently closed for travellers, but according to official statements, it should open for tourism in 2011.
From Lhasa to Noijin Kangsang BC
Noijin Kangsang is located around 185km south-west from Lhasa, near the main road between Nagartse and Gyantse. You can hire a vehicle in Lhasa (Landcruiser is not needed) or take a bus from Lhasa to Nagartse, and then from Nagartse to Gyantse.
The last stretch has been asphalted at the end of 2007, shortening the travel to about three to four hours. Leaving from Lhasa, the road first crosses Yarlung Tsangpo River (Brahmaputra), before climbing Gampa La (4800m), where there are fine views on Yamdrok Yumtso lake and the Karo La group in the background. Noijin Kangsang is the highest peak rising above the lake.
After passing the small town of Nagartse (several hotels and restaurants), continue further up towards Karo La (5'036m). 19 km after Nagartse, the Nganyang side valley will open to your right. Leave the main road at the turnoff and continue north for about 4-5km on a small motorable track. Stop at the end of the road (map P4879m) near the small monastery on the slopes leading to Kangbu lake.
From the end of the road, it is still around 7km by foot to Noijin Kangsang BC. Head up north for around 5km along the main Nganyang valley, and then turn left (west) and follow the tributary for another 2km towards Noijin Kangang northeast face. Base Camp is located at around 5'330m near small Gama Tso(Karma Tso) glacier lake.
Some maps and websites indicate Kangbu lake as possible site for BC. It is however not advisable to install BC at Kangbu lake due to the very steep scree slopes leading up to the ridge where C1 is located.
An approach from Shigatse through Gyantse is also possible, and is worth to be considered if you have just arrived in Lhasa and need a few more days for acclimation. In that case, stop 9km after Karo La on your way down to Nagartse.
Thanks to its proximity to the main road connecting Lhasa to Gyantse, Noijin Kangsang would represent an ideal objective for solo climbers or small groups without logistic support. The area also offers some interesting challenges for more technical climbs.
Do consider however the red tape chapter below.
Red Tape
Regulations for entering and travelling within Tibet can change rapidly, so check on travellers' websites for updated information.
To enter China:
For most nationalities, tourist visa valid for 30 to 90 days are issued within a couple of days (or even a few hours) at Chinese Embassies and consulates abroad. Long duration Chinese visa (6-12 months) can be obtained in Hong Kong.
Tourist visa can be prolonged at local PSB (Public Security Bureau) twice for the duration of one month each time. However, it can be quite difficult (or event impossible) to extend your visa within Tibet if you are not part of a tour group.
To enter and travel within Tibet:
Foreigners need the following documents to enter and travel within Tibet:
Tibet Entry Permit (issued by Tibet Tourism Bureau)
Tibet Entry Permit is usually requested when you buy a train or flight ticket. Local travel agencies in Beijing or Kathmandu can arrange in a few days your Tibet Entry Permit together with your train/plane ticket to Lhasa.
Alien Travel Permit (issued by Public Security Bureau – PSB)
Lhasa and Shigatse cities, as well as a few tourist spots around Lhasa have been declared open to foreigners, so that you don't need any additional permit anymore. However, as soon as you want to move into areas closed to foreigners, you need an Alien Travel Permit (ATP), which lists the places where you will be allowed to travel. Cost of an ATP is 50 RMB.
Climbing Permit (issue by China Tibet Mountaineering Association – CTMA)
As for 8'000m peaks in Tibet, Noijin Kangsang is usually proposed within a package including transportation and logistics by China Tibet Mountaineering Association. The lump sum varies depending on the number of climbers, and bargain is possible depending on the service level you require.
Contact CTMA at the following address:
China Tibet Mountaineering Association
No 8 East Linkhor Road
Lhasa, Xizang/Tibet, China
Tel: +86-891- 6333687
fax:+ 86-891- 6336366
e-mail: ctma@public.ls.xz.cn
Camping and accommodation
Cheap hotels and restaurants can be found in Nagartse, 20km away from the peak. Camping sites along the north-east route are described under
Routes and difficulty
.
There are also plenty of nice trekking and camping possibilities around Karo La.
Previous acclimation to the altitude is required!
When to Climb
Spring (End of March till beginning of June) and autumn (End of September till beginning of November) are the best seasons to attempt Noijin Kangsang. Winter climb is also possible, but you will need extremely warm equipment.
Winds are usually stronger in spring than in autumn. Weather is instable during the summer rainy season (monsoon).
Routes and difficulty
East ridge: the "normal route"
From BC, climb the scree/snow slopes to reach the East Ridge. From there the whole route follows the ridge up to the Summit.
There are possible camp sites on the ridge at around 5900m (Camp 1) and 6350m (Camp 2).
The route is quite safe from avalanche and crevasses, and does not present any major technical difficulty. However, commercial expeditions usually install fix ropes on the steepest section between C1 and C2.
South approach from Karo La: the "historic route"
The first expeditions to Noijing Kangsang approached the summit from the South (Karo La). The route climbs west of the icefall up to the SW ridge. From the southwest summit at 6'733m (also called Togolung), it is still a very long climb (around 3km) up to the main summit. There is an alternative route from the south, which heads straight up through the Kara Glacier icefall. These routes are marked on the 1:50'000 map.
.
Maps
Google Earth is a precious tool to plan an expedition to the Lhagoi Kangri range.
The Lhanzhou Institute of Glaciology and Geocryology has produced an excellent 1:50'000 map of Noijin Kangsang area, which is published by Xi'An Cartographic Publishing House (1997). The map exists in both Chinese and English versions. The names in the English version slightly differ from the most commonly accepted names, but contour and altitudes seem to be quite accurate. Check
here
or
here
for order.
Trekking and other climbs in the area
There are plenty beautiful trekking possibility around Karo La, as well as glacier climbs over 6'000m. See the
Lhagoi Kangri area/range page
for more information.
The following peaks in the area have their own page on SP:
Links
Qinghai-Tibet Train Official Website
Lhasa travel guide
Noijin Kangsang (Norin Kang) on peaklists:
8000ers.org
,
viewfinderpanoramas.org
,
peaklist.org
For French speakers:
Guided French expedition in 2006, with some practical information (in French)
For German speakers:
Commercial Swiss expedition (2005-2006-2007-2008), with some practical information (in German)