Overview
Siete Hermanos (sometimes known as Siete Hermanas is a group of seven volcanic cones forming a single mountain, in the heart of the Atacama Desert. The mountain is usually not climbed as a destination itself, but it often climbed as an acclimatization peak for mountains such as
Ojos del Salado
.
The peak is fully within Chile, and next to Laguna Santa Rosa, a somewhat popular (at least by Atacama Desert standards) tourist destination. Most people visit to see the flamingos and the views of many volcanoes.
The name Siete Hermanos is Spanish for "Seven Brothers" and it's alternate name of Siete Hermanas is Spanish for "Seven Sisters". Both refer to the number of peaks forming the massif.
As mentioned, the mountain lies in the heart of the Atacama Desert and this is one of the most inhospitable regions on earth. This region is extremely barren. If it weren't for the lure of gold, copper, and other minerals, access to the area would be extremely difficult. Because of valuable minerals and the link between Argentina and Chile, the area is somewhat easy to access for such a remote region, though there is no public transportation and it's a long way from civilization.
There is very little fresh water in the region. All lakes are salty. There are a very few freshwater springs, but these are few and far between. Nothing really rots here; it just dries out or freezes. One mummified cow at Laguna Verde to the north looks like it died not that long ago, but it really died over 70 years ago.
Since this area is so dry and windy, there are no glaciers on Siete Hermanos though there are usually some small snowfields that last all summer. There are no technical difficulties on this mountain, but the wind and sun are relentless. My son and I noticed that the weather seemed to never be temperate; it was either freezing cold or felt roasting hot. The altitude and length of the climb is the only other difficulty on this mountain.
As mentioned, most people start the climb from Laguna Santa Rosa and only as an acclimatization peak for Ojos del Salado or other high peaks. The peak is a worthy destination on its own, if only for the nice views of Laguna Santa Rosa and countless other volcanoes. Perhaps the most spectacular view is of the Tres Cruces, an impressive set of three mountains.
Getting There
The normal trailhead for Siete Hermanos is at Laguna Santa Rosa. The journey to Laguna Santa Rosa starts in Copiapó. From Copiapó to Laguna Verde is about four hours on good roads. There is no public transportation, so you either have to hitchhike, hire a vehicle and driver, or drive your own (rental) vehicle. Bring plenty of fuel as there is none in the region!
From Copiapó, take Ruta Internacional CH 31 out of the city, which connects Copiapó (Chile) and Fiambalá (Argentina)via Paso San Francisco. At Sector de la Puerta, turn east and follow the main road to Laguna Santa Rosa. The lake is said to be 166 kilometers (103 miles) from Copiapó, but it seems longer.
Routes Overview
Peak 4890 Via Laguna Santa Rosa
There are many route possibilities here. For a good all day hike with lots of exercise, climb Siete Hermanos right from the hut at Laguna Santa Rosa. Santa Rosa is the mountain to the northwest of the hut.
Two trails, faded in places head up either ridge from the hut. This is a good hike and has about 1200 meters/4000 feet elevation gain and takes all day.
This is the most interesting summit of the seven to climb.
Peak 4820 Via the Pass
If you are short on time or want something easier, you can park at the pass southwest of Siete Hermanos and walk the ridge to another summit there. There is actually a steep road for the entire way and communication towers on top, so this summit isn't as interesting as the other one discusses above.
This route has about 800 meters/2600 feet elevation gain and should be a fairly easy day,
if you are acclimatized
.
Other Peaks
There are at least five other major summit of Siete Hermanos. Some of the peaks to the north of the two discussed above are scarred by mining, so they may not be as interesting. I am not sure about access either.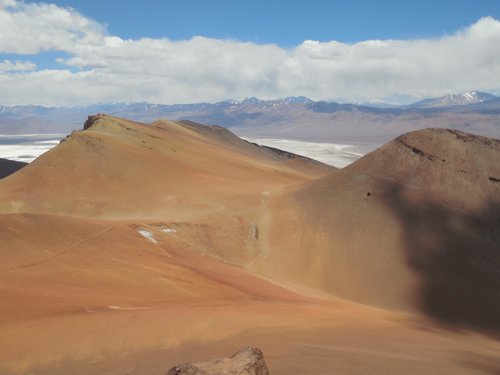 Red Tape
There is no red tape here, so please leave the area clean and leave a clean campsite. A small entrance fee is charged in order to visit the Laguna Santa Rosa.
When to Climb
Any time December through March if the most popular times to climb here, but November and April can also be good. November is said to be very windy though (all months are actually windy). This is one of the windiest regions in the world.
From May to October, temperatures are extremely cold, and although this is a dry area, occasional storms do block access.
Camping
There are good campsites at Laguna Santa Rosa, but there is no fresh water around. Also, there is a hut at Laguna Santa Rosa, but it can be a little dirty. Please pack out all of your trash.