Overview
The highest volcano on earth is also the highest point in Chile and second in South America. As the volcanic activity is quite recent, it´s classified as a neovolcano and there are still minor activity on the peak. Larger amounts of sulfuric gases and vapor were seen as late as 1994, but normally a faint smell och sulfur is the only sign of volcanic activity on the peak. Ojos del Salado is a border mountain and can be climbed from both Argetina and Chile. If you don´t like red tape, a hefty peak fee and bureaucracy, Argentina is the place to go for. If you rather pay a bit, prefer to travel high on the mountain in a jeep, have the choice of sleeping in huts and like to go the easiest way possible to the summit; Chile is the option for you.
Ojos del Salado is considered an easy walk-up, but the last part can be a bit tricky. Very loose, rotten rock and grade UIAA II on 6900m can cause problems if tired from the long walk to the summit block. In addition to this, you usually have to deal with the strong winds which plagues the area. It is a double summit and the Chileans claim the west peak to be the highest (0.5-1m higher). The Argentines I talked with said the two peaks were of "almost the same height and it didn't really matter which one you climbed", so basically both sides tells the same story - the west (Chilean) peak is marginally higher.
See below for
more details.
The peak was first climbed in February 26, 1937 by Polish mountaineers Justyn Wojsznis and Jan Szczepanski.
A good introduction and the mountain's history.
Getting There
Argentina:
La Rioja and Catamarca are the two major cities in the area and both are the capitals of the provinces with the same names. When in any of those quite large cities; look for local transport towards Tinogasta and Fiambalá. Most buses only goes to the former and you may have to change there to get to the latter, which is the perfect base for Ojos del Salado. If you arrive late in Tinogasta and there are no more buses, shared taxis runs until very late and even if you have to rent one for yourself, it's inexpensive at USD$10 for the 50-55km ride.
All the very, very basic food items (pasta, Parmesan, milk powder, oat, choclate etc.) are to be found in Fiambalá, although the minimercados obviously don't cater for the limited climbing clientele that comes through town. For higher quality food options, buying food in Mendoza, Catamarca, La Rioja, or another larger town/city might be a good idea. For everything else, though, go through Mr Reynoso, who operates out of Fiambalá and knows the Puna better than just about anyone else. 4x4 vehicles can be rented with a day's notice and will take you for a two hour ride on good asphalt to Refugio Cazadero Grande, a hut along the main road (alternatively, you can hitchhike - the pickup rate is very good, although there may only be 10-20 cars going through the pass on any given day). This refugio is a good place to spend a day, if you're not acclimatized. The 4x4 can take you another 10-12km on a bumpy path until you hit the Cazadero Grande River Canyon at Quemadito. There's a small refugio there.
Most expeditions have arranged with mulas to take over from here and extremely few have done this trek towards the peak unsupported. For the first day there is plenty of water to Agua Calientes, the source of the river, which is a spring with lots of warm, almost hot water coming straight out of the ground. Good camp spots all along the way and plenty of curious vicuñas. The next day to Agua Vicuñas is a dry and windy walk over wide plains, where Nacimiento and Incahuasi dominate the horizon. You want to carry plenty of water with you on this stretch as there is *no* running water after Agua Caliente and the first penitente fields (read: snow) usually appear around Agua de las Vicuñas -- a distance of about 23 kms. If you hurt yourself, etc., you want to have enough water to do whatever you might need to do. Also, it can be easy to get disoriented in this stretch as there are many small winding valleys throughout the plain.
After Agua Vicuñas the going gets steeper and tougher on looser scree and the rough path finally takes you to a pass called Portezuelo Negro at 5500m. In this area it is possible to find water again. Penitente fields, small glaciers, and sometimes even running water in a small creek are easy to find. From here it's hard to make a mistake where to go as Ojos del Salado and some of the other high peaks in the range are visible most of time. Many expeditions use a small camp called El Arenal (approximately: "The Sands") as a base camp and continue towards the peak to C1 at 5800m. Plenty of water is present everywhere in this area.
Chile:
The normal starting point is the city Copiapó. Many tour operators are located here and the journey from Copiapó to Laguna Verde takes five to six hours on mostly good roads. If not acclimatized it´s a good idea to make an acclimatization stop at Laguna Santa Rosa at 3600m before continuing to Laguna Verde, which is at 4400m. There is a police post here and they want to see your climbing permit before you´re allowed to go further. You then have to double back to the small road leading to Ojos. Just off the main road there's a quite large refugio called Claudio Lucero. A rough road will take you to the second refugio; called Atacama or Rojas, which is located at 5200m. It is possible to go even higher with the 4x4, some even make it all the way to Refugio Tejos at over 5800m! It is rough and expensive travelling and many people choose to walk the stretch, which takes 3-4 hours.
Photos showing the route, step-by-step.
Red Tape
From Argentina:
No fees, no permits needed, but the police in Fiambalá are happy if you register before you leave for the mountains. The office is located They will ask you how long you plan to away for, what type of equipment you´re bringing and if they find inadequate, or if they consider the weather too bad etc. They may ask you to write a disclaimer, stating they are not responsible for your safety in the mountains.
From Chile:
Admission fee to the "Ojos del Salado Zone" - USD$ 160-200 (depending on who you ask and where you look online) for foreigners USD$ 50 for Chilean citizens. You also have to supply the authorities an equipment list and a detailed description of the route you plan to follow.
Some info about this issue.
Until last year you could apply for a permit on the internet, which was free of charge and you usually received it after a couple of weeks. Now it´s much more complicated and expensive. Here's one organizer which can be contacted for details about the 200USD fee.
Highmountain.
There are many other which also organize trips to the peak, so shop around before deciding.
DIFROL is the authority in Chile which issues the permits.
There are talks about new rules soon, which may include Kilimanjaro-like arrangements requiring an authorized guide for every
foreign
group etc. Please drop me a line if you know anything about it, as I have not gotten anything confirmed.
Update - February 2016. The good news is that a fee is no longer required to climb the mountain from the Chilean side. You are supposed to pick up a free border permit in Copiapo though.
When To Climb
Like most peaks in this part of the Puna, Ojos del Salado is normally climbed from December to late March. It´s the warmest period in the southern hemisphere, but it's still windy and dry and conditions can be quite rough also during peak season.
Some climbers choose to go pre-season in October and November as snow, ice and penitentes are easier to find. This makes the progress easier on the Argentinian side as water can be a real problem there. On the Chilean side the water parameter isn't such a big issue, but the pre-season period also offers long periods of calm weather after the stormy winter period.
Another alternative is to go post-season. April and May sometimes offers quite warm and calm weather and if you want to avoid crowded refugios on the Chilean side this may be a good alternative for you.
Regardless of when you plan to go to the area, be prepared for very low temperatures and extreme wind force. It may be warm, calm and sunny, but remember; the Puna is infamous for fast weather changes and fierce climate. Wind-proof clothing is an absolute must and so are really good protection for hands, feet and face.
Camping and Lodging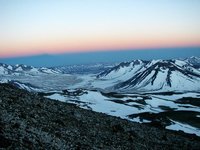 On the Argentinian side there are no huts. Camping is free everywhere and there are some very basic wind shelters/wind walls, built by other mountaineers, along the path to the mountain. There is a small cave/overhang with a complete wind wall that offers fairly good protection from the elements at Agua Calientes. At Quemadito there's a refugio which has solid walls and a real roof.
On the Chilean side there is a quite large refugio at the beginning of the walk in. Refugio Caudio Lucero can host dozens of people. The box-like Refugio Atacama/Rojas has four beds and the old marine freight container Refugio Tejos has six beds. A lot more people can sleep on the floor in those two refugios.
In Fiambala there are quite a few options. A mountaineer may be interested in staying in Hostel Campo Base, run by
Ruth Reynoso
a mountaineer who knows the area well. It's located a two minute walk from the main square. Follow the signs towards the thermals or ask for directions. Hotel Municipal is another slightly more expensive alternative and it can at times be quite noisy.
Guides and Organizers
I saw a lot of "bad" organizers in the area. Big city "wanna-make-money-fast-on-expeditions companies" and it was sad to see these "guides" getting lost in the mountains. At times I had to show them where they were on the map and at one time I got the impression the guy hadn't much knowledge of reading maps at all. That said, there are probably lots of good ones as well, but shop around, ask tricky questions and be a bit careful when you choose company. I have no personal experiences on the Chilean side and did it all unsupported on the Argentinian side, so I can't give you a first hand account on a good guide. A person who really knows the area and gave me plenty of 100 percent correct information is
Jonson Reynoso
in Fiambalá. He has been organizing expeditions in the area for a long time, is still an active mountaineer and was for example contracted by National Geographic when they were doing a spread on the area. Ask anyone in Fiambalá where to find Jonson and you´ll get directions. It´s a small town and he´s known by everyone. His English is a bit limited, but if you don't know Spanish communication is possible thanks to translation software.
Jonson can be found in the police office on one corner of the main square in Fiambala. The sign on the building says Seguridad Turistica. He and his two children Ruth and Cristian works for the tourist police and this is also the place where you register before going to the mountains.
Motorized ascents
On April 21, 2007, Chileans Gonzalo Bravo G. and his co-driver, Eduardo Canales Moya reached an altitude of 6688 meters. Doing that, they broke the old record of 6646 meters, set by a German expedition a month earlier.
The biggest difference between the Chilean team and previous ones were the budgets and the number of participants.
The Chileans had very limited resources and were only two persons while earlier expeditions had had up to 19 participants and spent up to USD$ 770 000!
Source
Second highest in South America? Number three? Number one?
Short version:
Second highest.
Long version:
Ojos del Salado was since a long time back regarded as the second highest mountain in South America. Very few disputed that fact, even though some claimed it could be higher than Aconcagua. It was not until an erronous measuring (or out of the blue false claim) was done the debate started. A Chilean team made a second ascent in 1955 and claimed the peak to be 6988m, i.e. higher than Aconcagua.
Roughly 20 years later, the official elevation was then all of a sudden raised to 7010m and as a certain country´s leader/dictator stood behind that opinion, very few disputed the claim in the country in question. Its neighbor laughed at the whole thing and did not comment it much. Aconcagua was definitely the highest as far as they were concerned. The rest of the world were quite convinced about the latter and the claim of Ojos being over 7000m slowly died off.
Some years later it was time again for a new debate, but now it was not about Ojos being number one or number two. Over night it had been downgraded to number three! This story obviously started in Ecuador when a British team of GPS specialists measured Chimborazo. It was made with the differential GPS technique and the peak´s altitude was set to a level 40 m lower than before. The Argentinians was impressed and used the same technique on Pissis, which was measured to 6882m and that meant it was two meters higher than Ojos del Salado. The latter mountain´s altitude was at the time set at 6880m and Argentina could claim the two highest peaks on the continent.
Lately, SRTM-data (Shuttle Radar Topography Mission) has shown two things; 1) Ojos del Salado is roughly 6900m and 2) Pissis highest point is approximately 90-100m lower. People who have taking GPS-readings on the peaks verifies these facts.
So, nowadays Ojos del Salado is back on it´s original place on the list as number two.
John Biggar´s Peak List
is probably the one closest to the actual elevations of the peaks in South America.
Lately, I have heard and seen information about both Tres Cruces and Bonete Chico being the second highest in South America. I can really understand why some climbers think Tres Cruces is higher. It for sure looks very high when in the area. So does Bonete, but both these peaks are very seldom climbed, so I guess they are perfect for myth-building. I would say it´s an extremely small chance there will be any changes in the peak lists from now on, or at least if we talk about the top 3 list.
I was wrong!
The battle continued after I wrote the above.
What if Aconcagua isn't the highest Peak in South America?
I got into the fight.
Climber on Ojos del Salado altitude controversy: Aconcagua is tallest - beyond doubt
Peter Schoen
adds:
A team of the TU Dresden has during their surveys of the region for the new "Alpenverein" Map in 1:100 000 confirmed that the Chilean survey of 6893 m is the most accurate one.
Jonathan de Ferranti
has an interesting web page:
Some frequently misquoted elevations.
The highest of the two summits on Ojos?
Ojos del Salado has a summit block with two peaks which are of the same height.
Or?
I have heard some debates about which of the two you should climb. If coming from Chile, you're told to go to the right at the saddle, because the "Chilean" (west) peak is higher. If coming from the Argentinian side, you're told to walk along the summit ridge until you are at the highest point and don't bother to descend to the saddle and climb to the west peak.
So what to do and which is the true summit?
From what the local climbers told me, it doesn't matter which of the peaks you summit - both counts!
A recent survey has measured the west peak 54 (+/-5)cm higher, that's the one usually regarded as the "Chilean" peak. The talk about one Argentinian and one Chilean summit is nothing but nonsense as both are located right at the border.
That said, if you want to be 100% sure - climb both!
The east peak is harder to reach from the saddle as it is steeper and more exposed. Bring a rope. Warnings for rotten and loose rocks.
Maps
The best map I've seen of the area.
You can order the map
here.
See also this comment about the above map.
Useful GPS-Coordinates
The table below give you the coordinates from a walk all the way from Incahuasi, past El Fraile to Ojos del Salado. Very few of you will probably consider this option, but I choose to include as many coordinates as possible. The ones written in
italic
are from the Fraile-Ojos del Salado stretch. The rest is from the actual climb and starts from a valley a bit NE of the normal approach route - takes you to the normal route - to the summit -down to the main road at Cazadero Grande.
| | | | | |
| --- | --- | --- | --- | --- |
| Location | Lattitude | Longitude | Altitude | Remark |
| Fraile Pass | 27*00'345 | 68*20'111 | 5000 | Border pass Arg/Chi |
| *** | 27*02'353 | 68*21'243 | 5125 | *** |
| Fraile Camp | 27*03'295 | 68*21'539 | 5165 | Snow to melt, shelter |
| Pass | 27*05'429 | 68*23'378 | 5227 | *** |
| Pass | 27*05'466 | 68*23'836 | 5333 | *** |
| Pass | 27*06'531 | 68*26'354 | 5483 | *** |
| Camp | 27*08'588 | 68*28'743 | 5524 | River, glacier, shelter |
| Arenal | 27*09'014 | 68*29'774 | *** | *** |
| Stop | 27*08'043 | 68*30'786 | 5722 | Good place for break |
| Camp 1 | 27*07'703 | 68*31'618 | 5957 | Below steep part |
| Stop | 27*07'291 | 68*31'653 | 6339 | Over the glaciers |
| Summit | 27*06'571 | 68*32'415 | 6897 | *** |
| Vantage point | 27*08'998 | 68*29'481 | 5581 | Good views |
| Platforms+shelters | 27*09'555 | 68*28'256 | 5537 | Camp, water nearby |
| Portezuelo Negro | 27*09'910 | 68*27'550 | 5553 | Pass, water nearby |
| Agua Vicuñas | 27*11'788 | 68*25'791 | 4965 | No water |
| Aguas Calientes | 27*18'018 | 68*21'093 | 4180 | Water |
| Camp | 27*19'785 | 68*20'190 | 4023 | Water |
| Chorro | 27*20'428 | 68*16'476 | 3829 | Water |
| 4wstart | 27*22'226 | 68*13'756 | 3699 | Ravine start/finish |
| 4wstop | 27*22'966 | 68*08'353 | 3490 | Main road |
| Cazadero Grande | 27*25'190 | 68*07'778 | 3482 | Refugio |
External Links
Andes Explora Climbing Tours
Ojos del Salado Expeditions Service,Transport Service, High Mountain Guide Service, accomodations, Information, photos and Andes Explora Staff.

Go Chile about Ojos del Salado
Basic information on a commercial site promoting Chile.

Andes Handbook
Route information, access and photos (Chilean side).

Maps for Ojos del Salado
A good selection of digital and paper maps from the Military Geographical Institute.
Example, showing a digital map of the Ojos del Salado area

A nice site which gives you good information
about routes and how to get to the peak.

Interesting info on volcanoes
Lists of prominent and high volcanoes, info about the volcanic 7summits aand much more.

List of 6000m peaks in the Andes.
John Biggar's list is probably the most correct around. Also lists of lower peaks on his informative website.

Riding downhill Pissis, Incahuasi and Ojos
Manuel Bustelos website on biking downhill in the puna

Some photos of Ojos.
Which gives you a good picture of how it looks like, with and without snow.

A day-by-day account of my trip (jonathanskt) into the Ojos area
The climb up Ojos was aborted, although I got to its base and went up a nearby peak. Hopefully this offers a good account and description of the area and the logistics for a trip. Feel free to contact me with any questions!
Comments about climbing from Chile

The below are comments from climbers who have had very different experiences climbing on the Chilean side.
Personally, I can't comment any of this as I only have been on the Argentinian side of the peak.

Negatives
I got one mail and talked to two persons who were upset. I was told the following:


When arriving at Refugio Atacama the climber was told he couldn't neither use the facilites of the refugio, nor sleep inside. The ranger staying there had at that time the whole place for himself.



Climbers arriving from Argentina sometimes have to go all the way down to Maricunga to stamp the passport, sometimes not. That's about 80km from the pass. Sometimes it's the same procedure when leaving Chile, sometimes not. The bottom line is: rules seems to change depending on who's working at the moment.

The couple was given a badly working walkie-talkie by the authorities and when they asked if that was all they got for the $160 permit, they got a very snotty and arrogant reply that they should not complain or leave the place.

Both sources felt there was a lot of fishing for bribes on the Chilean side. The solo climber was in the area with his bicycle and was charged a ridiculous sum of cash because the vehicle didn't have a license plate. When he refused to pay, the border police started to scrutinize his passport instead.
Positives
Desi
Says;
I read the comments about climbing from Chile. I did it on 2005 but I had a very good experience! The police invited me and my husband for a special dinner because we reached the summit that day! They were very nice.
Cyclista
says;
Either the things change for worse or I was lucky. Three years ago while hitch-hiking alone in that area I had utterly different experience. The police at Maricunga gave me a free shelter for four days, supplied with food, water and Pisco Sour:) and finally organised transport to Laguna Verde. The police at Laguna Verde were equally kind so I suppose everything depends who you are lucky or unlucky to meet there – they change every couple of weeks.
January 2018 update and some more information for those going unguided - Chilean side
Approach
There is active road paving from the border post to the border. We took 3 hours from Copiapo to the Murray hut, plus 30 minutes at the border post (not Copiapo) to check the DIFROL permit and fill another climbing form. The border facilities are closed after 5 pm, but if you tell the carabinero that you are only going to Ojos del Salado, he should let you go. When you come back, you can skip the queue if you say you were not in Argentina.
The path from the Murray hut to the Atacama hut splits at some point. The sandy (left) path is more used, but our rented Chevrolet D-Max got stuck as we discovered its 4x4 did not work. After getting unstuck with the help of other climbers, we were able to get to the Atacama hut on 4x2 on the rocky (right) path. So a 4x4 is not absolutely necessary to Atacama, but you do want it for peace of mind and to get to Tejos. We took 45 minutes from Atacama to Murray on the way down.
We took about 90 liters of gas from Copiapo to the Atacama hut and back, plus a detour to Laguna Verde. Book your rental at least a week in advance in summer.
Route
Two new huts were built in late 2017. Apacheta is next to Atacama and sleeps 6-8 tightly. We were told we cannot sleep in the Atacama hut. Amistad is 400m off-route on climber's right at 6090m or 725m SW of the end of the car path, from what I see on Google Earth. I do not know the trail leading there and no group used it when I was there. I think its construction was more a show of force by a truck company than real use to mountaineers.
There is a footpath and a car path going up from the Atacama hut. If walking, the car path is easier (but not necessarily faster) on the way up and the footpath is faster on the way down. There is a 2nd split not much later and the car path is the better choice for the up and down.
On the summit block, I found the rock and fixed rope quality to be rather good, but your mileage may vary.
Gear
A handled ascender made the summit block a breeze for me, but it's overkill. The western guided groups I saw all had a harness and some kind of friction knot or device, but the local groups went "free solo". I brought a helmet on the account of rotten rock but saw no rock fall from the passage of 10 people and no one else with a helmet. No one brought rope.
Guide companies will ask for double boots, but I agree that you wrote "very warm shoes". I brought double boots to base camp but decided to summit without them. There is no need for the extra weight of a mountaineering boot if you have hiking footwear of enough warmth.
Canister gas available at Lider and Tottus in Copiapo.
This section was added by
nixoriugis