Overview
"Smiths Fork Peak" lies on the main east-west crest of the Uinta Mountains of Utah, 3.1 miles west of
Kings Peak
, the state highpoint. Measuring 12407 feet high and having a prominence of 334 feet, it is number 54 on
Scott
's
list of Utah peaks over 12000' with at least 300 feet of prominence
. It is easily viewed from Kings Peak but not easily noticed because it is surrounded by 13000 footers and higher 12000 footers.
It has no official name, and is called "Smiths Fork Peak" because it lies just above and to the east of Smiths Fork Pass. It is pyramidal in shape and hangs off of the south end of the
Mount Powell
Ridge.
The surrounding landscape appears very stark when viewed in late September. The colors are a garish mix of yellows and reds and the Yellowstone Basin from which it rises abruptly, looks barren and inhospitable.
Although it is not as lofty as surrounding peaks, it has the good fortune to be located at an excellent vantage point between the two most noteworthy features of the Uintas, Kings Peak and Red Castle. Kings Peak is noteworthy due to its being the state highpoint. Most ascents are made via the easiest possible way (Henrys Fork Basin) and a small percentage of those who have summited have viewed Kings' dramatic east face.
Red Castle, located 2.2 miles northwest of "Smiths Fork Peak" is noteworthy because it is the most rugged of all the Utah Peaks over 12000 feet and is rumored to be unclimbed.
Getting There
Take I80 to exit 34 in Wyoming and head towards Fort Bridger. Go 5.4 miles to a blinking red light at a 4 way intersection. Turn right onto route 414 and go 3 miles to route 410. Turn right onto route 410. Go 6.8 miles and continue straight onto a dirt road (#072) where route 410 bends right. (Note that this is the second time route 410 bends right.) Continue on the dirt road/#072 11.9 miles until you reach a big intersection where the road to Henrys Fork (#017) leaves left. Continue straight on #072 towards China Meadows and follow the main road 6.5 miles until you get to the sign for the China Meadows Campground, shortly after crossing Smiths Fork. Do as the sign says and turn left onto #125. Note that on the USGS map, the left turn is marked #072, but in reality, #072 continues straight ahead. Continue .7 miles to a fork in the road just after crossing a cattle guard. Straight ahead is the horse trailhead and a right turn takes you to the hiker trailhead.
Red Tape
There is a $2 fee to park at the trailhead for up to 5 days. The America the Beautiful Pass does NOT cover it. However, if you have a senior or access pass you only have to pay half.
Normal wilderness area rules apply.
Camping
There are several established campgrounds along the road to the trailhead (Stateline, Bridger Lake, E Marsh Lake, and W Marsh Lake). There is a campground that is signed "China Meadows" .7 miles before the trailhead. At the trailhead itself there is a campground signed "Trailhead" that is in 2 sections, one for folks with horses and one for hikers. There is no water at the trailhead so you have to bring your own. There is a fee to camp.
There are numerous places to camp along the trail. The terrain is fairly flat and is a mix of widely spaced trees and meadows. Water along the trail is plentiful. You may not camp within 200' of any occupied campsite, trail, or water source. At the start of the trail you will likely find grazing cattle and near Smiths Fork Pass you might find some sheep, so it is wise to purify your water. Some people believe that sheep don't make it above the high mountain passes, but that is not the case. Cows are lazy, but sheep seem to roam wherever there is grass.
When to Climb
The best times would be from the very beginning of July through the end of September. The mosquitoes clear out at the end of August. Forest road #072 is not plowed past the turn off for Henrys Fork so winter ascents starting from China Meadows would require an extra 14-15 miles round trip.
Route
As the crow flies the nearest trailhead is China Meadows to the north at 10.1 miles. The shortest realistic route from China Meadows is about 13 miles one way.
The map at the left shows the way that I went, but other variations are possible. I also climbed
12825-UT
which is on the other side of Smiths Fork Pass. The whole thing was about 28.5 miles round trip with about 4360' of elevation gain and took about 13.5 hours.
Start from the China Meadows Trailhead. Follow the East Fork Smiths Fork Trail 9 miles to where it forks to bypass Red Castle. You will be in the woods most of the way and only gain 1300' in elevation during this stretch. The trail is well maintained, easy to follow, and has generally good footing.
At the 9 mile mark is a sign that points left for "E Red Castle Tr." and right for "Red Castle Tr.". You want to take the left fork and immediately cross a bridge.
Follow the trail about another 3.7 miles to Smiths Fork Pass gaining another 1000 vertical feet. Along the way you will pass Red Castle and Smiths Fork Pass Lake, perhaps the most scenic area of the entire Uinta range.
From the pass it is straightforward off-trail hiking east to the summit. To return, you can either retrace your steps or make a side trip to
12825-UT
as shown on the map.
Mountain Weather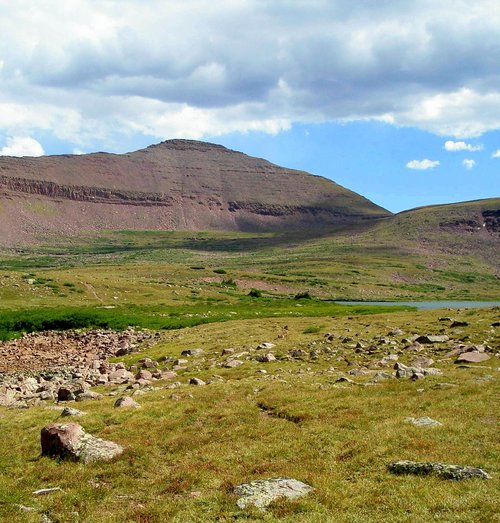 Here is a
link
to the current 7 day forecast for "Smiths Fork Peak".
style="display:block"
data-ad-format="autorelaxed"
data-ad-client="ca-pub-6523272176520096"
data-ad-slot="7132222476">