Overview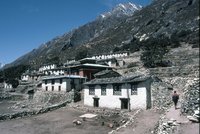 Back in 1988 I made my first trip to the Himalaya and the Khumbu. One of the highlights of that trip was the ascent of Taweche Towers, a rarely frequented and little known viewpoint above Pangboche. Although it is nearly 20 years since we scrambled up the rocky ridge to this spectacular vantage point, I have yet to see any references to it anywhere. Even the location and elevation is only a guestimate. I suspect that most people are so intent on thrashing on up the trail to Kala Patar that they never look up to their left. If they did they might just see some enticing rocky spires, like a piece of the Black Cuillin Ridge transplanted from the Isle of Skye and placed high in the Khumbu.
If you do choose to look for Taweche Towers, I hope my directions are sufficient, and that you are as impressed with the end result as I was all those years ago. Happy exploring.
Getting There
I can't give exact directions to the Towers, indeed part of me doesn't want to even if I had them. I have this dilemma of whether or not to share one of the most spectacular places that I've ever visited. But I've started now so I suppose I'd better make the most of it. Taweche Towers are easily climbed up and down from Pangboche in a day, but I would recommend you seek out a natural grassy south facing bowl about half-way up. Here are some seasonal yak herder's huts, and the perfect place to camp overnight. It not only breaks up the ascent, but offers a fantastic viewpoint to watch the sun setting on the peaks opposite. Ama Dablam, Kantega and Tramserku are magnificent from here.
Above this bowl the ground steepens gradually. The Towers are clearly seen ahead, with the main rocky peak of Taweche behind them. There is some wonderfully exposed ground where you seem to be almost walking on air for a while, with the Everest Group off to your right. Then some easy steep scrambling and you are on the narrow summit ridge. The views are among the best an average walker/scrambler can get in the Khumbu, in fact I'd say they are probably the best bar none.
You don't have to retrace your steps all the way back down to Pangboche, you can pick up small paths and traverse down and round to the east, picking up the main trail again above Pheriche.
Red Tape
You just need the usual permits for trekking in the Khumbu, nothing else.
Camping
You could camp or stay in a lodge down at Pangboche on the main trail, but I would recommend seeking out that natural grassy bowl about half-way up for a great campsite.
External Links
Add External Links text here.