Overview
Avalanche Gulch is the second technically easiest route on Mount Shasta, behind the
Clear Creek Route
. However, it's lack of approach makes it the easiest and most popular way to climb Mount Shasta. It can be climbed in a day, but is commonly climbed with an overnight at Helen Lake. This is also a classic ski descent. Fletcher Hoyt, an Andes mountaineering pioneer, and four others were first to ski from the summit in December of 1947. The route they took was Avalanche Gulch. Avalanche Gulch got a lot of publicity in the 1930s when Oliver Kehrlein skied the "longest and continuously steepest ski run in the world," down Avalanche Gulch.
---
Vertical Gain:
~7,300'
Round Trip Distance:
~11 miles
---
Approach
The
Bunny Flat Trailhead
(6,940') is the easiest trailhead to start from and is accessible year round by motor vehicle. To get there from Mount Shasta City, California, take Lake Road east. Lake Road becomes the Everitt Memorial Highway. Take the Everitt Memorial Highway to the Bunny Flat Trailhead. Alternatively, you can start from the Sand Flat Trailhead. Starting from the Sand Flat Trailhead will shave 0.2 miles of the roundtrip distance, but will add an additional 300' of gain to the climb.
---
---
From the Bunny Flat trailhead, head up the
Horse Camp Trail
and take a left at the first intersection. After 0.5 miles from the Bunny Flat Trailhead you will reach the second intersection. Stay right at this intersection and travel another ~1.5 miles (2 miles from the Bunny Flat Trailhead) to Horse Camp (7,900'). Heading left at the intersection will lead you to the Sand Flat Trailhead. You can camp here or continue up the mountain. Continue past Horse Camp on the trail for roughly another mile and you will finally enter Avalanche Gulch proper and the terrain and route will get much steeper.
Route Description
---
Once you are inside Avalanche Gulch, continue travelling up the gulch and you will reach Lake Helen at 10,443'. Lake Helen is usually snow covered and during the late summer there is no snow until you reach this area. Most parties elect to camp here and this is where the
Horse Camp Trail
ends. Continue up Avalanche Gulch on the right side of The Heart (see above photo) to Red Banks at ~12,800'. Usually in early season, you will want to head around Red Banks to the right up a slope no steeper than 35 degrees to the notch just left of Thumb Rock. However, later in the season, when the snow melts in this area, a bergschrund forms and it is easier and safer to find passage further left up a steep chimney in the Red Banks. This is considered the crux of the route, but never exceeds third class. Red Banks comes in two layers. Once you climb a chimney on the lower layer, go all of the way east and the top layer shrinks to only 8'. There is a well-worn notch there that makes climbing the top layer easy. Alternatively, you can ascend the left side of The Heart. This variation is steeper, but less crowded.
---
---
After the Red Banks there is a plateau at about 13,240'. Next, climb up Misery Hill. Once you are at the top of Misery Hill you can finally see the summit for the first time. Hike across another plateau, and another short climb leads to the pyramid summit. If your climb is during the early season and you were able to ascend around Red Banks, then ski or glissade back down the same way. This is an advanced ski descent rated D6 on the
D Scale
and an S3 on the
S System
. A ski descent from the exact summit may rate slightly higher on these scales and is harder to find in condition. In general, the best months to ski are May-July. If you want to ski to your car, hit it no later than early June.
If your climb is during late season and you climbed a chimney through the Red Banks, it's easier to just to slide off the east side of Red Banks right in front of Thumb Rock. The surface here is loose gravel and much easier to traverse downward than Red Banks because each footfall sinks easily; whereas Red Banks is slippery and must be navigated slowly. Going up this route is not recommended because the gravel is so soft it saps too much energy.
---
---
PCHoran
adds:
This route is much better if there is adequate snow coverage otherwise it is a slog through rock, scree,etc. The last few years (01/02) the snowpack has melted down by the end of June.


View Mt Shasta - Avalanche Gulch ascent in a larger map. Map: Shane R.
Camping
The most popular place to camp is at Lake Helen at 10,443'. Horse Camp at 7900' is the second most common place to camp for climbs of the Avalanche Gulch route. Horse Camp has a spring and a latrine. You can also camp at 50/50 Flat which is en route at about 9400'.
Avalanche Danger
Avalanche Gulch is named because of its tendency to avalanche. Check
here
for an updated avalanche advisory.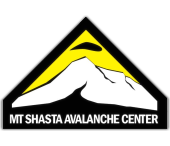 When to Climb/Essential Gear
Essential gear will depend on the conditions. In general, during the typical climbing season of May-October, you should carry crampons and an ice axe. Starting predawn in order to avoid afternoon avalanches may be necessary if a significant warming of the snowpack is expected. Additional gear, such as skis and skins or snowshoes may be necessary if attempting during periods when the route will hold unconsolidated snow. An avalanche beacon, shovel and probe, in addition to formal avalanche education, may also be wise to bring with, if attempting during times of elevated avalanche danger.
Red Tape
You are required to carry a Wilderness permit to enter the Mount Shasta Wilderness and a Mount Shasta Summit Pass to travel above 10,000' on Mount Shasta. Wilderness permits are free and you can self register at the Bunny Flat Trailhead. However, the Mount Shasta Summit Pass costs $20 for a three day pass and can also be obtained at the Bunny Flat Trailhead 24 hours a day. Alternatively, you can obtain an annual Mount Shasta Summit Pass for $30 which is valid from January 1st to December 31st. These annual passes are only available at the Mount Shasta and McCloud Ranger Stations from 8-4:30 Monday through Friday and at the
Fifth Season
during business hours. You also are required to carry a
WAG BAG
. Free WAG BAGS are provided at the Bunny Flat Trailhead.
Literature
Additional Resources
The Fifth Season's Climbing & Skiing 24 hour recorded message:
(530) 926-5555
Mount Shasta Ranger Station:
(530) 926-4511
Mount Shasta Ranger Station Avalanche Report:
(530) 926-9613
External Links
1.
Weather