Overview
Difficulty:
Class 1 to Moderate Class 2
Distance:
4.8 miles round trip
Elevation Gain:
1906 feet
Definitely a must do on your list of climbs to do in Sedona. This hike takes you up along the red rock cliffs that make Sedona famous and then some. If you hate false summits, then this climb is not for you. If you love views, this climb is
definitely
for you. The views from this mountain are great. Along the trail and near the top you will be able to see
Doe Mountain
in it's entirety as well as many other mountains of Sedona and a couple of beautiful canyons. The views stretch for miles. It's amazing, just when you think the views are great, another ridgeline is reached and lo and behold another amazing view shows itself. The trail is interspersed with red rock sand and just plain red rocks. It can get a little confusing at times where the trail goes but other hikers or the forest service have made many tiny rock cairns to help lead the way. They have also placed branches or big rocks across spots that are off shoot trails to keep you on the right track. So as long as you are pretty alert to the subtle signs left for you, it shouldn't be a problem finding the top. When you reach the top you will have to meander around a little to get a full 360 degree look at Sedona. You will not be able to see it all at once. At one point on the summit is a great view of the San Francisco Peaks. Overall, this is definitely a worthwhile investment of your time.
Clarification of actual summit given by
Andinistaloco
:
Bear Mountain's summit plateau comprises around a square mile in area, and there are two distinct summits on the plateau. The Bear Mountain trail ends at an overlook on the very southwestern edge of the massif. Though assorted guidebooks and websites will inform you that this is the summit,
this is not true
. The point where the trail ends interpolates to 6460', pegged as 6462' by a GPS. The
South summit
of Bear Mountain (6494') is about a half mile's hike north through some fairly thick forest. There are no views, and the high point is merely a spot on the plateau – which is probably why the trail ends where it does instead of here.
The
North (and actual) summit
of Bear Mountain is 6557'. As the crow flies, it's only about 1.25 miles north of the trail's end. However, getting there necessitates fighting through ridiculously thick underbrush, climbing through cliffs and rock bands, and traversing sandstone ledges over significant exposure. Despite the relatively short distance, the terrain is such that a round trip from the end of the trail to the actual summit of Bear Mountain will take 3-6 hours, and involves some difficult climbing and routefinding. Furthermore, while views are to be found nearby, the actual summit has few. A cairn and summit register can be located on the small rise which comprises the top of Bear Mountain, but little else.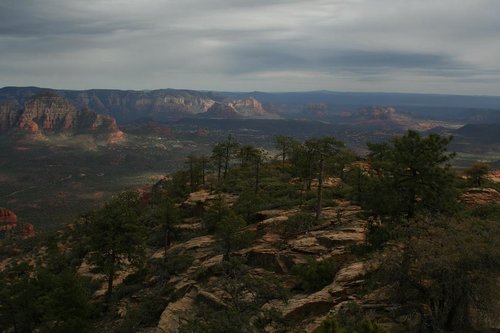 Getting There
From 89A heading South:
Once you reach the intersection of Highway 179 and 89A continue south along 89A for a little over 3 miles until you reach Dry Creek Road. Take a right here and follow it for about 2.9 miles to a stop sign. Then take a left at the stop sign for another 1.6 miles. You will reach an intersection at this point and you will want to take a left here as well. From here you will find the trailhead parking located on the left in about another 1.2 miles. The trailhead begins across the road from the parking lot.
From Phoenix
Follow I-17 North until you reach Exit # 298 (AZ-179). Follow this exit towards Sedona/Oak Creek Canyon. Right after taking this exit, take a left onto AZ-179 for 14.5 miles. Then turn right onto AZ-89A towards the town of Sedona. From this point you will take a left on Dry Creek Road once you reach it and then follow the above directions to the trailhead.
Red Tape
You will need a Red Rock pass, which are actually excellent deals.
One Day Pass
- $5.00
Weekly Pass
- $15.00
Annual Pass
- $20.00
Weekly and Annual passes can be purchased online
here
Rather than creating a very huge list of where you can buy passes either in person or by phone, I will just add a link with all of those details. Click
here
to see that list.
Camping
No camping allowed on the mountain.
When to climb
Bear Mountain can generally be climbed anytime of the year. During winter months Sedona does get snow occasionally but I wouldn't foresee that as a problem on this trail. Spring and fall would be great times to climb, and in the summer just be very cautious of afternoon thunderstorms and the heat, as it can reach 100 degrees.
Weather Conditions
Click the Satellite picture for a video loop of current weather