Overview
Cerro Colorado (Spanish for red hill) is a Diablo Range peak located in eastern San Benito County. Like most Diablo Range peaks, it is private property, so access is limited. There are over 60 named peaks in San Benito County, 20 of which are higher than Cerro Colorado, so it has low ranking in terms of elevation. However, it is one of the
California Coastal
listed peaks and positioned adjacent to picturesque Vasquez Creek Valley—an area well worth exploring while bagging Cerro Colorado, particularly in the Spring when the hills and valleys become lush with wildflowers and many shades of green.
The View & Landscape
On any clear day, the view from Cerro Colorado provides a far-reaching expanse of enticing landscape. Six miles to the north looms Ortigalita Ridge, a seven-mile ridgeline that encompasses both 3304-foot Ortigalita Peak and a 3719-foot benchmarked high-point named Bonanza. Located in the distant northeast, east and southeast are the Panoche Valley flatlands from which rise the Panoche Hills. In the near southeast, Vasquez Creek drains a narrow, steep canyon, losing 2000 feet of elevation before leveling out into a wide valley. Directly to the south of Vasquez Creek stands Red, a 3663-foot benchmark. Further to the southeast, grassy slopes convene at Glaucophane Ridge North. Tucked away in the northwest stand the
Las Aguilas Mountains
, a little-known, small sub-range. To the west is Slack Valley, an area once part of the original 31,052-acre Mexican land grant
Rancho Real De Las Aguilas
: its southeastern borders follow Las Aguilas Creek all the way to Panoche Valley. The use of the word Aguilas (Spanish for eagles) is common in these parts and is used again, this time to name a 2889-foot benchmarked summit located 7 miles south of Cerro Colorado.
Getting There
A good starting point is the B.L.M Panoche Hills access road on Little Panoche Road. It is approximately 1/8-mile north of Mercey Hot Springs Resort which is also a good starting point. Park your vehicle at a roadside pull-out. From either location go west overland, picking up jeep trails that follow the
Vasquez
Creek drainage. Study the topography on the USGS Cerro Colorado Quadrangle. Find the jeep trail that leaves the valley and rises steeply in a northwest direction. At an elevation of 3100 feet you arrive at a three-way jeep trail intersection. Go due west another mile, gaining 546 feet before reaching the summit of Cerro Colorado. The summit is the apex of a small, rounded hill just west of the main jeep trail. You'll cross one fence line before reaching it. The area is grassy with scattered rocks, Juniper and small oak trees.
Driving Directions
From Interstate 5
, take the Mercy Hot Springs/Shields Avenue exit which is exit #379. Head west/southwest about 14 miles. The Panoche Access Point is across from the Mercy Hot Springs Resort.
From State Highway 25
exit at Paicines and take Tres Pinos Road east. Tres Pinos Road becomes Panoche Road. Turn left onto Little Panoche Road near the Panoche Inn and continue until you see the BLM sign described above.
Camping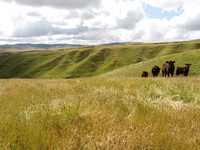 Camping information from the
Hollister BLM website
. "Dispersed camping is available in the Panoche Hills. There is no camping within 200 yards of any wildlife watering improvement. You must park within 15 feet (roughly one vehicle length) of any roadway when camping or leaving a vehicle unattended to minimize habitat and vegetation impacts. Although no reservations or fees are required, there is a 14 day camping limit within any 28-day period. Please remember to bring a shovel with you for both personal sanitation and fire prevention purposes. Please utilize good camping ethics, and remember to pack out your garbage when you leave."
Red Tape
Cerro Colorado is private property so you'll need permission from the property owners to hike here.
External Links
Cerro Colorado Quadrangle
San Benito County Summits
The California Cattle Boom, 1849-1862