Overview
Fiddler Cove Canyon is a spectacular and isolated canyon system that drains into the Dirty Devil River. The canyon is seldom visited and there are many places to explore. Sections of the canyon are deep and wide and other sections are narrow and sinuous.
There are many huge pinnacles and rock formations in this canyon system and the canyon is scenic and bears striking resemblance to the Maze located in Canyonlands National Park and to the north. Unlike the Maze however, there are no crowds here and no red tape or permits required for hiking and backpacking. Rock Climbers could have a heyday out here but I know of no technical climbs that have been done thus far.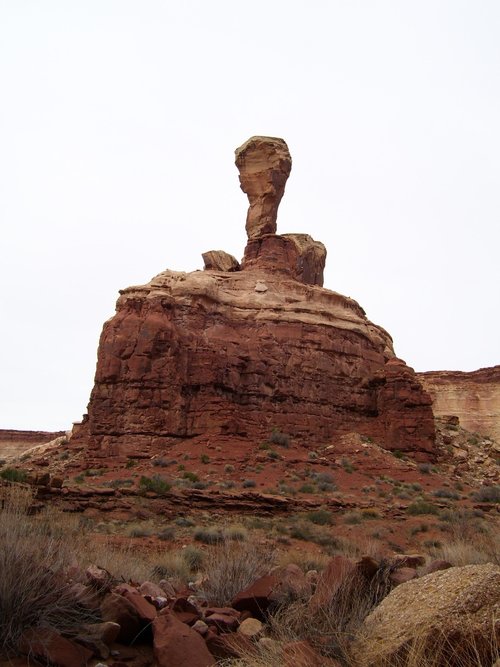 Getting There
There are several driving routes that can be used to access the Fiddler Canyon system.
Via Poison Springs and the Dirty Devil River
We access the Fiddler Cove Canyon via Hatch Canyon and from Poison Springs Canyon south of Hanksville. From Hanksville, drive south on Highway 95 to very near mile marker 17. Turn left on the Poison Springs Road.
The Poison Springs Road is sometimes rough and sometimes fairly smooth; it depends on how recently it has been bladed. More often than not, it requires 4wd. Drive the sometimes rough road 15 miles to the Dirty Devil River.
Via Hatch Canyon System
You park here, but if you have a really good 4wd, you can get closer to the canyon via Hatch Canyon; at least there is less wading.
With a good 4wd, cross the Dirty Devil River and follow the road on the other side. This rough road will take you around (
use a map!
) Point 4706 on the topo map. Park just east of the point.
Via Red Benches
This is a good option to access the Fiddler Cove system. From Hanksville, drive south on Highway 95 to between mile markers 46 and 47. Turn left on the "Hite Road". This road is often 4wd, but can sometimes be driven very carefully in a car with reasonable clearance.
Drive the Hite Road for 2.9 miles. Turn left on a faint 4wd road. Drive the track for 1.4 miles and park next to an old corral.
Routes Overview
There are several possibilities to access the canyon system overland. One option is to follow the Dirty Devil River down canyon to Hatch Canyon. This is an easy hike, but with lots of wading.
You can also access Fiddler Cove via the
Hatch Canyon
system. Here is the route we took when doing both canyons at the same time. From east of Point 4706, you can scramble down into the canyon system and explore from there. This is a class 3 route and steep. Once in Hatch Canyon, you can follow it down to Fiddler Cove Canyon (and the Dirty Devil River).
Yet another option to access this canyon is from the Red Benches and overland to Fiddler Cove Canyon. This route will take several days, but requires less driving on rough roads and is an excellent option. See the
Red Benches Route Page
.
Red Tape
None at all. There are no rangers, no people, no permits, no campground and no red tape. Tread lightly.
Camping
You can camp at Poison Springs Canyon or anywhere in Fiddler Cove Canyon that isn't too narrow. In the cool season water is available in a few locations within the canyon. See the route description for details.
Seasons
Any season but summer is reasonable. The Red Ledges Route can be quite muddy in winter and the Dirty Devil River can be tough to cross in winter and spring if using The Point 4706 or Dirty Devil River Route. The Dirty Devil River Route is not recommended in winter.
Flash flood danger in these canyons is not extreme, but use caution between July and October.
Canyon Conditions
Weather Forecast for Hatch or Fiddler Cove Canyons:
CLICK HERE
Weather and climate data for the Hite, elevation 3700 feet: *National Weather Service Data 1900-2008.
Temperatures should be fairly similar in Hatch or Fiddler Cove Canyons.


MONTH
AVE HIGH
AVE LOW
REC HIGH
REC LOW
AVE PRECIP (in)
JAN
46
26
67
-2
.65
FEB
53
31
81
0
.44
MAR
62
38
87
12
.60
APR
72
46
96
20
.41
MAY
82
56
104
31
.37
JUN
93
65
112
40
.24
JUL
99
73
115
44
.58
AUG
97
71
111
51
.49
SEP
88
62
110
38
.55
OCT
74
49
99
27
1.06
NOV
59
37
78
16
.63
DEC
47
28
76
-1
.51