Overview
Grisedale Pike is situated in the Nort West Region of the English Lake District National Park. With a height of 791m, the hill gives good views across to Hopegill Head to the west and the Irish Sea beyond with the Isle of Mann visible on a good day. Skiddaw and Blencathra and the Pennines can be seen to the north east and the Helvellyn Range and the southern lakes to the East and South.
The pike has two summits the lower summit being Hobcarton Crag at 739m.
The hill is usually climbed in a circuit of the Coledale Valley: the Coledale Round which includes Grisedale Pike, Hobcarton Crag, Hopegill Head, Sand Hill, Crag Hill (Eel Crag), Sail, Scar Crags and Causey Pike.
Getting There
Grisedale Pike is usually approached from the village of Braithwaite which is situated just off the A66 west of the town of Keswick. Parking can be found in Braithwaite itself but most people start at the car park just past Braithwaite situated in an old quarry on the left of the start to Whinlatter Pass.
From the car park follow the steps at the back which head iniitally north and then turn east to head up the fell. This leads to Sleet how and then on steeply up the ridge to the summit. The normal route continues along from here to the summit of Hopegill Head and to the remainder of the Coledale Round.
Red Tape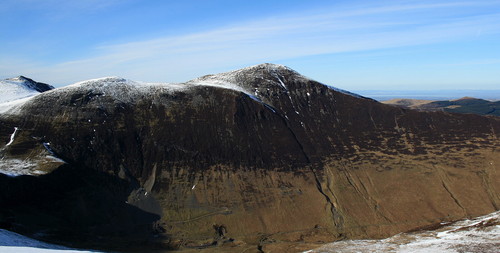 No red tape but please follow the country code especially at lambing time.
Camping
The are numerous camping sites, hotels and B&Bs in and around Keswick and the northern lakes.
External Links
Lake District weatherline