Overview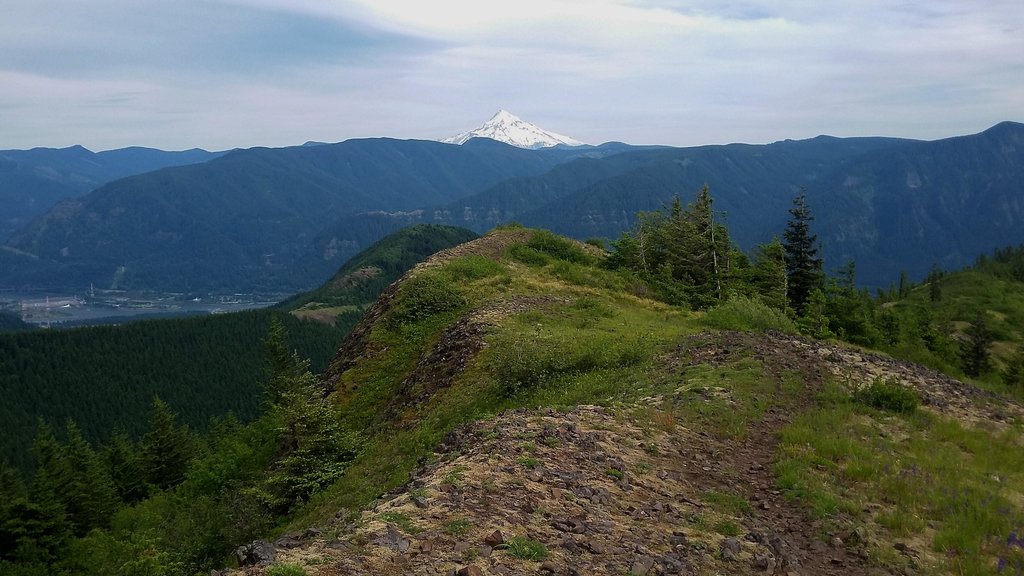 I am really surprised that this summit was not on Summitpost earlier. Though it is not as well known Beacon Rock or Hamilton Mountain, this higher peak is a real gem and a must for anyone who is visiting the Columbia River Gorge area. One can either just do this summit or combine this hike with nearby Hamilton Mountain for an excellent and very scenic hike in the region. Located in Beacon State Rock, Hardy Ridge is one of the lesser known highs in the region. It does not receive nearly the popularity of nearby Hamilton Mountain or Dog Mountain. Still though this mountain is well worthwhile.
From the summit ridge there are good views of the Gorge (though not as impressive as Hamilton Mountain) and on a clear day an impressive view of Mount Hood and Mount Adams. Though it can be a long road slog to get to the main ridge trail, that main ridge is power pack with viewpoints. I personally will list this hike as my favorite hike in the park and would recommend anyone to hike this peak when they are in the area. Luckily though not too many people have discovered it. Chance are you will have the views to yourself.
Getting There
VIA THE EQUESTRIAN TRAILHEAD: Take Route 14 east of Camas all the way to Beacon Rock State Park. Once there make a left onto Kuffler Road and stay on the road for rougly a mile and a half. Make a right onto the Eqestrian Trailhead road. The trailhead will be a half mile up on the right hand side.
Route
8.1 miles roundtrip
2200 feet of elevation gain
YDS Class 1
There is an excellent loop hike on this mountain between the West Hardy Trail and the East Hardy Trail. You want to start by taking the Equestrian Trail 1 mile where will then first run into the West Hardy Trail. A half mile north one will run into the East Hardy Trail. Take that trail to a trail saying "foot traffic only". Take that trail steeply up to the base of the ridge trail. From there follow the ridge all the way to the open true summit where excellent views await. The Hardy Ridge Trail is a little rocky and can be sometimes a little hard to follow and seems to go over a number of false summits until finally getting the true summit further up. Return either the way you came or by the West Ridge Trail which is about the same length and difficulty.
Red Tape
A
Discovery Pass
is required for this hike which is $10 for the day or $30 for the year.
When to Climb
Though this mountain can be climbed at any time of the year check your local weather before you go. Personally I would recommend spring because there is an excellent selection of wildflowers on Hardy Ridge.
The Columbia River Gorge recently as been going through rapid global warming and the summer heat waves in recent years have sent temperatures up to well over 100 degrees. In winter potentially snowshoes maybe need if the weather is colder than average.
Camping
Camping is not nessecary if you are hiking up Hardy Ridge. However there is a there is a first come first serve campground right by Little Beacon Rock (fee)
External Links
Great trip report on Oregonhikers.org
style="display:block"
data-ad-format="autorelaxed"
data-ad-client="ca-pub-6523272176520096"
data-ad-slot="7132222476">