Overview & History
Jutland Mountain is the northernmost of a group of five mountains in the eastern sector of
Strathcona Provincial Park
, Vancouver Island, that overlook the west side of Forbidden Plateau and are separated from neighbouring ranges by the Eric Creek and Oyster River drainages to the south and west respectively.
The passage of the glaciers in this part of the Island left most summits unscarred. The result is a relative rarity in Strathcona, a series of easy hiking peaks. As well as the principal summit,
Mt Albert Edward
, pretty well hands-free routes are the order of the day on Jutland Mountain,
Mt Frink
and
Castlecrag Mountain
. The exception in the group is Jutland's immediate neighbour to the south,
Mt Regan
. The summit of Jutland is a great place from which to view Regan's difficulties as well as offering similar views to those who don't relish Regan's convoluted access, steep sides and abundant rock fall.
Most people visiting the area tend to focus on Mt Albert Edward as their principal objective. So much so that there's often a conga line of folks spread out on the long ridge up to the summit. If crowds are not your thing consider Jutland as a fine alternative.
The mountain can be climbed in a long day – about 32 km round trip and ~1,400 metres total relief – from Parks' Paradise Meadows trailhead but most will camp at least one night en route at Circlet Lake – see "Camping" below.
Jutland is often climbed in winter on skis or snowshoes and, unfortunately, has become an illegal snowmobiling destination as well. Anyone able to document witnessed infractions of Parks' strict no-mechanised access rule is urged to contact BC Parks or the RCMP.
Jutland Mountain is named for the only significant naval engagement of the First World War which took place off the Danish peninsula of that name on May 31 and June 01, 1916. The engagement involved some 250 British and German vessels, occasioned great loss of life and material but ended without a decisive outcome. To this day, both sides claim victory.
Getting There
Vancouver Island can be reached directly by air from Toronto, Vancouver, Seattle, Calgary, Edmonton and recently from San Francisco to either Victoria, Nanaimo, Comox or Campbell River and by ferry from Port Angeles to Victoria on
The Coho and on
BC Ferries from Vancouver to Victoria or Nanaimo. Public transport on the Island is notoriously poor and anyone arriving by air would be advised to rent a car. Access in this case is all on paved roads and, therefore, fine with a normal sedan.
Approach from north or south on the inland Island Highway 19. Near Courtenay take the Strathcona Parkway exit west to Mount Washington Alpine Resort. Drive up 20km and just before reaching the resort make a left turn onto Henry Road, following Parks signs for Paradise Meadows. Pass the bottom of the ski lifts after 1.5km and drive a further 0.5km to the end of the paved road at the cross-country facility Raven Lodge.
Parks have established a new trailhead and information booth right beside the lodge. If you get back from your trip before 5.30 pm, the Raven Lodge has a lovely view over to the mountains and is a great place for the beer you so rightfully deserve!
Approach & Route
Complete the formalities at the trailhead (see below) and head out across the groomed trail and boardwalk onto Paradise Meadows. Reference to
this map
illustrates the possible routes to Circlet Lake from where you start to gain real elevation. I recommend the route via Helen Mackenzie and Hairtrigger Lakes. This brings you in 2-4 hours, depending on your pack weight, to a marked trail junction for the campground at Circlet Lake. If you are staying here the night, turn right and along the shore of the small unofficially named "Duck Lake" before dropping down slightly into the bowl that holds Circlet. Otherwise, head straight on across the head of the small lake and up the trail.
Five minutes up the trail watch for an old Comox and District Mountaineering Club (CDMC) wooden sign mounted high on a tree and indicating the way to Moat Lake. Carry straight on in the direction signed for Mt Albert Edward.
The route now steepens considerably as it winds its way up and to the right of a large bluff, crosses a rubble or snow-filled gully and ascends a final steep gully to a flat tarn-studded alpine plateau underneath the NE ridge that connects Albert Edward and Jutland. Cross the plateau and then go up one more steep bit before arriving on the ridge itself. This is a trail junction of sorts and is marked by a very large cairn. At the large cairn you are presented with a stunning vista of the whole northeast facing shallow cirque below the upper part of Albert Edward's NE->SE ridge with Mt Regan to Albert Edward's right across a narrow ridge and col. To your immediate right the ridge runs round north and west and up Jutland Mountain.
At the cairn turn right, walk down to an open area of slabs and tarns and then up the southeast ridge of Jutland to the summit staying on climber's right of the crest to avoid the worst of the krumholtz. There are some cairns to follow and the occasional boot-path but, in the main, these are not necessary. Where you have to go is quite obvious.
Jutland is also climbed from Amphitheatre Lake which can be reached via an established trail from Circlet Lake. Details on this option will follow when I've done it. Or if anyone has, please feel free to add it using the "add route" facility.
The summit of Jutland is crowned by a large cairn with a nice wooden sign and is equipped with a summit register, all courtesy of the CDMC. Visits to the summit seem to average less than 2 per month – less than Albert Edward receives in an hour on a summer weekend in fine weather!
Summit views are simply spectacular. Albert Edward and Regan dominate to the southwest as might be expected. Gem Lake sparkles 1000 metres almost directly below Albert Edward's summit. A fortuitous gap between Mt Mitchell and
Alexandra Peak
to the west allows you to look across the head of the Oyster River Valley and the lovely Pearl Lake to
The Golden Hinde
,
Marble Meadows
- with
Mt McBride
dominant – and even
Elkhorn
, some 32 km distant as the crow flies.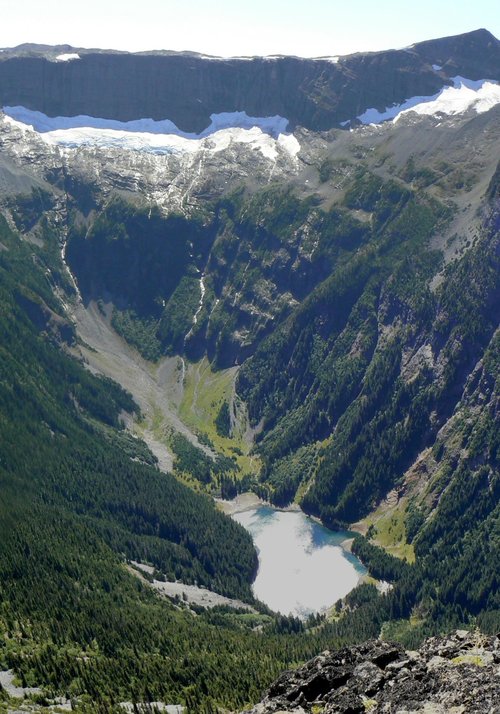 To the northwest and quite close to hand is the distinctive shape of Alexandra Peak. On the northern horizon and at the limit of visibility some 80 km away, the Prince of Wales Range and
H'Kusam Mountain
border Johnson Strait. The whole eastern horizon is filled by the Strait of Georgia and the Coast Ranges.
Some route stats
:
TH to Circlet Lake via L Helen McKenzie ~11.5 km
Circlet Lake to TH via Kwai and Battleship Lakes ~13 km
Circlet to Jutland summit and return ~ 8 km
Net elevation TH to Circlet ~ 50 metres
Total elevation TH to Circlet ~ 350 metres
Net elevation Circlet to Jutland summit ~ 630 metres
Total elevation Circlet to Jutland summit ~ 700 metres
A MapSource/Garmin tracklog is available for the asking for the approach and summit routes. Just send me an email or PM.
Summit Views
Red Tape
If you camp at Circlet Lake, or anywhere else in the designated core area of Strathcona Park, there is a $5/person/day fee. There is a self-registration box and payment slot at every core designated trailhead. Payment can be by cash or cheque. Fill in the payment form before you leave and take the receipt slip with you.
Camping
Up to and including the summit of Jutland you are in a "core area" of Strathcona Park where you must camp only in the designated areas. In the present example this means at Circlet Lake. However, ease of access to Circlet means a lot of kind of folk who think reality TV shows are about real life, making this their adventure of a lifetime. This is the place to see grandad's old army frame pack (with machete and frying pan strapped to the outside) camouflage clothing, jeans etc. Such folk, however, don't seem to be able to confine their sense of the inappropriate to just inadequate equipment. Dogs running wild, littering, late night partying and worse are to be expected. In fact it's often referred to as "Circus Lake". Minimise the nuisance factor by going mid-week if you can.
Note that fires are strictly prohibited, so you must pack a stove. Bear and cougar frequent the mountains and forests of Vancouver Island, so proper back country methods – hanging food bags out of reach, cleaning up all cooking scraps, good toilet practice etc – are essential. All of Parks' designated core area campsites are now equipped with metal box food caches. Giardia is well documented throughout Strathcona Park, so boil or treat all water.
Useful Links
Strathcona Provincial Park
Additional Information/Suggested Reading
Beyond Nootka – A Historical Perspective of Vancouver Island Mountains, Lindsay Elms, Misthorn Press, 1996, ISBN 0-919537-29-4 and/or visit
Beyond Nootka
Island Alpine – A Guide to The Mountains of Strathcona Park and Vancouver Island, Philip Stone, Wild Isle Publications, 2003, ISBN 0-9680766-5-3 and/or visit
Island Alpine Climbing Guide
Weather
Nearest point forecast
Page Visitor Statistics