Overview
Peloncillo Mountain at dawn, March 2009



The Peloncillo Mountains are a long chain of ranges that stretch north along the Arizona-New Mexico border, roughly from the Mexican border and ending in Arizona near the Gila River. The range is more like three little ranges collected together under one name. The highest point of the Peloncillos is Grays Peak, which is inside New Mexico at elevation 6,928 feet. The Black Hills comprise the northern third of the range, with Guthrie Peak as its highest summit. This "middle" section of the Peloncillo Mountains stretches roughly north of Interstate-10 at Steins Pass, bending into Arizona about where Cochise, Graham and Greenlee counties come together. The highest point of this section is marked by the USGS benchmark "Uncertain". The unofficial but more accepted name of this summit is simply Peloncillo Mountain. Peakbaggers like it for one main reason: it is one of the 73 peaks in Arizona with 2,000 feet of clean prominence.

This part of Arizona is mainly private land with a few public (BLM) and state lands intermixed, in the usual checkerboard manner. Most of the summit massif is on public land but the actual summit may be on private land. There are far more fences out here than shown on the maps, and it's difficult to be certain which side is public and/or private. Signage is non-existant. However, access to the top does not seem to be barred, and the route will follow public lands for nearly the entire journey. Very few people seek this particular summit. Hunters, campers, rock hounds and hikers do come here. History fans will note the Butterfield Stage Route passed through here, and a gravesite of an unlucky passers-by can be found in the desert brush near Steins Peak.

Getting There
From Steins on Interstate-10 (Exit 3), find a major dirt road leading north from the main set of buildings, and travel north along this fine road to a junction marked with spot elevation 4,325 feet, north of Little Doubtful Canyon. Make a hard left, going southwest, into Little Doubtful Canyon. When the canyon starts to close in, go right at a fence line into a sandy wash and follow this wash/road up onto a rockier segment, coming to a locked gate at the Arizona-New Mexico state line. Pointy Steins Peak will be immediately south of you.
4-wheel drive is recommended for the last mile of road. It gets rocky and sandy, but not too bad. Small vehicles may get caught up with the big rocks though.
Red Tape
The land immediately west of the locked gate lies inside Arizona and is an active ranch. On the New Mexico side, you are on BLM land. according to the maps, BLM land includes most (all?) of the summit, but given the number of fences, we just couldn't be sure.
The ranch owners happened to drive up as we car-camped at their ranch gate. They had no issue with us being there, explaining they get all sorts of hikers, hunters and rock hounds all the time. We explained to them our intentions with a promise we'd stick to the New Mexico side of the fence as much as possible, and they seemed alright with that. They allowed us to hike out on their ranch's roads if we wanted to, but we declined going up since the roads actually are indirect. Coming out, my partner had a bum ankle and we did walk the roads back out. I'd suggest to stick to the public lands as best you can. The cross-country travel is very straightforward.
Camping
You'll car-camp somewhere near the AZ-NM gate. Pack out all trash, be clean and leave the place cleaner than you found it.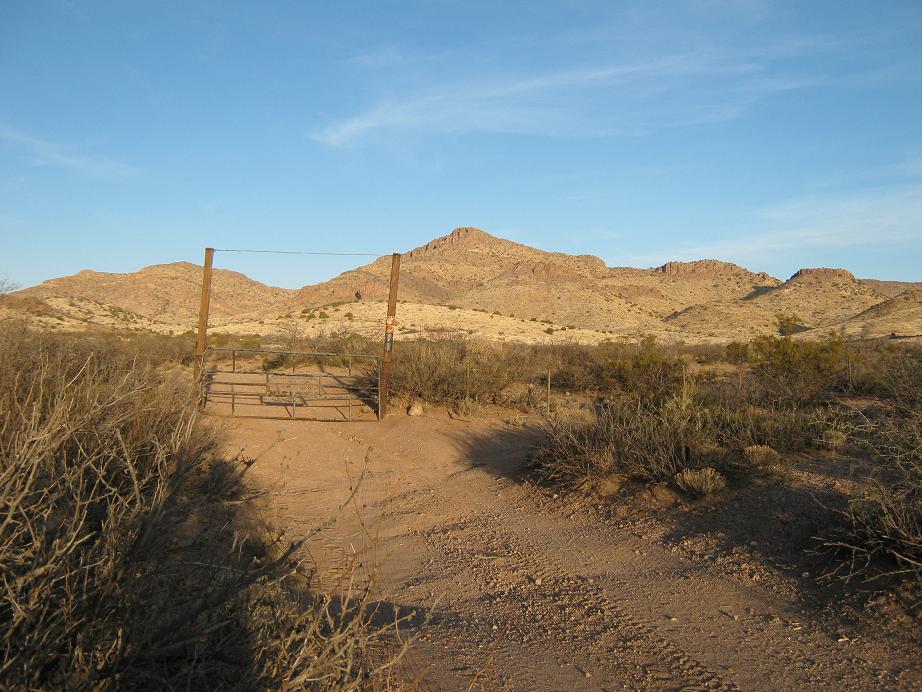 The AZ-NM gate.
External Links
Peloncillo Mountains Wilderness Area
Trip Report, March 2009
Butterfield Stage Route and Mr. Giddings' Grave
The Butterfield Stage ran through Doubtful Canyon back in the olden days when Apache Indians in the region (led by Cochise and Geronimo) would often rob and kill people coming through here, hence the name "Doubtful Canyon". Poor Mr Giddings was a young man heading east when he met his end in this canyon.
From the parking area, walk south along the fence line, then west into Arizona. Generally try to avoid brush, and about 400 meters, look for some surveyor's ribbon tied to the nearby fence and possibly nearby brush to mark the grave. It's surprisngly easy to walk past it.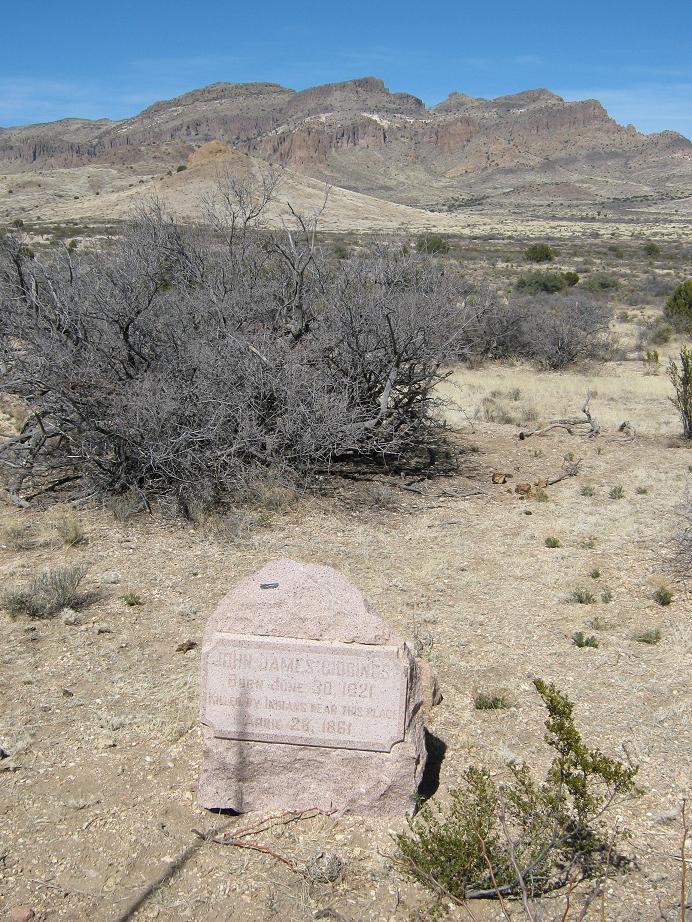 Grave Marker of Mr Giddings