Overview
Pik Kommunizma, former Soviet Union's and Pamir's highest peak. It is one of the five
Snow Leopard mountains.
The official name is nowadays Pik/Peak Ismail Somoni, but the name hasn't stuck and a guess is that it never will. The name of the peak is a little history of itself. It was called Pik Garmo until 1933, when it was changed to Pik Stalin. Nikita Chrustov decided to change the name to Pik Kommunizma in 1962. In 1998 the leadership of Tajikistan decided to baptize the peak after the founder of the original Tajik state - Ismail Somoni.
Pik Kommunizma is a huge peak and even though it's surrounded by other high mountians it really dominates the area. It is located in a sub-range of the Pamirs called Akademii Nauk or the Academy of Science Range. The first expedition to the mountain was done in 1932, but wasn't climbed until the year after. The first ascent was made via the east ridge in september 3, 1933. The two summiteers were Eugeny Abalakov and Nikolay Gorbunov.
Many tour organizers offers package tours to the peak for as little as 900$/person and if you want to combine it with an attempt on
Pik Korjenevskoy
, it's only 100$ extra. The latter mountain is only 12 km away and can be climbed from the same basecamp. It's a prety good price as the trip is almost a month and includes a helicopter ride to the foot of the peak. An alternative is to do the long walk in from the south, but nowadays only the real die-hards go for this very rough approach.
The peak is infamous for its poor rock and avalanche danger on some routes. These factors doesn't deter a large number of climbers from all over the world to attempt the peak every year. The highest peak in every area is like a magnet to mountaineers and Pik Kommunizma is no exception.
Getting There
To Central Asia
The by far most common way to arrive in Central Asia is by air and a large majority of the mountaineers heading for the Pamirs land at Bishkek's international airport. Tashkent in Uzbekistan and Dushanbe in Tajikistan also have airports with international connections. There aren't that many direct flights to Dushanbe, which is the best fly-in city for Pik Kommunizma. All the above cities have companies or agencies which can arrange the red tape, transport etc.
Bishkek is well served by railway and the prices arriving from capital cities in Europe, usually via Moscow, are very low. Travel times are long and quite complicated visa regulations in Russia makes you think twice if it's worth the extra hassle. Overland travel in between capitals of the Central Asian countries are no problem as there are lots of regular bus services as well as large shared taxis, which are a little bit more expensive than the buses.
Flying to Central Asia
The cheapest alternative is usually Pulkovo Airlines, which serves Bishkek, Almaty, Tashkent, Dushanbe and Samarkand. Usually you have to overnight in St. Petersburg. Transfer hotel is paid by Pulkovo.
Some years back Aeroflot was the given alternative, but nowadays their prices are not as good as for example Pulkovo.
To Base camp
A huge majority flies in by helicopter from Dushanbe. The ride to Moskvina base camp takes about 2 hours. If the weather is bad you may have to wait until it's safe to fly.
You can also fly in via Dzirgatal, from where the helicopter reach the peak in about 45 minutes. It's marginally cheaper, but the stretch of road in between Dushanbe and Dzirgatal is one of the most unsafe in all Tajikistan, so it's hardly worth the risk. The conditions along the road has improved a lot lately, but ask locally for advice.
Red Tape
Entering Kyrgyzstan
To enter Kyrgyzstan you need a visa. Make contact with your local Kyrgyz Embassy and talk to them about the latest visa requirements which have changed from time to time the last couple of years.
Some nationals can get a visa upon arrival in Bishkek International Airport, but this is more an exception than a rule. Be sure you're from one of the privileged countries, or you will be barred from entering the country and put on the next flight back home again.
Some nationals need a visa support letter or letter of invitation. This invitation has be made by a governmentally aknowledged company in Kyrgyzstan. Most travel agencies in Kyrgyzstan can arrange the invitation.
Embassies etc.
Entering Tajikistan
The country have very few embassies and the visa requirements varies a lot from place to place. I applied in the Ankara embassy, Turkey. In 2 minutes I had the visa in my passport and had $80 less in my pocket.
Call one of
the Tajik Embassies
for more info.
Peak Fee
The peak fee is $100. In addition you need a border zone permit which is another $20.
The easiest way to get these permits is to go via a travel agency or expedition company in Bishkek or Dushanbe.
In Tajikistan, try to get hold of Mr. Wladimir Razykov, who can be contacted in any of the top end hotels in Dushanbe. Just ask for "Alpinist-Wladimir" and the person you ask will know.
The permit price is the same in Tajikistan, but the border permit may not be required. Depends on who you speak to. Get one, as it's not expensive ($20) and it's a very long way back if you're barred from climbing because of a missing border zone permit.
You also need a permit for the Gorno-Badakhshan Autonomous Oblast (area). You'll pick it up in the ministry of interior and it's free, or $20, again depending on whom you talk to. Be sure it's written Gorno Badakhshan A. O. on it.
Routes Overview
An excellent page with all the mountain's routes. Complete with maps and route photos. In Russian.

North side classical routes.
Including the long, but technically easy normal route via Borodkin's rib.

West side routes.
The other classical way to climb Pik Kommunizma is found here. The Maksimov route up the Burevesnik rib. More details about this route.

South side routes
The really hard routes on the peak, including the extremely severe 6B route climbed by Valiev. Read more about this climb!

Member
kkk
adds the following about routes:
A rocky alternative and safe route on Borodkin spur
In 2010 we did an alternative ascent on borodkin spur to avoid the ice-fall danger on the usually used ramp. Rock is very loose up there. We found some 10-30 year old unusable fixed ropes and some old "tank"-icescrews. Certainly relicts from Soviet times.
So the hardest section is about Mixed 3+ (UIAA) with lots of loose rock (and the 30kg backpack). Most of the time it is grade 1-2. As you're not allowed to fall in such terrain anyway, some slings will be enough for protection. For best conditions wait until temperatures drop below zero, otherwise you'll find yourself in the middle of rumble city and you have to play hide and seek with the rockfall.
We descended over the normal ramp. When you hurry, the exposure to the seracs takes about 10-20 minutes. That's acceptable in contrast to 1.5-2.5h when going uphill.
So when conditions are fine, visibility is good and you feel comfortable with such terrain, it's a safe alternative with acceptable risks.

Icy alternative and safe route on Borodkin spur
Another reasonable (but untested) route to avoid the dangerous ramp, would be the following:



Thats the route we found to be feasible (in 2010) by avoiding most of the seracs. Be early and move fast in the flat section.
The route passes many crevasses. Therefore we took the rocky alternative as described before. Moreover we were 3 climbers and wanted to rope up as little as possible.
A Snow Leopard Mountain
Within the borders of the old Soviet Union, there are five mountains measuring over 7000m. They are all located in Central Asia. If you climb all of them, you get the title Snow Leopard, which is considered an indicator you're a top rank climber. For many Russian alpinists the completion of the snow leopard peaks is an important goal.
The five Snow Leopard mountains are:
Pik Kommunizma (7495m) Tajikistan

Pik Pobeda (7345m) China/Kyrgyzstan

Pik Lenin (7134m) Tajikistan/Kyrgyzstan

Pik Korzhenevsky (7105m) Tajikistan

Khan Tengri (6995m) Kazakhstan/Kyrgyzstan

The last couple of years there has been a controversy about the height of Khan Tengri. The mountain is most likely lower than 7000m, but qualifications for earning the Snow Leopard title will probably always stay the same.

The really ambitious alpinists try to climb all the five peaks in one year and believe it or not, there are expedition companies which offers a package where all five peaks are included in the deal. Asia Mountains is one of the more well known organizers.
Mountain Conditions
Pik Kommunizma is located in a very remote area and there is no weather stations close enough, to be of any value. The best option is to ask the base camp managers or tour organizers for updates. If you know Russian you can check the radio reports yourself.

When To Climb
June, July and August are the best climbing months.

Camping
Camping is generally ok all over Tajikistan and around Pik Kommunizma it's the only alternative.

Pik Kommunizma's BC is infamous for being run down, dirty and really bad when it comes to hygienic issues. Be very careful with both the water and the food. Many climbers experience stomach upsets. In my opinion the best bet is to cook all food and treat all water by yourself.

Member "kkk" says the following about BC, as a reply to another member's warning about constant stomach problems in camp.

"I totally agree. The BC (there is only one) is very rundown (2010) and could be renewed entirely. Only the bare necessities have been repaired since sovjet times. When you arrive, make sure that you get a new tent. The 25-year old green/orange tents are not waterproof at all. When BC is crowded, try to eat fast and order some extra shashlic to become sated. When tea tastes like singed plastic, don't worry, its just because of the PET-Bottle-Oven.
The shits may arise from another cause. Drinking water is pumped from the drain of the lower lake. In its water there swim some rusty barrels, oil and other things that you refuse to believe. Not to mention the algas and the nearby helicopter landing place. The best medicine to bypass "Flitzekacke" (the shits) is drinking enough vodka - not kidding. But stock up early enough. After middle of august the replenishment for coke, beer and vodka is likely to stay away.
One more thing: Never ever buy refill cartridges!!! And wear sunglasses, when ever you cook."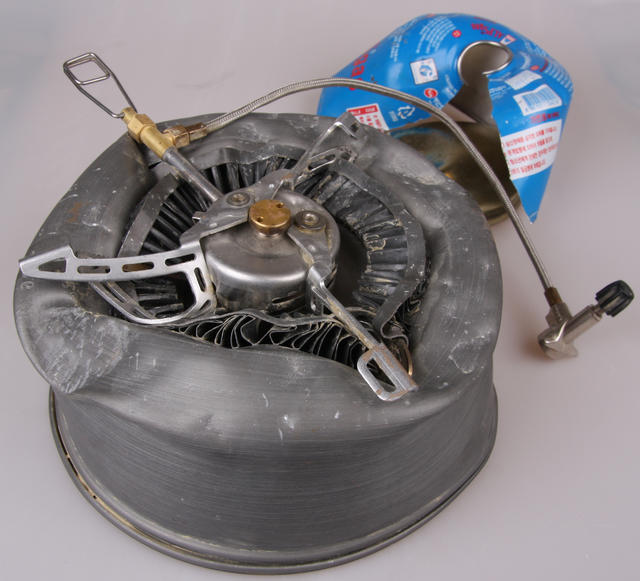 The Book
Kopylov has written a book called Forbidden Mountains - The most beautiful Mountains of Russia and Central Asia.

Maps
The best overview map I've found Covers the whole of Central Asia and a bit around.

A map of the central parts of the Pamirs. A sketch that have all the important peaks marked.

Soviet topo maps


Chris Goulet adds:
This aite has thousands of topos in reasonable resolution from 1:50,000 to 1:1,000,000 scale:http://maps.vlasenko.net/soviet-military-topographic-map/

Ismoil Somoni at 1:100,000 scale, j-43-037
Pik Korzhenevsky at 1:100,000 scale, j-43-025
Moskvina base camp at 1:100,000 scale, j-42-036



Warning: The datum is Pulkovo 1942. This datum was not in my Garmin Etrex 20. At Ismoil Somoni, the UTM/UPS East-West coordinates are precise enough, but the North-South ones are 1.8 km of difference compared to the UTM coordinates on the map grid. This difference does not change on an entire map.

For example: at the summit of Ismoil Somoni, Google Earth reads: 43S 241.380, 4314.696 km.
On the map, this point is at: 13241.3, 4316.5 km.
E / W difference: <100 m
N / S difference: 1.8 km

1) Field technique:
Physically go to a location that can be identified on the map.
Compare the UTM WGS 84 psn on GPS receiver with UTM coordinates on the map.
Calculate correction distances E / W and N / S.

2) Google Earth technique:
Pick a point on Google Earth that can be identified on the map.
Compare the UTM psn on Google Earth with UTM coordinates on the map.
Calculate correction distances E / W and N / S.

Once you have the correction distances, add or subtract them to your GPS UTM coordinates to find your position on the map.
On the Ismoil Somoni map, add 1.8 km to the N / S coordinates only.

Peter Schoen adds:
Scanned 1:100 000 Soviet maps of Tajikistan can be found at the University of Berkeley Library website.

Organizers

The following agencies have been around for a long time and are supposed to some of the more reliable. They can help out with everything from support letters/invitations before take-off to guides on the mountain.

Great Game Travels
UK Office
The Great Game Travel Company Limited
16 Malone View Park
BELFAST
BT9 5PN
United Kingdom
+44 (0)28 9091 3001
+44 (0)28 9091 3001
E-mail (form)
Website: www.greatgametravel.co.uk


Tajikistan Office
The Great Game Travel Company Limited
Proletarskaya 5/11
Dushanbe
Tajikistan
+992 (372) 247673

Asia Mountains
Sergei Dudashvili (director)
1, Lineinaja Str., 720021, Bishkek, Kyrgyzstan
Tel.: +996 312 694075; +996 312 694073
Fax.: +996 312 694074
E-mail: asiamountains@mail.ru
Website: www.asiamountains.co.uk

Asia Travel Group
97, Chilanzarskaya str., 700115, Tashkent, Uzbekistan
Tel.: (+ 998 71) 173 51 07; 173 26 55; 277 27 31
Fax: (+ 998 71) 173 15 44
E-mail: attour@online.ru

6/1 Vorontsovskaya Str., 109004, Moscow, Russia
Tel.: + 7 (095) 911 77 32; 911 77 73
Fax: + 7 (095) 911 77 73
E-mail: asiatravel@cityline.ru
Website: www.asia-travel.uz

K2 Adventures
E-mail: mnt@k2.omsknet.ru
Website: K2 Adventures

External Links
Hartmut Bielefeldt's 1993 summit attempt
Hartmut Bielefeldt's excellent trip report from his 1993 summit attempt. He subsequently summitted Sagarmatha (Mt Everest) in 2002

"If Extreme - is "a shape of your heart..." The terrible South-west face of Peak Kommunizma climbed by Kazbek Valiev.

A map of the whole of the Pamirs All important mountains are to be found on this sketch.

Kopylov's very informative site A good page for the Pamirs.