Overview
Nevada is truly a state that has so many mountains that most go unnoticed and this mountain is no exception. This mountain has the advantage of being located fairly close to I-80, the main east-west interstate that traverses the northern portion of this amazing state. Between Wendover and Wells, Interstate 80 crosses a pass, Pequop Summit ( 6,967 ft), its highest point between Parley's Summit in the Wasatch Mountains of Utah and Donner Summit in the Sierra Nevada Range of California. A rest area can be found at the pass although you often have to put your coat on to get out of the car, even in the summer at times.
I have been unable to find a definition for the meaning of Pequop but obviously it is indian in origin and some aware reader might know the
meaning and be kind enough to enlighten us with it.
Getting There
While the summit of this mountain could be approached from either the east or west side, the way described here will be for the west side approach. Whether you approach from Wells or Wendover, take exit 365 on I-80 and go east along the south side frontage road. A short distance along this road you will see a sign for Rockland. The road is near the interstate for a short bit and then leaves the interstate and heads generally south along the west side of the range for many miles. Ignore lesser roads that go east from the road (lead to ranches in most cases) and stick to the main most obviously traveled one. The road is good for the most part, but has a number of dust bowls and some high center spots. About 14-15 miles from the exit, turn left on a lesser road (just south of an old water pump which you need to be watching for) and follow it east into a canyon. This becomes a steep road, but is generally in good condition. High clearance is recommended and if you can make it past a narrow, rocky stretch, you can get to the end (4WD is helpful). Near the end, go left up to a flat area by a mine excavation. Park here. This parking spot was 17.4 miles from exit 365 by my odometer. Your mileage may vary.
Key waypoint: Mine parking area 40.9052 -114.60715 nad 27 7935'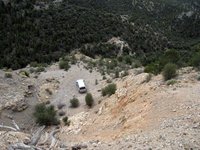 It is helpful to go armed with topographical maps of the area so you
can make the right decisions on the approach road. The key help is the
GPS waypoint I've included above. I'll work at adding a map later for this page.
Red Tape and Route
This is BLM land and as far as we know there is no red tape. We encountered no "No Trespassing" signs.
Route:
If you park at the mine excavation area, go left from where you park and make your way up the ridge. It is fairly steep at first but will flatten out and contour up towards a main north south ridge line that has a use trail that wild horses have made and seems to be also used by dirt bikers. The way to the summit will be obvious although it is helpful to have the summit listed as a GPS waypoint. I feel it'd be best to wait until the snow is gone so late spring to late fall most likely would be the best times to do this hike.
Round trip from the mine area is only three miles but you will have 1500 feet of elevation gain. We took about two hours round trip, not including summit time and we were moving at a moderate pace although in a couple spots we were slowed down by route finding (which was never difficult). Very nice views from the summit.
John Vitz shared this route description:
"Climb northeast up a fairly steep ridge through the mountain mahogany. The grade lessens and the trees go away. Pick up a prominent wild horse trail and follow it and any one of its branches to the top. This is a nice hike. (3, 1500)"
Camping
Since you will be mainly on BLM land, you could car camp at just about anywhere, just be sure to use the "leave no trace" ethics and avoid the use
of fire rings unless you find one already established. Since this hike doesn't take a long time, overnight camping for most will not be necessary or even desirable. Nearby Wells and Wendover have many motels to choose from if needed as well as food, gas and groceries. Take you own water as you will find none in this area.
Wells Nevada Weather
Additional thoughtsYou could combine this hike with another one such as the
Toano Mtn HP
or
Spruce Mountain
making it two mountains on the same day. Good food choices are available in Wendover Nevada and Wells also has an assortment as well. Fellow summitpost member Dennis Poulin did Murdock prior to climbing this one.
Summit Visitors
This is an area where the wild horses have created trails and actually make the hiking fairly easy. The register I found was placed in 1999 by Gordon MacLeod and Barbara Lilley. There were 8 signatures in the register and several were by hunters. Peakbaggers that I am aware of that have been to this summit are:
1999- Gordon MacLeod (Calif)
1999- Barbara Lilley (Calif)
2006- John Vitz (Calif)
2009- Dean Molen (Utah)
2009- Ken Jones (Washington)
2009- Kadee Smith (Utah)
2009- Greg Jagielski (Utah) From east side
2011- Mark Oberg (Utah)
2012- Mark Nichols (Arizona)
2013- Victor Zhou (Utah)
2014- Dennis Poulin (Oregon)
2014- Bob Sumner (Nevada)
2015- Kelly Lister (Nevada)
2015- Terry Lister (Nevada)
Terry and Kelly have put together a very nice photo album on facebook. Check it out
HERE
.
If you have done this mountain and want your name listed here, please contact me or sign the summitpost register located on the left side of this page.
Summit views
Views are outstanding:
Disclaimer
As road conditions can change and hiking or traveling in this type of country can be inherently dangerous, the above information is provided only as a courtesy. You accept all risk and responsibility for your activities in this area and I recommend that you let others know of your plans and where you will be hiking/climbing prior to heading to this area. Be self sufficient and carry plenty of food, water and shelter in the event of a breakdown. Good quality tires are a necessity on the rough and rocky roads you will encounter as is a vehicle in good condition. Cell service may be unavailable. Having said all that, have a good trip and please let the author of this page know of changes that you encounter.