Overview
I would like to briefly describe a few rock climbing places located west of Telluride, in the remote area of the state of Colorado. There are no big towns in this area, no industry, one may feel lost in time here. You will encounter small poor communities, and feel nearly like visiting a third world country. You will see more elks on the roads than cars. You may get lost in the search of your destination. I hope these qualities will keep crowds away, but the area is so spectacular that it does deserve a mention on SP.
The climbing is excellent, mostly on sandstone and is spread over many many miles in several different locations. One can spend a lifetime exploring all areas, and the potential for establishing new routes is endless. Too many crags, and not enough climbers to test it all. 4WD vehicle is required for some of the crags, but many are accessible by normal vehicles on well maintained dirt roads. This is not a place for beginners. Do not expect any help in case of emergency, and do not expect a cell phone coverage. Bring all you need with you.
If searching for this area on the map (click on the link The Wild Wild West below - it has a crude map and location of the area), look west from the small town of Norwood, several crags are surrounding small communities of Naturita, Bedrock, and Slickrock, some crags are miles away from any human habitation. Most are accessible by dirt roads, and most are very pristine and offer great solitude. Be cautious of the weather changes, although the setting is desert like, it can rain here and the roads can become impassable (especially 16Z crag).
Location: south and west from Uncompahgre Plateau (some are part of the plateau), and west of San Juan Mountain range, bordering the state of Utah.
Charlie Fowler described these areas in his book The Wild Wild West Rock Climbing in the Wild West End of Southwestern Colorado. Mountain Projects mentions some of the routes and crags. Psycho Tower became recently a popular destination since it was published in Climbing magazine and the tower and its small summit is really spectacular. And who would not want to climb a route named Psycho Path? At 5.9+ it is one of the easiest towers to be reached.

Seasons: Climbing is possible year round, but the prime time is early autumn and late spring. Summers tend to be hot, and winters cold if climbing in the shade. May and June see swarms of gnats and other annoying insects, bring a lot of insect repellent.

Services: there is not much around. Norwood, Nucla, and Naturita have gasoline and small grocery stores, especially Naturita and Nucla are very poor. Do not expect much in regards to dining out. Plan to camp out and bring all your food with you.

Climbs range from short one pitch to a 350+ feet multi pitch. Some are bolted, some are trad. Most can be climbed with one 60 meter rope; 70 meter rope is recommended at Red Rocks area. Most routes are equipped with fixed belay/rappel stations, however some routes at the Lost World, Atomic Energy Crag lack top anchors due to soft rock - bring a long rope to anchor off trees.
There are more than 500 recorded climbs here + tons of bouldering.
The best available guide is above mentioned book by Charlie Fowler and Damon Johnson.
Stewart Green in his Colorado Rock Climbing Guide describes a few crags from this area.

Elevation: Elevation changes at different locations. Paradox Valley is roughly 5500 ft, Big Gypsum Valley is 5700 ft.
Getting There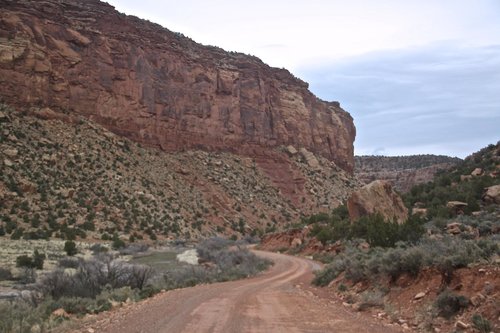 Long drive in from any destination you are coming too.
The closest airports would be Montrose, Telluride, Durango, and Moab (all these are small airports, and expensive to fly into). And even from these airports expect 2-3 hrs of driving on dirt roads, often not well signed.
Expect at least 6-7 hr drive from Denver.
Salt Lake City 285 miles
Phoenix 454 miles
Albuquerque 375 miles
If driving from I-70, from Denver, exit in Grand Junction and drive south. Take the scenic
Unaweep Tabeguache Byway
, and if you have a spare time plan to spend a few days climbing at
Unaweep Canyon
, which is another amazing climbing destination with long multi pitch climbs (Unaweep has granite). And
Indian Creek
is not that far - about 1 hr drive from Naturita.
Climbing Crags
1. Road Y11 (River Road) - even if you are not a climber, this is an incredibly scenic road to take. It winds through a narrow deep canyon along San Miguel and Dolores rivers. There is some interesting history related to uranium and vanadium mining. Sunshine Slabs are located 5.5 miles from the Highway 50 in Paradox Valley. The rock is excellent, and the scenery is one of the best. Sandstoner's Highway - 2 pitches (each 30 meter rope, so you can make it with one 60 meter rope), fully bolted (bring 11 draws) is one of the local classic, and per the guidebook one of the most best routes in the whole Wild West (got #2 after Psycho Tower).
2. Lost World Crag - is set high on the hillside. Features numerous short climbs (?80 different routes), some can be top roped. Has a sunny side and shady side. You need a high clearance vehicle to reach this one. The road tends to get washed out after rains. Climbing is more like face climbing, and some routes start on this pebble type of rock. Fingers will get sore. Fun area with kids, a lot of little passage ways to explore.
3. Atomic Energy Crag - offers over 35 routes and extensive bouldering. Some sport routes, some cracks. The routes are short from 35 to 90 feet long.
4. Red Rocks - there are petroglyphs on the walls here, so avoid climbing in the near proximity. Most sport and crack routes, ranging from 80 to 200 feet. This is a big area with many different sections.
5. Sewemup Mesa - mostly crack climbing on Windgate Sandstone, about 100 feet in height, excellent quality cracks. About 21 climbs, ranging mostly 5.10 to 5.11 range. The views of Dolores River below fantastic.
6.
Big Gypsum Valley - Psycho Tower
- SP site
here
, the best sandstone tower climb in Colorado.
7. Big Gypsum Valley - Black Wall: a fine crag in a scenic setting, close to Psycho Tower (good choice if Psycho Tower crowded, unlikely). Has two sections: western end and central section, some sport routes, some need a gear. Approach just at the opposite side of the same drainage as for Psycho Tower - follow small cairned path.
8. Big Gypsum Valley - Towers Above The BLM Campground: there are 3 single pitch towers 1/2 mile west of Psycho Tower. Thumbs Up 5.9, 4 bolts, described on Mountain Project is the most popular one. Tower 2 is 5.8 up northeast slabs and face, and Tower 3 is 4th class up the south shoulder.
9. Big Gypsum Valley - Slickrock Buttress - crack climbing up to 350 feet high. Great camping below it.
10. 16 Z - great area, long drive in on rough dirt road. Very easy to get lost when trying to find this one. Large area with many beautiful climbs, and very secluded setting.
Sunshine Slabs
Sunshine Slabs AKA Crags off Rd Y11 (= River Road) - this road is located in Paradox Valley on Y11 road (a county road) between Uravan and Bedrock. This graded road is narrow in spots and with tight curves. It can be icy during the winter months. The road follows the Dolores River Canyon to its confluence with the San Miguel River Canyon. Look for the remains of the old hanging flume, constructed between 1888 to 1891 to take water to a placer claim. At Uravan, turn left (northwest) on Colorado 141 and rejoin the Dolores River Canyon.
Sunshine Slabs are located 5.5 miles if driving from Bedrock, large slabs facing south, visible from the road, located at a bend in Dolores river with a large island in the middle of the river. There is a steep well cairned trail leading to the base of the slabs.
The photo above features Wide Open Spaces section with its climbs, to the right (not on the photo above) would be another slab with one established route Manic Monday (we did not climb that one since we came there on Sunday). Manic Monday 5.10+ is a 3 pitch climb: first pitch it bolted -5 QD, rated as 5.9, 2nd pitch follows finger and hand crack past small overhang - bring gear, rated 5.10, and the 3rd pitch is 5.8 flake to a corner, again bring gear.
Road to Nowhere 5.8+: bolted, 6 quickdraws, run out at the top, just below the anchors.
Sandstoner's Highway 5.9+, FA Joel Coniglio, Damon Johnson and Charlie Fowler 03. They gave it 3 stars and their guidebook "The Wild Wild West" rates is as the 2nd best climb in the whole area. This is a 2 pitch climb, each pitch is nearly 30 meters long (meaning one 60 meter rope is sufficient here). 1st pitch 5.9 needs 11 quick draws, 2nd pitch 5.9+ needs 10 draws, no gear needed. Nice bolted anchors at each station.
Wide Open Spaces 5.10-: FA: Joel Coniglio and Charlie Fowler, 3 pitches, you need both gear and quick draws. Recommended gear: small camps up to #3, and one set of nuts, 6 QD.
Shock and Awe 5.8: one pitch joining Mad Cow Disease, bring 9 quick draws. FA: Chris Boskoff, Damon Johnson, Charlie Fowler, Julie Hodson.
Mad Cow Disease: Pitch one is 5.8, pitch 2 is 5.10. FA: Joel Coniglio solo. Bring both gear (small camps to 3# and set of nuts) and quick draws.
Smoking Gun: Pitch one is 5.10, pitch 2 is 5.9. FA: Damon Johnson and Julie Hodson. Pitch one is mostly trad, pitch 2 is bolted. Bring at least 10 draws, and small gear.
Some Images from Climbing at Sunshine Wall
Black Wall
Black Wall is a fine crag in another scenic setting above Dolores River. This crag is not visible from the road. It is a great option if you want to warm up for Psycho Tower, or if there are other parties on the tower. It's also a good choice on cold days since it does get a lot of sunshine. It is located less than 1/2 mile from Psycho Tower, east of it. Use the same parking area, and start you hike on a faint trail with some cairns on the right side of the same drainage as for Psycho Tower. (We did not find this trail on our way up, but did descend it). Black Wall is around the corner from Psycho Tower, so you don't get to see it once you are there. It does feel nice a private and high above the road.

Climbing is on Windgate Sandstone. There are mostly single pitch climbs here, up to 100 feet in length. Some climbs are sport, and some are trad. You don't need a 4 WD vehicle to get here.
Black Wall climbs are separated into two different sections: western end and central section. Most of the routes were established in late 90s.
Climbs of western end of Black Wall:
Stacked Blocks 5.9: bots to wide blocky cracks.

Darkness Till Dawn 5.10+: right facing corner and face to headwall.

Headwall Crack 5.11: step right from anchors past steep bolts, up steep crack

Doobieous Deliverance 5.9: up and left into groove, seam to top.

Black Walk 5.8: same start as previous, move up right past bolts and thin gear.

Goofy World 5.11-: thick crack system, bolts.

Tenderfoot 5.10R: right angling crack, off width, shares the same start as previous.
Climbs of the central section of Black Wall (located 150 meters east from western end)
Kamakazi Bride 5.11: bolted face 5.10+/5.11 to first anchor.

Little Gypsy 5.7+: 5 bolts to anchors.

Sizzlin Summer Solstice Spectacular 5.10: beautiful arete, bolted.

The Slot 5.9+: dirty chimney.

More Smiles For The Mile 5.9: bolts and some finger/hand gear.

Coalition Of The Drilling 5.10: thin bolted face.

Rockin' Rhino 5.10/5.11: wide hand splitter to first anchor, thin corner to second.

Falluja 5.12: overhanging hand and finger crack (to the far right).
Some Images from Black Wall


This area is more secluded and requires a long drive in on 4WD dirt roads. Climbing here is on Navajo Sandstone, one pitch climbs ranging from 40 to 110 feet. There are no restrictions to climb or camp here (BLM land), but you do need a high clearance vehicle to get here. The easiest way to get to these crags is start from a tiny community of Basin, on Highway 141 between Naturita and Dove Creek. At Basin, turn west on Road U29; take if for roughly 15 miles till the intersection with Road 16Z. Turn left here and drive about 3.8 miles on a rough road to a pullout on the left. There is a nice parking lot with a few camping spots.
The road can be also reached from the Paradox Valley (Colorado 90) via Road DD19 or Road EE21. I would recommend to have a detailed map with you, e.g Colorado Gazetteer. It is easy to get lost here - many unsigned dirt roads (the major ones have to above mentioned lettered and numbered signs).
16Z can be also approached from Big Gypsum Valley (Psycho Tower area) by hiking up and left from Hamm Canyon. It takes at least 45 min. This approach is recommended in the winter, when the dirt road may be impassable.
The climbing area at 16Z is large and divided into a several sections. Climbs are situated below the road and parking area and to access this hanging valley below the road requires class 3/4 scramble. There is a fixed rope set up at one section, another way in involves descending through a narrow slot. There are small cairns marking the way down. You can also set up a rappel from the main parking area from a tree and rappel down in a deep slot between the main wall and Looking Glass formation.
This is my favorite area and the climbing offers so much variety, from sport to trad, great cracks! This area is big and has many different subdivisions.
Some Images from 16Z crags
Red Tape
All climbing, camping, and parking is free. Please respect Private Property at some areas, e.g. camping. Climbing crags are located on BLM land.
External Links
Weather
style="display:block"
data-ad-format="autorelaxed"
data-ad-client="ca-pub-6523272176520096"
data-ad-slot="7132222476">