Unnamed 13075 Overview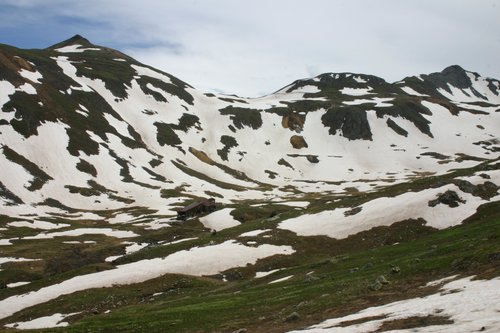 13075
is an unnamed peak, located in the heart of the San Juan Range. It rises 13,075 feet above sea level and it is ranked Colorado's 589th highest peak. It has a prime location just to the right of where Picane and Placer Gulch (4X4 roads) meet up at 12,660 feet, which is also the saddle to this mountain, giving it 415 feet of prominence. Also it is straight across from Hanson Peak which is a very popular climb. Probably the only reason why this is unnamed is because it is not very noticeable as a peak. If you look at it from the junction between the 4X4 roads, you may think it is a false summit to a much more significant peak, but it is not. It actually does not look like it has 415 of prominence, but it looks a little more significant from Picane Gulch. But don't let that become a turn off. This mountain is always lush green with wild flowers and colors all around it. It will make a great side trip inside any day you are near it.
In-depth Details
Here are more details:
Elevation: 13,075 ft.
CO Peak Rank: 589
Range: San Juan
Counties: San Jaun
Quadrangle: Handies Peak
Coordinates: 37.9043°N, -107.5930°W
Prominence: 415'
Saddle: 12,660 ft.
Proximate Parent: Hanson Peak
Line Parent: Hanson Peak
Isolation: 0.95 miles
YDS Class Rating:
2
Climbers Log
Getting There
All ways of getting there require a 4X4 vehicle.
From
Durango
, head NE towards Silverton. Once at Silverton go towards Eureka. Once your at Eureka, keep going until you see a 4WD high clearance vehicle sign. You will need at least some clearance to continue. Passenger cars are not appropriate, but a standard all-wheel-drive vehicle will make it if you are careful and go slow. Continue down the Eureka Gulch Road until you get to the junction that contains the cut-off for Picane Gulch Road. From here you will need a 4X4 vehicle with a short wheel base (preferably a Jeep). Continue on this road until you get to another junction. Continue on the same side that has the sign that marks the Alpine Tundra. Continue past old mining buildings and up 3 switchbacks to the top. From here, go down the road about 25 feet, there is a large pull-off area here. 13075 is to the left if your facing SE.
From
Lake City
, go over Engineer Pass and go in the direction of Silverton. From there, head down to Animas Forks. Now, take Placer Gulch up to the large pull-off area.
There is no trail and the from where you are right now, there is one false summit. It should not take you very long to summit if you are doing this peak only and you 4X4 up to the end point. If you start from the bottom of Picane Gulch road, expect a long day ahead of you.
Red Tape
Driving off road is prohibited and unlawful since you are in the Alpine Tundra so thus, you must comply with rules. No permits required for this one, but there is one area of private property along the Picane Gulch road so stay off that.
Camping
Since driving off road is prohibited you are limited to just camping in Eureka unless you are tent camping. If you are coming from Lake City, there are campgrounds around that area and a few pull offs along the first stretch of the Engineer Pass road that are suitable for camping.
External Links
http://listsofjohn.com/PeakStats/Climbers.php?Id=742