Overview
Other than being an official ranked Fourteener, Wilson Peak is more easily recognized and familiar for another reason, it figures prominently on all the Coors labels and products! When viewed from the north or northeast, Wilson Peak does indeed strike a mighty profile; similar actually, to that of Mt. Sneffels in that [each] very singular mountain almost lords over their respective ridgeline by what seems like thousands of feet.
Wilson Peak is a frightfully beautiful mountain. The aspen forests below set the wilderness on fire come autumn. Snow often lingers well into summer inside the more deeply etched couloirs and runnels and the grey and white rock that make up the shifting alpine, throws the mountain into a splendid relief against the blue and violet sky of dusk.
The whole concept of what exactly constitutes the "Colorado Rocky Mountain High" is writ all over Wilson Peak.


This mountain, if the Maroon Bells didn't feel up to it, could come to represent what Colorado is. And the fact that it does take some effort to travel to this part of the state also coincides in that Colorado has so much more than what tourists only see within the comfy confines of the Metro Denver area. Wilson Peak is the reason why some of us leave the pavement and trade our loafers for hiking boots. It's no wonder that Adolf Coors choose this mountain to represent his beer in 1873.

At 14,017, Wilson Peak is certainly not the highest Fourteener nor is it the most prominent. It is the highest point in San Miguel County and the 48th highest Fourteener. Wilson Peak makes up ⅓ of the trifecta commonly known as 'The Wilsons'; the other two peaks being El Diente and Mt. Wilson. To some degree, a forth mountain known as Gladstone Peak is typically included in this massif. Gladstone Peak is a centennial (top-100 highest).
Having two mountains to such proximity to each other, Wilson Peak is only 1.5 miles north of Mt. Wilson, there's usually some confusion in keeping the two separate. However, if one commits to memory that Wilson Peak is featured by Coors (peak=beer, 4 syllables), one might do ok in remembering. Another feature to point out in keeping these two mountains separate is that Wilson Peak is the EASIEST of these three to climb, Mt. Wilson being the hardest. Fact, many people climb Wilson Peak first in preparation for the other two.
Wilson Peak was named for a fellow by the name of A.D. Wilson who was in 1874, the chief topographer/cartographer on the famous Hayden Surveys. Wilson Peak lies within the Lizard Head Wilderness and the San Juan National Forest and the Uncompaghre National Forest Area. The Lizard Head Wilderness Area is approximately 41,193 acres (16,670ha) in size and is widely known throughout Colorado for the aspens.
Wilson Peak may be one of the lowest Fourteener's in the state but it still has a decent amount of prominence, about 877'. It is located within the Mt. Wilson Quadrangle and consequently, Mt. Wilson is its' proximate parent.



Norwood Ranger District
Uncompaghre National Forest
1150 Forest Street
Norwood, Colorado 81423
970.327.4261

USGS Maps: Mt. Wilson, Dolores Peak, Little Cone
USFS Maps: San Juan National Forest, Uncompaghre National Forest
Trail Illustrated: Map #141 Telluride-Silverton-Ouray-Lake City
Red Tape
"A wilderness, in contrast with those areas where man and his own Works dominate the landscape, is hereby recognized as an area where The Earth and community of life are untrammeled by man,
while man Himself is a visitor who does not remain."



This was writ in 1964 and has come to stand for the importance and signifigence of keeping the wilderness wild and virgin. The wilderness act when signed into law by President Lyndon B. Johnson on September 3rd, 1964, legally defined what exactly constitutes a wilderness area. This act protected at its' onset, some 9.1 million acres…Lizard Head Wilderness is but a pence in a huge coffer of coin. There are four distinct Federal agencies that have, to varying degrees, jurisdiction over the existing wilderness areas and the new ones waiting to be established. These agencies are in order of scope: National Park Service, U.S. Forest Service, U.S. Fish and Game and the BLM.

Since the laws governing wilderness areas are typically more strict and cumbersome than National Forest or BLM Lands, the following regulations pertain to climbing, camping, hiking and simple visits specific to Lizard Head:
1.) Motorized equipment is not allowed.
2.) In 1986, regulators expanded the definition of 'motorized' to include mountain bikes.
3.) Hang Gliders, carts or any vehicle with wheels are not allowed.
4.) Groups can be no more than 15 people in size, 25 with livestock.
5.) It is prohibited to build a fire within 100ft. of Navajo Lake, near any source of water or above tree line.
6.) All domesticated pets must be in control whether that means via voice command or leash.
7.) It likewise, is prohibited to camp within 100ft of Navajo Lake or any water source.

And of course, as a compliment to future campers and hikers, please be considerate and remember to practice "Leave No Trace" ethics while backcountry.
Other than that, all the red tape is pretty much non-existent!

To access Wilson Peak (or the other 14ers) legally using the Silver Pick Trailhead thus, avoiding the private property owned by Rusty Nichols, the new trailhead is located about 3.1 miles up Elk Creek Road.
This is near where the old Wilson Mesa Trailhead is directly on Silver Pick Road. Once one leaves the trailhead (10,383ft), The Rock of Ages Trail (#429) will start out at a moderate incline before switch-backing frequently up and out of Elk Creek Drainage. The trail crests the ridge and drops into Silver Pick Basin high up on the far western edge ABOVE the private property.
It is well at the head of Silver Pick Basin that the new spur segment connects with the old traditional route. This is the shortest approach to access Wilson Peak as it comes in at around 3.8 miles RT from the trailhead to the Rock of Ages Saddle (~13,335ft).

Getting There
Wilson Peak has two main approaches plus a minor third. The first is from the highly publicized, Rock of Ages (Silver Prick). The second main approach is via Sunshine Mesa (Bilk Basin). A longer but in my opinion, prettier approach is from Woods Lake located to the west. There are other approaches of course but generally speaking, these are farther and predominantly used for El Diente and Mt. Wilson. In terms of proximity and ease of access, Rock of Ages, Sunshine Mesa and Woods Lake will be detailed.


ROCK OF AGES

Also known as the Silver Pick approach stemming from the mine located at the head of Fall River Creek, the Silver Pick Mine, this is the most efficient and direct route to gain the summit of Wilson Peak. It is class 2 the entire way to the Rock of Ages Saddle (13,000ft) and thanks to some very hard and ongoing work by the CFI in surmounting the obstacles that local land owner, Rusty Nichols made difficult for the climbing community, this approach can be considered a viable avenue again with some minor detours along the way including an entirely new trailhead (opened in August of 2011). This approach is roughly 3.75 miles roundtrip to the saddle.

The new approach directions as listed below are taken from 14ers.com with Bill Middlebrooks's permission. For a more detailed description that includes associated pictures, please visit Bill's page (14ers.com) on this subject.

"From Ridgway, leave U.S. 550 and take Colorado 62 towards Telluride. Drive over Dallas Divide and down to the town of Placerville. Turn left onto Colorado 145. Drive 6.5 miles and turn right on the Silver Pick road. It is 6.8 miles from here to the trailhead. From the start of the road, drive 3.1 miles to an intersection. The sign says "Silver Pick Basin - 5". Stay left. After another 0.7 mile, there is a confusing intersection. Do not continue on the road that goes straight. Turn right a bit to see the road that you want. Do not take the road that takes a hard right (it has a Private Property sign). Drive into the National Forest after another 2.2 miles (6.0 miles since you left Colorado 145). After another 0.1 mile, turn right onto FR 645 and continue approx. 2.25 miles (there are some possible campsites along the way) to the new Rock of Ages trailhead near 10,350'.
From the new Rock of Ages trailhead, hike south and then southeast on the Rock of Ages (#429) trail to enter Silver Pick Basin near 11,300'. Continue southeast up into the basin. Continue on the road as it climbs south into the basin.
Near 11,500', cables (on the ground) from an old ariel tramway become evident. The road parallels the cables for a while and briefly turns right (west) near 11,800'. The road soon leads back to the center of the basin. Stay on the road as it climbs east and then south to the top of a small hill with the remains of a rock house. From the rock house, you will need to do some brief route finding. Look directly south up on the steep slope to see the remnants of the Silver Pick mine. Just to the left of the mine, locate a dirt "trail" that leads up to the mine. From the rock house, walk across and then up some talus. There's not a great trail here, just continue south up talus until you spot the best way to reach the base of the slope. Locate the loose trail and climb approximately 450' to the left side of the mine. Near the mine, find a better trail that heads left (southeast). Follow the trail across the steep slope to reach the "Rock of Ages" saddle near 13,000'."


SUNSHINE MESA/BILK BASIN

Leaving the town of Telluride, head west on Co 145 for about 2.5-2.6 miles. They'll be a sign for South Fork Road on the left side (south) and a tourist outdoors camp called Camp Ilium. Head down and cross over the San Miguel River on a small wooden bridge after 0.2 mile. Simply follow the road as it courses south. After 2.0 miles, look for the Sunshine Mesa Road turnoff (FR 623). Turn right (west). The road will climb gradually for roughly 7.6 miles with a couple of descents thrown in. Sunshine Mesa Road will dead-end at the trailhead at mile 7.7. This trailhead is at 9,800ft. This approach accesses Wilson Peak's east flanks and is not maintained in winter.
For a description of the entire trail from the Bilk Creek trailhead, go here.
This trailhead can also be used to climb Gladstone Peak.


WOODS LAKE

From the junction of Co 145 and Co 62, drive east for 2.7-2.8 miles on Co 145 passing through Placerville. Look for a signed road on the right side saying Fall Creek Road (57-F Road). This will be your exit. Turn south crossing the San Miguel River at 0.1 mile and set your odometer. Continue driving south and southwest for roughly 4.0 miles. At mile 4.0, turn right and continue to drive straight ignoring the side roads. Pass a small intersection at mile 6.0 and again at 7.8. At roughly 9.0 miles, there will be a forest service sign indicating Woods Lake Campground. Pull into the campground and look for the separate area used for trailhead parking (it's quite ample). This trailhead starts at 9,352ft and provides access to El Diente, Wilson Peak and Mt. Wilson via Navajo Lake/Basin. The trail (#406) winds around Woods Lake within a quarter-mile or so of the trailhead then zigzags across a few small streams in its first 3 miles through the thick forest. The climbing initially is steep and somewhat steady until the Woods Lake Trail meets the Elk Creek Trail in an open hillside just above treeline (make sure you have your camera!). The flies and mosquitos on this very green and tranquil approach can be horrendous in late summer but the view of El Diente as one finally crosses the saddle that descends into Navajo Basin is intoxicating!


KILPACKER TRAILHEAD

Sitting at a respectable 10,060ft, Kilpacker is the trailhead of choice for most El Diente ventures and ascents because of its relative proximity to the mountain. Kilpacker provides access to the southern routes for El Diente and the southwestern slope for Mt. Wilson. Convenience is high for this portal.
Travel south from Lizard Head Pass on Co. 145 for roughly 5.5 miles. Turn right (west) onto FR 535 (Dunton Road). The drive from the trailhead from this point can be a bit convoluted but persist!
The dirt road will slowly climb in a northwestern direction. There will be a bit of a 'rough intersection' at mile 4.2. Keep driving straight through this. At 5.0 miles, turn right onto FR 207. The trailhead is only another 0.3 miles. Dunton Road is NOT plowed or maintained in winter but the frequent snowmobilers will make life easier for a short while! Parking can be tight.

Route Options
There are a few different options available to climb Wilson Peak. The Southwest Ridge is the most common and standard route on this peak. It can be accessed from either Rock of Ages, Navajo Lake or Bilk Basin.
A couple other common options are the Northwest Face and the Northwest Ridge. As a ski descent, Wilson Peak is an advanced to extreme ski trip. Most folks ski the Northface Face but the Southeast Face can also be skied.
Check out the links on the left as to these routes.

14ers.com has some killer write-up's on these routes. Very well written, tons of helpful pictures and beta. Use both of these sites to plan your future safe and successful climb!
course, click the link at the bottom of this page for Teton Gravity Research...The PREMIER site for all things ski/snowboard related!

Camping
Without making this section needlessly too long based on which approach one is going to use since Wilson Peak, Mt. Wilson and El Diente can all be day-tripped from every trailhead, I'll explain a little about the most centered/convenient or oft-used areas for camping.
Probably hands down the one area most people use to camp for these three peaks is Navajo Lake located at 11,120ft. This pristine lake located just below treeline is situated 0.3 west of El Diente and 0.45 miles west of Mt. Wilson. Wilson Peak (and the Rock of Ages saddle) is roughly 0.7 miles from Navajo Lake.
There are ample sites available to camp at around the lake with additional sites located 0.1 mile 'up-valley' from the lake on its' northern fringe. Most of the sites are located across the outlet where the trail first meets Navajo Lake on its western end. Just look for and utilize existing fire rings to avoid degradation of the forest since this is a wildly popular destination in summer. A few camping sites don't allow fires but these, the last time I was up there were signed as such. Just remember to practice ethical camping habits so future campers can equally enjoy this beautiful and sheltered basin.

Camping of course is also an option at Woods Lake Campground. Hiking and climbing these Fourteener's in a day from Woods Lake will be a bit of a stretch but is quite doable as a long day.
The campground, located 0.4 miles from Woods Lake and 0.75 miles from Lizard Head Wilderness is situated in multiple thick stands of Aspen. It is comprised of three loops, one of which is designed for horses. This horse loop has a corral with five paddocks and a watering trough. A large parking lot is available for parking horse trailers. The campground is an excellent base camp for hikers and horses to access Lizard Head Wilderness. There are incredible views looking south from the campground of mountains in Lizard Head Wilderness. And, of course, the "quaking" leaves and majestic fall colors from the Aspen, add to the draw of this campground.
The campground is $14.00 per day with a 2 week maximum stay. This is a seasonal campground opening its gates around late May and closing mid-September. Tables and grilles are available, vault toilets and fishing is allowed (Cutthroat and Rainbow). There are four water spigots but no public phone or flush toilets. This is a first come- first serve campground.

There is also car-camping at the Kilpacker Trailhead but this is limited to the spaces available. I've yet to ever run into a problem (twice) doing this.

Mountain Conditions
Wilson Peak shines in its winter coat on a glorious fall day in the San Juan Mountains
Digital photo by Todd Caudle
7-day outlook
Temperature Conversions:

Click for weather forecast
Mining
"Colorado men are we. From the peaks gigantic,
From the great Sierra's and the plateau's,From the mine and from the gully, from
The hunting trail we come.
Pioneers! O Pioneers!"
-Walt Whitman



There are multiple words instantly associated with Colorado: Outdoors, skiing, John Denver, climbing, hunting, Aspen and Vail, Pikes Peak and of course, mining.
Colorado owes its expansion and pioneering envelopment to the miners and fortune-seekers that trekked into the unknown valleys and on high looking for the future. The industry of mining opened up Colorado to a far larger extent than other places than say, California, Nevada or even Alaska.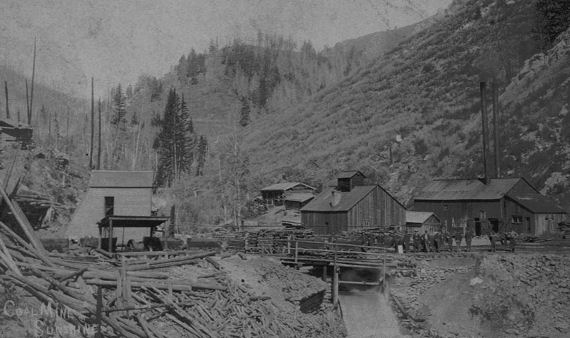 There are over 300+ ghost and mining towns sprinkled over the Rockies and another ~212 give or take, over the eastern plains. One could probably make the case that mining is a "gateway industry" of sorts in that the digging, blood, whisky and tears of failed and half-realized dreams paved the way for other industries such as ranching (cattle & sheep), general commerce, the Railroad and homesteading. Through this progression, the unknowns of Colorado became, known.
Other than the staple ores of gold and silver, other minerals were mined throughout Colorado's history: nickel, lead, molybdenum, uranium, iron, tellurium and marble to name a few. However, it was gold and silver and that eventually uplifted some on the broken backs of others.
Many towns and cities like: Silverton, Silverplume, Silver Dale and Argentine took their name from the element that was by the late 1860's, in short supply. Roughly ten years later around 1870, gold was starting to come into its own and in 1874, the San Juan Mountains experienced a sizeable gold rush that lasted well neigh of 30 years. Most mining towns saw their birth between 1858 and 1902. Most however, died quietly and faded back into the mountain sides like strewn Aspen leaves. The only life remaining in these lonely places is the barks of curious marmots or the occasional throttle of an ATV or Jeep. Nature is slowly taking back what was always rightfully hers.

Rising costs, weather, declining profits from supply and demand and two World Wars effectively ended Colorado's mining era. The skeletons of these orphaned dreams and lost passions however, still remain. Of all the mountain ranges and sub-ranges in Colorado that supported mining (keep in mind, not all areas are pocked and torn from mining), the San Juan Mountains were unequivocally of the largest.
Below is just a small sample of what lies within the vicinity of the Wilson Peak, Mt. Wilson and El Diente.

SAWPIT
A Blacksmith was the driving reason why Sawpit came into existence. The 'smithie', James Blake, found relatively high-grade ore in the placer and further up on the mountainside while on a scouting trip in 1895. Once a mine was dug and validated, he named him stake the "Champion Belle". The first three loads of ore alone netted him almost $1,800 to say nothing of the following 35 loads. The floodgates opened once word got out and other would-be prospectors permeated the valley. By 1896, another major mine was opened within shooting distance of the Belle…the Commercial Mine. Saw Pit became incorporated.
I've read how Saw Pit was named for a nearby creek but I've also read how the name was derived from a rather 'larger than usual' saw pit on site. Saw Pits were used by the miners to basically half felled trees and lumber. One miner would hold one end of a large saw atop the pit while the other would jump down into the hole and grasp the other end and hope he didn't get crushed. The fortune days of Saw Pit last until roughly 1905 before things started to dwindle. Now, all that's left is some rag-tag buildings and perhaps the odd, covered foundation.

PLACERVILLE
Placerville was named for the obvious placer gold found here. Even after the gold dwindled and disappeared from the creek, the small town kept battling for life through the years, holding onto its name; fact, a small contingent of people still live here.
A prospecting party in 1876 from Del Norte led by Colonel S.H. Baker is generally credited with finding gold here. Come 1877, the rudimentary beginnings of a mining camp began to take hold. But Placerville's start wasn't as cut and dry as most other mining towns. If anything, the growth and movement of Placerville illustrated how flexible the miners could be gold, whisky and supplies were on the table.
Even though some cabins and various foundations were either already built or laid down, the progenitor of the saloon and general store didn't like the original location. There was a better spot about 1.5 miles further up-valley that this gentleman liked better. So he tore what infrastructure he had down and moved his businesses up-valley. Ordinarily, this wouldn't have been a problem since more than one individual usually built a saloon or gaming hall. However, this was Placerville's ONLY saloon and General Store. So since going without supplies or libations simply wasn't an option, the miners pulled up their stakes and relocated 1.5 miles further up-valley to be in the vicinity of the saloon and commerce.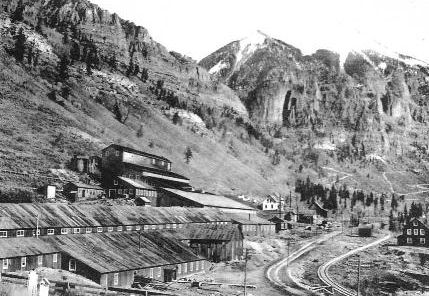 Placerville grew slowly but steadily throughout the late 1800's. Another odd twist is that Placerville's 'growth spurt' didn't come for nearly another 10-12 years and it wasn't gold that spurned the influx but rather, ranching.
Cattlemen came first seeing the potential in the area's fields, meadows and high plateau's. A few years later, the real problems began…sheep herders came to town. The cattlemen hated the sheepherders. There were about 3-4 years in the early 1900's where the violence between these two groups threatened to override the town. Fighting became a daily occurrence over the pastures. Eventually, the two learned to live with one another.
In 1904, a massive flood nearly wiped out the entire town (probably due to spring snowmelt). To give you a small comparison, this same year, 1904, F.O. Stanley and his wife (Flora) had just moved to the small town of Estes Park for the summer. The Stanley Hotel would come after another five years.
A fire nearly destroyed much of Placerville in 1919 but resiliency took over and the town was rebuilt. Due to the large parcels of private land that surround Placerville now, expansion is guaranteed to never happen. The town will never grow beyond its current borders. There are a few stragglers whom still call Placerville home and slightly more ramshackle buildings and ghosts of buildings that dot the valley.

FALL CREEK
Also referred to as Seymore and Silver Pick, during the 1890's, Seymore was a busy mining camp located on Fall Creek. It served as the main hub for all the ore coming out of the Silver Pick Mine further up Fall Creek near Wilson Peak. It supported multiple buildings including a post office, a few saloons, general mercantile and even a small hotel. For whatever reason in 1894, the post office was actually moved TO the Silver Pick Mine. Two years later, it was relocated to the town of Saw Pit.
The officially changed its name to Fall Creek in 1922. The name, 'Fall Creek' is simply a general term for a river or creek that seems to have an overabundance of waterfalls.

SAN MIGUEL
Located a few miles down-valley from Telluride, San Miguel (Spanish for Saint Michael) rivaled Telluride for a short spell in terms of rowdiness, population and popularity. The town had a very decent gold and silver mine located nearby and cattle were a daily aggravation that just had to be tolerated. Telluride never really suffered this problem at least, not to the extent that the lower altitude towns did. What San Miguel did have going for it were excellent foundations. The town was laid down very smartly and conservatively. Not too many trees were cut down nor was the creek diverted. However, in the end, Telluride won out. San Miguel was a bit too much on the quieter side and placid.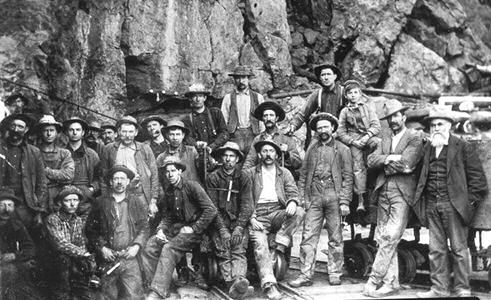 OMEGA
A one-time and short lived settlement located near Placerville but its exact location is sketchy at best. The town's odd name (for a mining camp) came from some of the settlers opinions that "this was it".
Being the last letter in the Greek alphabet, the connotations that Omega was the last town for gold were apparent. It lasted roughly 10 years.

VANADIUM
Located up-valley from the Belle Champion Mine, Placerville and Fall Creek, Vanadium was little more than a rag-tag, rough mining camp. The town grew around a huge mill operated by the U.S. Vanadium Corporation. Like Omega, it too experienced a tragically short lifespan but buildings still exist including the old post office.

I've seen other town names mentioned in some of my readings like: Hangtown and Dry Diggings but I have yet to actually come across any information on these 'towns'. This is a common theme in the mining years throughout Colorado. Towns will literally spring up overnight only to disappear after 6 months to a year, give or take.
Usually the gold will play out, the claim(s) end up proving unfruitful, weather or snow will force people out or distances needed to travel to attain supplies is too great. In such instances, I'm inclined to think that these homesteaders/miners set up nothing more than small encampments.
The Rusty Nichols Debacle...
Conflict and Resolution at Wilson Peak
Wilson Peak is one of Colorado's famed "Fourteener's"— the 54 peaks in the state that top 14,000 feet. In a state where mountain climbing is approached with almost religious fervor, many climbers make it a life's goal to summit all of the Fourteener's. "They have a huge mountain feel," says Weihenmayer, who has climbed nearly 30 of them himself.
Even in such lofty company, Wilson Peak seems special. Its thrusting summit is one of the best-known Colorado mountain images, used frequently in posters and advertisements, most notably for Coors beer. In recent years, however, the most accessible trail up Wilson Peak has been mostly off-limits to climbers. While most of the mountain lies within the Lizard Head Wilderness of the Uncompahgre National Forest, the summit trail traverses historic mining claims that remained private when the national forest was created early in the last century. As the number of climbers has increased in recent years, tensions have built between them and the landowner, Rusty Nichols. At first, Nichols began requiring mountaineers to sign a liability waiver and pay $100 to cross his land. Then, in 2007, he closed the trail entirely.

Nichols hoped to resolve the access issue by persuading the U.S. Forest Service to buy the land, or take it in exchange for valuable parcels nearby, but negotiations went nowhere. To break the impasse, TPL stepped in to option the property and facilitate an agreement that would reestablish climbing access to the peak. On hearing of this opportunity, Eric Weihenmayer offered to lead a climb that would call attention to TPL's efforts to protect access not only to Wilson Peak, but also to other Colorado Fourteener's and recreation sites.
In Colorado, one sign of this demand is the number of climbers seeking out 14,000-foot peaks. About 60,000 people climbed a Fourteener in 1984, according to the Colorado Fourteener's Initiative, a nonprofit that works to preserve the natural integrity of these iconic peaks. By 2004 the number had swelled to half a million annually, and the group predicts there will be one million Fourteener climbs by 2011.

"The biggest problem with the increasing numbers is that Colorado's trails are not designed to meet that demand," says James Ashby, interim executive director of the Fourteener's Initiative. Heavily used routes become widened, incised, and braided. Sometimes hikers strike out across fragile tundra and alpine vegetation, which can take decades and even centuries to recover.
In the face of this demand, groups like the Colorado Fourteener's Initiative have helped to reroute or rebuild worn-down trails. The Forest Service also works to mitigate the impact of hikers on sensitive alpine environments. But one of the biggest management issues arising from increased visitation is maintaining any kind of access, especially where trails cross private land.

Trailheads, climbing approaches, or in a few instances the summits of six Colorado Fourteener's are located on privately owned mining claims. To encourage economic development in the West, 19th-century mining laws made it easy to "patent" a claim for a few dollars. And while most small, high-country claims are no longer worked for minerals, many of them could be developed into second-home or cabin sites, blocking access to areas that help support Colorado's $10 billion outdoor recreation economy.
Historically, Fourteener hikers and climbers have trespassed across private mining claims—trespasses that were largely ignored when visitor numbers were low. But the recent tidal wave of peak-baggers has caused some landowners, like Rusty Nichols, to worry about vandalism and theft—and about liability in an increasingly litigious society. At several Fourteeners, tensions between hikers and landowners gradually built, coming to a head in 2005 when a handful of landowners in the Mosquito Range, southwest of Denver, announced they were shutting off access to their peaks. Then, in 2007, Rusty Nichols closed the popular Wilson Peak trail.
Nichols, a Texas real estate developer, bought his first mining claims beneath Wilson Peak in 1978, as a getaway location. The parcels included a miner's cabin from the turn of the 20th century, when as many as 500 gold miners worked in the Silver Pick Basin, on the northwest side of the mountain. "I was looking for privacy and a place I could take my kids camping," Nichols says.
He eventually bought up several other patented claims, initially to buffer his property from other potential mining operations. But he also hired a geologist to assess the land's mineral value and learned that remaining gold veins might make mining worthwhile. "Mining was always an option, and a lucrative one," Nichols adds.

In the years following Nichols's land purchases, Telluride's growing reputation as a recreation destination attracted skiers, hikers, climbers, and other outdoor enthusiasts. Demand for second homes fed a steep rise in real estate prices.
"Early on, I would go up there with my sons for a week at a time and maybe see three or four people," Nichols says. But by the late 1980s, he estimates, more than 100 people a week were coming through his land during the summer. That's also when the trouble started. He says now that vandals cut hydraulic tubes on his vehicles, filled gas tanks with gravel, and even burned down a small cabin. The sheriff's office was called several times to mediate disputes.
Based on his estimate of the mineral value, Nichols had been trying without success to swap or sell his land to the Forest Service. Frustrated by this stalemate and the vandalism—and even as he began to charge climbers to cross this land and then bar them entirely—he let it be known that he was considering mining in the Silver Pick Basin, which would have severely limited access and potentially caused significant environmental damage.


Staffers for TPL-Colorado had been observing the conflict from a distance. Since 2001, TPL had been partnering with the Forest Service to acquire 8,000 acres of patented mining claims in the area of Red Mountain Pass, 20 miles east of Wilson Peak. "This gave us incredible experience tackling thorny title issues," says TPL project manager Justin Spring, who has worked to retire former mining claims both at Red Mountain and in the High Elk Corridor, near Gunnison, where TPL has helped add more than 1,700 acres to White River National Forest.
"We always wondered if there was a way for TPL to jump in and be the hero at Wilson Peak," Spring says. In 2006, former TPL project manager Jason Corzine reached out to Rusty Nichols to see if a way could be found around the impasse at Wilson Peak. As an independent nonprofit, TPL was able to raise donated funds for the project. For Nichols, one of the keys to the eventual agreement to protect climbing access was that TPL "recognized the value of minerals that are still out there. They did everything they said they would. I have very high praise for their professionalism."

As part of its initial agreement, TPL optioned 230 acres—23 mining claims, including the summit of Wilson Peak. Then the staff began the hard work of surveying, getting appraisals and environmental assessments, and conducting negotiations and fundraising. In October 2007, TPL bought the property, using donated funds and a crucial loan from the Colorado Conservation Trust, and hopes to transfer it to the Forest Service within the next few years. Nichols will retain 77 acres, including his cabin site, under a deed restriction that prohibits mining and limits residential development.

"Bringing in a partner like TPL brings a couple of things to a project," says Corey Wong, a Forest Service public service staff officer for the Grand Mesa, Uncompahgre, and Gunnison National Forests. "They do have more tools than we do and more relationships." With its ability to leverage donations, TPL acted with a swiftness that a government agency could not, Wong says, adding that the organization also acted as intermediary in the strained relationship between Nichols and the Forest Service.
Support for TPL's $3.25 million purchase of the land came from the Colorado Mountain Club Foundation, Coors Brewing Company, Lynne and Joe Horning, Dan and Sheryl Tishman, San Miguel Conservation Foundation, the Telluride Foundation, and numerous other individual donors.


"The permanent protection of Wilson Peak has inspired generosity from local donors and from people who've only seen the mountain's image," said Tim Wohlgenant, TPL's Colorado State Director. "Now we are working with our partners in the U.S. Forest Service and the climbing and mountaineering communities to relocate the main trail and officially restore access."
One key project supporter was the Colorado Conservation Trust (CCT), a statewide community foundation for conservation. Doug Robotham, former director of TPL's Colorado office and a deputy director at (CCT), says that TPL's work to protect the Fourteener's will further the recently launched Colorado Conservation Partnership Project. "TPL and CCT are working with other groups to protect 24 of Colorado's most cherished natural and cultural landscapes—the best of the best," he says. "The Wilson Peak region and the Mosquito Range are included, in part because access to the 14,000-foot peaks is so critical to experiencing what it means to live in or visit Colorado."
Wilson Peak is the first Colorado Fourteener where access has been purchased from a private landowner and will be restored to the public. TPL hopes to duplicate the effort elsewhere in the state.
(The Trust for Public Land, May 1st. 2008)


Recent Developments

Release Date: Aug 3, 2011
Contact(s): Judy Schutza, District Ranger, U.S. Forest Service, 970-327-4261, Jason Corzine, Project Manager, The Trust for Public Land, 303-501-5570

Norwood, CO., (August 3, 2011) – The Forest Service announces the opening of the new Rock of Ages Trail, located about 15 miles southwest of Telluride, Colorado. Opening this 3.7-mile hiking trail concludes a seven-year effort by the Forest Service and other organizations to restore public access to Wilson Peak, a popular "fourteener" in the Lizard Head Wilderness. A trail map and directions to the new Rock of Ages trailhead are posted on the Grand Mesa, Uncompahgre, and Gunnison National Forest website at www.fs.usda.gov/gmug under "Highlights".
"We are thrilled to open this new trail that will allow climbers to hike through Silver Pick Basin on their way to Wilson Peak" said Judy Schutza, Norwood District Ranger. "Public access would not have been restored without the efforts of The Trust for Public Land who purchased key private parcels on Wilson Peak and in Silver Pick Basin."
In July of 2004, a traditional route to Wilson Peak through private lands in Silver Pick Basin was closed. During the ensuing years, the Forest Service joined forces with The Trust for Public Land (TPL) to restore public access. San Miguel County, the Telluride Mountain Club and the Colorado Mountain Club were also key players in this effort.
In October of 2007, TPL took a significant step toward restoring public access by purchasing 230 acres of private land in Silver Pick Basin, including key parcels on the southwest ridge of Wilson Peak. The Forest Service made further progress in August of 2009 by completing the environmental analysis for the Rock of Ages Trail, however a trail easement across a private parcel in the upper basin was still needed to fully restore access. In May of 2011, the Forest Service obtained the needed trail easement. Construction of a new trailhead parking facility and access road were completed this week.
"We're very excited to have reached this most important stage in the process," said Jason Corzine, Senior Project Manager with TPL. "Restoring and preserving public access to this iconic peak has been TPL's main goal from the beginning." TPL continues to own the property they purchased in 2007 and is working to convey that land to the Forest Service.
Wilson Peak is among three 14,000-plus foot peaks in the Lizard Head Wilderness that annually draw thousands of climbing enthusiasts. The new Rock of Ages Trail provides a shorter route to these peaks than is currently offered by existing trails.
(USDA Website)

Topographic/Terrain Map
View Larger Map
Current Access Map
Miscellaneous
Awesome ski report from Ben Conners
Great report from the Bilk Basin Approach.
-TONS of pictures!
Great ski report from Doumall of all three peaks.
-Wilson Peak, Mt. Wilson & El Diente

This report is BOMB!