Overview/Approach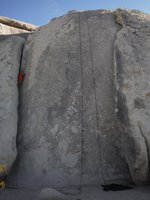 Belle Campground is normally the best choice you will have for peace regarding camping choices in Joshua Tree National Park. It also has three climbing formations: Castle Rock (with End Block), Short Cake Rocks and Half Rock. Castle Rock is by far the largest of the formations and boasts 16 established routes on its north face (non-camp site side) along with another seven on its south side and an additional three on End Block which is detached from its west end.
Obviously the north side is preferable in that you do not need to ask permission to access any of the climbs through camp sites. One of the featured climbs on the north face is a bolted 80'er named Count Dracula, 5.10d** although the bolts and hangers are past old as of 2018. On the easier scale is Diagnostics, 5.6**, a spectacular climb to teach trad leading and/or for the budding new trad leader to lead. It is a left facing corner with fantastic rock that takes good gear. There are a lot of solo opportunities as well, with a 5.0, 5.1, 5.2, 5.3, and two 5.4's, two of which are easy, but fun, chimney climbs.
When you pull into the campground proper, End Block is what you are looking at with Castle Rock located directly behind it. Castle Rock, as the name implies, is by far the largest formation in the campground and has broad south and north faces. You can park at the entrance to the campground and the wall will just be meters away.
Route Descriptions, Left to Right Facing the North Wall
Half Crack- 30'-5.3/
One Point Crack- 30'-5.4/
Two Point Crack- 35'-5.1/
Music Box- 50'-5.8*/
Bella Lugosi- 55'-5.11c**/
That Old Soft Shoe- 55'-5.10d**/
Bride of Frankenstein- 55'-5.12a*/ Top Rope
Transylvania Twist- 55'-5.10dR*/
Junction Chimney- 60'-5.2/ This solo is worthy of a star but does not receive one in Miramontes guide. It is much more interesting then Chimney Sweep which is on the other side of this flake with a cool pull out of the chimney move mid-way. There is one rap station (95') that serves everything from this route to the furthest route to the right, Diabetics. Dow
Reckless Abandon- 55'-5.10a/ Top Rope
Ground Finale- 40'-5.10a/ Top Rope
Chimney Sweep- 60'-5.0/ A true easy solo chimney, back against the right wall to the top where you angle up and right to the fixed rap on the summit. Dow
Count Dracula- 70'-5.10d**/ Most cruxes on this formation are at the start and this route is no exception. Hard balancey smear moves reach edges after several meters of being spotted. From that point on, it is mostly 5.10- edging and eases to 5.9 for the finish. Continue up to the summit for the shared fixed rap. Fully bolted even though the guide has it as mixed. Dow
Diagnostics- 70'-5.6**/ A beautiful varnished left facing hands/finger corner to jugs. A great lead for the budding trad leader. As with other routes on this side of this formation, the crux is the start. Then jugs and hands take you the rest of the way. Continue to the summit for the shared fixed rap. Angle up and left to reach it. Dow
Love at First Bite- 50'-5.8/ Top Rope
Diabetics- 70'-5.4*/ A solo attraction to this wall. A nice hand crack to large patina jugs. Angle up and left to the summit for the shared rap . Dow