Overview
Rock Hudson is a rock formation in Joshua Tree National Park, California.
Located only a few hundred yards from the famous and very popular "Hidden Valley Campground" family of rocks,
Intersection Rock
,
Old Woman
,
Chimney Rock
,
The Blob
and
The Wall
, Rock Hudson offers the same kind of quality crack climbing Joshua Tree is famous for.
Although this impressive formation is very close to Hidden Valley Campground, it does not share the same hustle and bustle that you usually find in popular areas. It's not likely that you will have to wait for your turn to get on your favorite route on Rock Hudson.
There are huge boulders strewn in front of the southwest face of Rock Hudson. To get to the base of the climbs, you need to find your way through narrow passage ways and tunnels made by these boulders. If you are looking for a little seclusion not far from a maddening campground, the base of Rock Hudson is a great option to consider.  
After ten years of absence, on my last visit to Rock Hudson in 2009, much to my surprise, I found the base over grown and kind of hard to get to. I also noticed very little chalk on the routes. Looking at it from a more positive angle, this lack of activity could be due to discovery of new formations with better climbs, but I seriously doubt that.
Select routes of Rock Hudson
The most popular Joshua Tree rock formations usually have at least one route that defines them. If "Double Cross" defines "Old Woman" and "The Flake" defines Intersection Rock, then "Looney Tunes," rated 5.9 must define Rock Hudson. Looney Tunes is the first technical route that was climbed on Rock Hudson. Looking at the list of first pioneers on this rock, one name continues to pop up and that name is John Long. Knowing John Long from personal experience and his countless writings, I have no doubt he must have felt like a kid in a candy store. New routes were like candy, and Rock Hudson was a candy store.
Looney Tunes, by far the most popular route on Rock Hudson, ascends a crack system that widens as you get higher. The crux of the climb is fairly low but well protected. The route is about eighty feet and most of it goes as a solid 5.8 hand jams. The crack widens to a chimney close to the top, but it's short and easy.
For those with 5.11 ambitions, there is a classic climb here called " Hot Rocks." Unfortunately, to get to the crack you need to climb a very thin but short face past a single bolt. Then the real difficulties begin. Most people are satisfied with toproping this route. If you have a top rope already set up, you may want to give the face between Looney Tunes and Hot Rocks a try. This one will challenge you even if you are an accomplished face climber.  
| | |
| --- | --- |
| | Select Climbs of Rock Hudson |
| R | Nereltne, 5.7, ramp to the left of Absolute Zero, Standard Rack, pro to 3 inches |
| A | Absolute Zero. 10c, bolts, Standard rack |
| B | Looney Tunes, 5.9, Standard Rack |
| C | Stand and Deliver, 12a, thin face, Toprope |
| D | Hot Rocks, 11c, thin crack, one bolt, standard rack, lots of small pieces |

Environmental Concerns

Please tread lightly. The Access Fund has gone to great lengths posting trail marker for approaches to many of the more popular crags. Do you best to stay on these trails, and where you are forced to use a different path, choose the ones that rain can mend in time. Drainages make for good trails where there are no established trails.
Avoid stepping on native and fragile plants, and do not feed the coyotes. Coyotes are very much used to people and often hang around picnic areas and camp grounds in hopes of getting a hand out. It's better to let them live their natural life.
Camping and noise Considerations
There are nine campgrounds in Joshua Tree National Park. At the entrance to the park you are always asked if you would care to have a map and a brochure. The brochure will have plenty of information on the campgrounds and the map will guide you to many of the pleasant hikes throughout the park. You may even get the latest information as to availability of campsites. During the peak season (mid winter through spring) finding a campsite may become a major task. It is highly recommended to use the following link to get more information in advance.
Joshua Tree Camping
Noise considerations
When you are camping with friends and sitting around the fire, it is easy to forget that there are other people trying to sleep in the nearby campsites. It is important to put yourself in their shoes. Keep the noise and music to a minimum and certainly not too much past 10 p.m. Your neighbors will smile at you in the morning instead of giving you dirty looks.
Fees and Food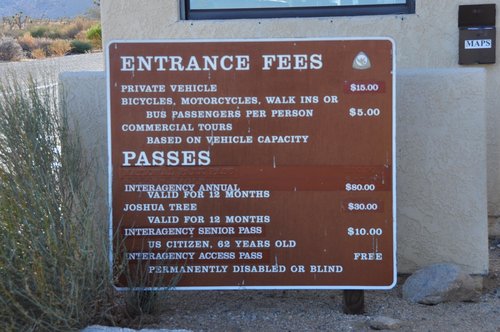 My wife and I have had Thai food in many different restaurants and cities. This Thai place beats them all. In November when the number of visitors to Joshua Tree reaches its peak, this restaurant puts on a Thai Buffet, all you can eat for 16.00$/person. But, you must get there early, or be prepared to wait by the door for a table.
How to get there
From the western entrance to Joshua Tree National Park drive on Park Boulevard, formerly known as Quail Springs Road, for about nine miles to a major rock formation called "Intersection Rock." Intersection Rock is a major landmark on the north side of Park Boulevard with ample parking for visitors and climbers alike. This rock, true to its name, sit at the cross roads to Hidden Valley Campground, Barker Dam Road and the road to Day use and picnic area. Park your car here, and walk into Hidden Valley Campground. Walk all the way to the far end of the campground on a paved road. Leave the paved road at this point and follow a trail past the left side of "The Wall," and "Outhouse" formations. Rock Hudson is the next large formation less than a quarter of a mile from here.