Overview
Cowboy Mountain located in Stevens Pass is most famous for being a skier's mountain in Stevens Pass, Washington. But this mountain has so many other properties as well and in a good mountain for a ski mountaineering trip, ice axe training trip or even as a good simple snow climb. During the winter this mountain is open to skiers at the Stevens Pass ski resort. But once the ski resort closes it then becomes fair game for backcountry ski, snow climbs and even no trace camping.
Because the mountain is located in Stevens Pass which is right in the heart of the convergence zone, it routinely receive 400-500 inches of snow yearly and consistantly keep snow until June. It is also next to Route 2 which makes this mountain easy access to others. Despite all of that Cowboy Mountain doesn't receive nearly as much popularity as other mountains further south such as Granite Mountain or Mount Si at least by hikers. Snowmobilers though know this area very well though so if you go here in May don't be surprised to here them.
As for the route up it is YDS Class 2 if you go up by the ski area. You can start in the parking area of Stevens Pass Ski Area and walk right up the ski trails. When heading up aim for the western side of the ridge or the ridge to your right. This is especially the case in spring because that north face is very steep and avalanches are very prominant there.
Cowboy Mountain does have views on the summit and the summit ridge. Though not quiet 360 degrees, it's stellar views of Glacier Peak and many others to the north, Rock Mountain to the east and partial views of Daniel and Hinman to the south definitely make this mountain a worthy summit.
Route Map
Getting There
VIA THE SKI RESORT: The trailhead here is the ski area which is located in Stevens Pass right off of Route 2. It is located 30 miles west of Leavenworth and about 40 miles east of Monroe.
Red Tape
Cowboy Mountain is where the ski resort is and is usually not desirable to go to climb in winter. In fact the alpine ski trails are off limits. Parking for the most part is free with the exception of the summit lot (Lot A) on the south side of Highway 2, with a parking fee of $10 on weekends, holidays. If you carpool, with 3 or more people, the cost is $5 according to the
Steven's Pass Website
.
Camping
Camping is allowed at the ski area during the springtime when there is still snow and the ski resort is closed. However this mountain is closed to camping in winter and summer. There are however plenty of areas nearby to camp on the Pacific Crest Trail and other nearby trails.
External Links
Weather and Mountain Conditions
Check in with
Noaa
for the weather forecast.
Here is a constantly updated web cam photo of Steven's Pass road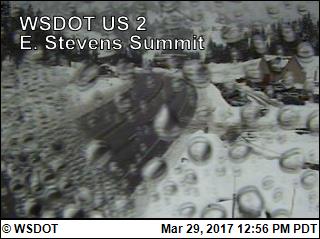 Check in with
Steven's Pass's Website
for snow the snow report of the mountain.
For Avalanche Conditions check in with the
Northwest Avalanche Center.
style="display:block"
data-ad-format="autorelaxed"
data-ad-client="ca-pub-6523272176520096"
data-ad-slot="7132222476">