"While I was going down from the pass to the valley of the river Piave, on my left I saw a small valley, but majestic, and in the background a wonderful dolomitic shape. Surprised by such great beauty I wondered what the name of that mountain surrounded by so many towers was.
"El Cridola!" a local shepherd said.
"And where is the way to climb it?" I asked.
"Sulla Croda del Crìdola no se ghe vien" ( There's no way to go to the summit of Monte Cridola ) he answered.
I was stunned. A virgin dolomitic peak was looking at me! "

Julius Kugy
Overview
Crìdola is not just a mountain, is an amazing sculpture carved by nature in millions and millions of years.
It's a gothic cathedral of dolomite, a fairy tale kingdom of towers, pinnacles , bizarre monoliths and steep walls suspended between sky and earth. And unlike other dolomitic jewels of the italian Eastern Alps is still unspoilt, untouched by the touristic industry. Here you won't find cableways or chairlifts, skitracks, crowded huts, frequented easy routes or vie ferrate. Here the nature reigns undisturbed.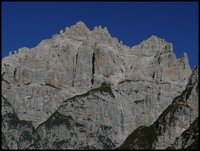 It is the main summit of a complex group of mountains and towers that can be divided in three branches:
A)WESTERN BRANCH
: Montanel, Monte Agudo, Cima di Sacceido, Cima Herberg (Croda di Mezzo), Crodon di Scodovacca and Croda Longa
B) EASTERN BRANCH
: Torre Both, Torre Cridola, Torre Bellavista, Guglia della Finestra, Il Castello, Croda della Cuna, Cima dei Camosci, Torre Spinotti, Torre Gabriella, Torri Molaro and Monte Vallonut
C) NORTHERN BRANCH
: Punta Savorgnana, Punta Cozzi, Torrione Elio, Torre Tullio d'Andrea, Cima Pitacco , Cresta del Miaron and Monte Miaron
The name "Crìdola" has probably a celtic origin ( celtic tribes lived in the area of the Carnic Alps since the VI century b.c. ) and means sublime, lofty mountain. It is certainly a sublime mountain and mystic, too. Even the Popes come at its feet to spend their holydays. Pope John Paul II came in Lorenzago di Cadore several times, and this year, in july, Pope Benedict XVI will be there for the first time.
Sunsets and sunrises can be an unforgettable experience admiring Monte Crìdola. Its wonderful dolomitic rock turns in a caleidoscope of fantastic colors, that will certainly leave you speechless.
For long time this mountain has been considered inaccessible and only a great mountaineer like Julius Kugy ( the famous writer and alpinist, pioneer of the Julian Alps and of many other mountains ) could conquer it. Observing the group from east he found an "easy" route for the east summit and, with the local guide P.Orsolina, reached it on august 4, 1884.
Crìdola is like a giant fortress completely made of
dolomia principale
, formed in the late triassic age ( 220 to 200 million years ) in the warm shallow waters of the Tethys sea. From wherever you observe it looks huge and intimidating.
This is a superb dolomitic mountain and, for its wild beauty and the picturesque scenery, must be placed without doubt among the top ten dolomitic peaks of the italian eastern Alps.
Crìdola's portraits
Short alpinistic history
The first ascent of the group is of Pitacco, that in 1880 climbed a minor peak of Monti di Tor, thinking it was the main summit of Monte Crìdola.
Then Julius Kugy, with the local guide Pacifico Orsolina , climbed the east summit on august 4, 1884.
In 1901 Shuster reached the west summit.
In 1903 Hubel won the huge north wall and Torre Cridola.
Then great names of the italian alpinism ( Tita Piaz, P. Fanton, E. Comici… ) opened new routes on all the faces of the mountain and on the numerous towers of the group.
The first winter ascent is of a group of moutaineers of Forni di Sopra in 1930.
Routes overview
Crìdola has two main summits: Cima Est ( 2581 m ) and Cima Ovest ( 2564 m )
A.
FROM EAST TO THE MAIN SUMMIT ( normal route )
( J. Kugy - P. Orsolina, 04/08/1884 )
From Tacca del Crìdola
300 m max diff UIAA II+
1.15 hrs
VARIANTE "A SPIRALE" ( from the right side )
( K. Attensamer - J.Kastlunger, 1905 )
B.
FROM THE WEST NOTCH TO BOTH SUMMITS
( O. Schuster - K. Grocklemann - A. Engelhardt, 1901 )
From Forcella Ovest del Crìdola
250 m max diff. UIAA II/III
2 hrs
C.
FROM NORTH WEST TO THE WEST SUMMIT
( P. Hubel - O. Ulhand, 1903 )
From Giaron de la Màndola
550 m max diff. UIAA III
3 hrs

D.
FROM SOUTH TO THE EAST SUMMIT
( A. Berti - L. Tarra - G. Bacarisas, 1909 )
From Forcella Scodovacca
750 m max diff. UIAA II/III
3.30 hrs
E.
"DIRETTA" FROM FORCELLA SCODOVACCA
( G.B. Piaz -I. Glaser - M. Michelson, 1910 )
From Forcella Scodovacca
540 m max diff. UIAA III
3 hrs
F.
FROM SOUTH WEST TO THE EAST SUMMIT
( L. and U. Fanton - A. Andreoletti, 1911 )
From Tacca Del Crìdola
250 m max diff. UIAA II
1.30 hrs
VARIANTE FROM THE RIGHT BRANCH OF THE RAVINE
( M.Tremonti, L.Pugkisi, F.Monicelli, E.Pugkisi)
200 m max diff. UIAA II+
1.30 hrs
G.
FROM NORTH TO THE EAST SUMMIT
( C. Capuis - G. Angelini, 1931 )
From Val Crìdola
700 m max diff. UIAA III
4 hrs
H.
NORTH EAST FACE TO THE NORTH EAST SUMMIT
( S. Casara - V. Cavallini, 1947 )
From Tacca del Crìdola
550m max diff. UIAA III/IV
4 hrs
I.
FROM SOUTH TO THE WEST SUMMIT
( W. Herberg, 1954 )
From Forcella Scodovacca
350 m max diff. UIAA IV
5 hrs
L.
NORTH FACE TO THE WEST SUMMIT
( R. Priolo - U. Iavazzo, 1978 )
From Val Crìdola
750 m max diff. UIAA III
5 hrs
TORRE DI FORCELLA SCODOVACCA
( C. Capais - P. Fanton, 1930 )
max diff. UIAA II/III
TORRE EST DELLA TACCA
( O. Bleier - F. Shroffenegger, 1907 )
Max diff. UIAA II
TORRE SUD-OVEST DELLA TACCA
( Unknown ) max diff. III/IV
AGO DEL CRIDOLA SOUTH FACE
( R. Costacurta - E. Reginato, 1974 )
450 m max diff. UIAA V+
7 hrs
VIA "DINO E MARIA" - SOUTH FACE
( Targhetta - Formentini, 1991 )
250 m max diff. IV/V-
Panoramic views
South faces seen from Val Cadin ( S )