Overview
IRS Wall is a rock formation in Joshua Tree National Park, California.  
IRS Wall is located in a neighborhood rich with some of the most impressive and popular formations in Joshua Tree. To the north, it's flanked by Copenhagen Wall and
Hemingway Buttress
, from the south it's flanked by
Dairy Queen Wall
, and on its foothills lie
Playhouse Rock
. It is not easy to stand out when you are in such company, but IRS Wall has made an impact by its own merit.
For all the years I have climbed on different Joshua Tree formations, I have never seen anyone climbing on IRS Wall. This is mainly due to being so close to Hemingway Buttress and Dairy Queen Wall. These two formations seem to have stolen the show. Truth be told, I have done only one route on IRS Wall, the mega classic "Tax Man," rated 10a. If there is one route you want to do on IRS Wall, without any doubt, it would have to be Tax Man.
select Routes Topo/Tax Man, 10a
Tax Man, 10a, starts on a crack so thin that not even your finger tips fit into it. But you can get nice side pulls on the edge of the crack and use the face features for the first fifteen feet. Make sure to take thin wires to protect this section well. The initial moves could surprise you by spitting you off. The first part of this crack is perfectly straight up. Then the crack ends and you need to use fist jams in a slot and more side pulls heading left, and shortly after, the crack begins again and continues straight up. You will be on the edge for at least thirty five feet before getting a reasonable foothold and a breather. From here, the route becomes much easier in the 5.8 to 5.9 difficulty range to the top.
Not to worry, there is more than just one climb worth doing on IRS Wall. There is "Tax Evasion,10a" which is a variation to Tax Man. Immediately to the right of Tax Man, you find a thin crack named "Bloody Tax Break, 10b." If you are looking for a bolted face climb go all the way to the left side of the formation . You will find a line of bolts on a rounded arete. That's Alf's Arete, rated 11a/b.
List of the select routes
| | |
| --- | --- |
| | Select climbs of IRS Wall |
| A | Alf's Arete, 11a/b, bolts |
| B | Commander Cody, 5.7, standard rack |
| C | The Thing, 10a, standard rack |
| D | Tax Evasion, 10a, standard rack |
| E | Tax Man, 10a, standard rack, #5, #6 and #7 wires for the initial moves |
| F | Bloody Tax Break, 10b, standard rack |
| G | Mr. Bunny's Tax Shelter, 5.5 , standard rack |
| H | Mr. Bunny Versus Six Unknown Agents, 5.8, standard rack |
| I | Mr. Bunny's Refund Check, 10a, standard rack |
How to get there
IRS Wall lies between Hemingway Buttress and Dairy Queen Wall. Park in the same parking area designated "Hemingway" by a sign on the main road. Start your approach on the trail that starts behind the bathroom. Take the left fork and within a few hundred feet locate
Dairy Queen Wall
. IRS Wall is on top of a boulder field slope and just before the steep gully leading to Dairy Queen Wall. The route Tax Man is plainly visible from down below as a thin straight up crack on the right side of the formation.
Environmental Concerns
Please tread lightly. The Access Fund has gone to great lengths posting trail marker for approaches to many of the more popular crags. Do you best to stay on these trails, and where you are forced to use a different path, choose the ones that rain can mend in time. Drainages make for good trails where there are no established trails.
Avoid stepping on native and fragile plants, and do not feed the coyotes. Coyotes are very much used to people and often hang around picnic areas and camp grounds in hopes of getting a hand out. It's better to let them live their natural life.
Camping and noise considerations
There are nine campgrounds in Joshua Tree National Park. At the entrance to the park you are always asked if you would care to have a map and a brochure. The brochure will have plenty of information on the campgrounds and the map will guide you to many of the pleasant hikes throughout the park. You may even get the latest information as to availability of campsites. During the peak season (mid winter through spring) finding a campsite may become a major task. It is highly recommended to use the following link to get more information in advance.
Joshua Tree Camping
Noise considerations
When you are camping with friends and sitting around the fire, it is easy to forget that there are other people trying to sleep in the nearby campsites. It is important to put yourself in their shoes. Keep the noise and music to a minimum and certainly not too much past 10 p.m. Your neighbors will smile at you in the morning instead of giving you dirty looks.
Fees And Food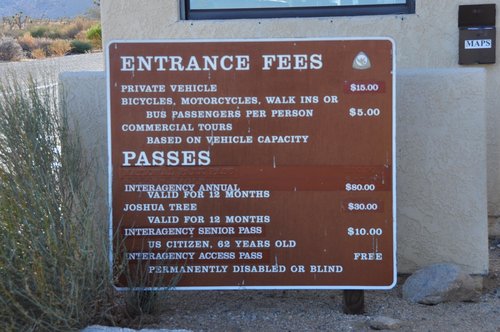 My wife and I have had Thai food in many different restaurants and cities. This Thai place beats them all. In November when the number of visitors to Joshua Tree reaches its peak, this restaurant puts on a Thai Buffet, all you can eat for 16.00$/person. But, you must get there early, or be prepared to wait by the door for a table.