Overview
Knibbs Knob is just a bump off of the Loma Prieta ridge, but it provides one of the steepest hikes in the Bay Area, climbing some 1,600 vertical feet in just 1.7 miles. There are steeper hikes in Henry Coe, but none as accessible. Doing laps up Knibbs would be a great way to train for a backpacking trip – there's even a water tap near the trailhead for those who like to fill water jugs and dump them at the summit.
For comparison to other steep hikes, see:
Steep Hikes of the Bay Area and Beyond
Note that many descriptions of the area list the peak as "Nibbs", without the "K" -- see Etymology.
Knibbs Knob is south of San Jose and west of Morgan Hill, above Uvas Canyon, a pleasant valley with waterfall trails and a (usually) uncrowded campground.
Getting There
In Google Maps type "Uvas Canyon County Park" and get directions.
From San Jose, head south on Hwy 101 and take the Bailey Avenue exit west:
3.2 miles – Left on McKean
5.6 miles – McKean turns into Uvas; continue on
9.4 miles – Right on Croy road
13.8 miles – Arrive at Uvas Canyon Park
Just before the park is the entrance to Sveadol, a private retreat of the Swedish American Patriotic League:
Sveadol Website
– drive on through (slowly).
Day use fee is $5. The automated kiosk doesn't always work; if so leave a note on your windshield that you tried to pay.
Official hours are 8am to sunset, but when I arrived early one day a maintenance guy opened the gate at 7am.
Park at day-use parking just beyond the gate and walk a few hundred yards along the road to the trailhead, just behind the Upper Bench Youth Group Area.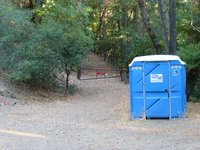 Knibbs Knob can also be reached by hiking just a few hundred yards downhill from a gate on Summit Road – however there is no legal parking.
Knibbs from Summit Road
Photos
Descent into beautiful Uvas Canyoun
Curse of the California coastal peaks
Climbing Knibbs in late August, as on many other summer hikes in the Bay Area, there were at times several irritating small flies hovering about my face. Known as Buffalo or Black Flies, from the Simulium family, they will fly into your ears and eyes or just chew through your skin if given the chance. As with mosquitoes, it is the female of the species that comes after your blood -- but unlike the surreptitious hypodermic needling of the mosquito, the black fly bite is "accomplished by first stretching the skin using teeth on the labrum and then abrading it with the maxillae and mandibles, cutting the skin and rupturing its fine capillaries". You will feel it. Black flies tend not to be discouraged by insecticides, but a wide-brimmed hat will help keep them away from your face – they seem reluctant to hover under the brim.

Fortunately in California the black flies are rarely much more than a nuisance and don't reach the plague levels experienced in the northern U.S. and Canada -- see: Black Fly Song




Trip reports / Trail descriptions
Stevens Creek Striders

It's possible to reach Loma Prieta from Knibbs, but this involves crossing private property:

Burd Report

Loma Prieta from Uvas Canyon




Etymology
Many descriptions of the area list the peak as "Nibbs", without the "K", but the peak was named for homesteader Henry Knibbs, and as Bob Burd pointed out, the county map has it as "Knibbs":
County map of Uvas Canyon

"Nibbs Knob": As you approach the summit, "You pass the remains of an olive orchard, planted many years ago by Henry Knibbs. Little is known about this man, other than that he was granted a patent to this homestead in 1891, and he spelled his last name with a 'k'". Rusmore et al, South Bay Trails.

Uvas Canyon: "From the Spanish word for 'grapes', referring to the presence of wild grape vines". Bright, 1500 California Place Names.



Red Tape etc
Official site:
Uvas Canyon County Park


Trailhead details:

$5 entrance fee (if the kiosk works). Hikers only. Dogs are permitted, on leash only. Park hours for day use are 8 a.m. to sunset.