Overview
Šljeme (2455 m)
(read "Shljeme") peak is third highest peaks of
DURMITOR
massif, behind
Bobotov Kuk (2523 m)
and
Bezimeni Vrh (2487 m)
.
Actually, this is not peak like all others. Šljeme is
2 kilometres long high rocky plateau
which height is more than 2400 m in average. On the Šljeme plateau exist many peaks and best known are
Istocni Vrh
(East Peak,
2445 m
) and
Vrh Sljemena
(Šljeme Summit,
2455 m
).
Sljeme and Savin Kuk (2313 m), which is
N
of it, make eastern edge of central Durmitor, above the
Jezerska Povrs
(Plateau of Lakes).
LOCATION:
Crest of Sljeme stretches from the
Milosev Tok (2426 m)
, which is on the western edge, to the pass which separates it from Savin Kuk (2313 m), on the north side.
Southern
and
eastern
slopes are huge. Towards
S
they descent into
Poscenska Dolina valley
while
E
slopes descent towards
Jezerska Povrs
(Lakes Plateau).
Šljeme is some kind of mixture of long grassy slopes and scree valleys or small scree basins, former glacial cirques. Northern and eastern side of the Šljeme have totally different configuration.
Eastern
side look to "tibetian" Jezerska Povrs (Lakes Plateau) vasted plateau, while
Northern
and most impressive side of Šljeme proudly staying above Ledeni Do basin and Velika Kalica valley, above famous glacier
Debeli Namet
which is all time under snow and ice. On the north end Šljeme is separated from Savin Kuk by narrow pass in the highest part and by the Korita valley which is placed between them. Šljeme falls into Korita valley with impressive
Osojna Greda
face.
Routes Overview
ROUTES OVERVIEW:
Whole crest of Sljeme, like whole Durmitor massif is very well marked.
Usual route
of Sljeme climbing start from Crno Jezero lake and goes to Savin Kuk, where route following eastern slope of Sljeme called Cista Strana and reaching Istocni Vrh (East Peak, 2445 m) and than also Vrh Sljemena (Sljeme Summit, 2455 m), highest peak of Sljeme massif.
Also, approach to Sljeme is possible directly from Savin Kuk summit through
Zdrijelo colouir
but this is quite unusual climbing section till the ridge of Sljeme. Because of this Sljeme is not visited by many people. But, once when you staying on the top of Sljeme, 2 km long and with 2455 m high altitude, you can feel like on the top of the world, total freedom and unboundedness. To be so high and walking 2 kilometres on this level is really something special! Sljeme climbing and staying on it's summit is really extraordinary adventure!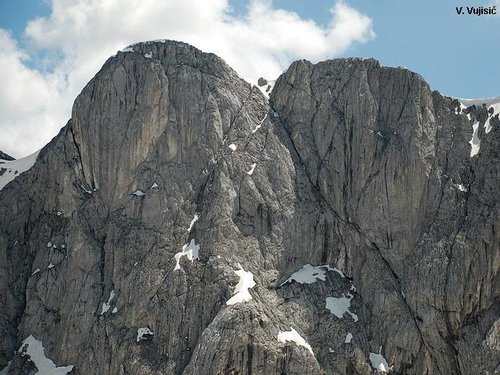 ~ Crno Jezero Lake (1416 m) – Mioc Poljana (1569 m) – Panalj (1813 m) – Cista Strana – Sljeme (2455 m). Climbing time:
4h
~ Savin Kuk (2313 m) – Zdrijelo couloir – Sljeme (Istocni Vrh, East Summit, 2445 m). Climbing time:
45 min
Getting There
Gateway for climbing
Sljeme (2455 m)
peak in
DURMITOR
massif is
Zabljak
town. Information how to get there:
By Plane
~To
Beograd (Belgrade, Serbia&Montenegro capital)
airport. Than with plane to Podgorica, capital of Montenegro, or with bus or car to Zabljak town.
~To
Podgorica
airport. Than with bus or car to Zabljak town.
Information about flights find on the sites of
JAT Airways
, a former Yugoslav airlines, or on
Montenegro Airlines
.
By Bus
~
Beograd (Belgrade)
-
Zabljak
~
Podgorica
-
Zabljak
~
Niksic-Zabljak
~
Pljevlja-Zabljak
Buses go to Zabljak from Beograd (Belgrade) twice a day and from Podgorica, Niksic, Pljevlja and Mojkovac several times per day.
By Car
~
Beograd (Belgrade)
-
Zlatibor-Nova Varos-Prijepolje-Pljevlja-Zabljak
~
Niksic - Savnik (47km) - Zabljak (37km): 84km
; Niksic to Zabljak approach from south.
~
Niksic - Savnik (35km) - Zabljak (37km): 72km
;
~
Podgorica - Niksic (55 km)-Savnik (47 km)-Zabljak (37 km): 139 km
; Add this length if you are going to Zabljak from Podgorica via Niksic. Road to Niksic from Podgorica is good.
~
Podgorica - Kolasin (71km) - Mojkovac (21km) - Zabljak (67km): 159km
; road is good all the way to Zabljak. Behind Podgorica (56m) you go inside Moraca River canyon (one of spectacular Montenegrin canyons). It is up to 1000m deep and has wild sides. That's spectacular drive. After that, from "Djurdjevica Tara" bridge to Zabljak - 23 km.
When To Climb
You can climb during all year seasons, but ideal period for climbing is mid June - mid September.
During the winter, Durmitor usually switches into ski resort. Under Savin Kuk peak (2313 m) is Durmitor Ski Center. (gondolas, ski lifts, chair lifts, restorants and their customers).
Crno Jezero
(Black Lake) location is a common climbing
starting point
. All major trails further uphill are well marked with white circle/red border marks.
Whole Durmitor mountain is very good marked.
Thanks to Branislav Cerovic
, greatest knower and devoter of Durmitor National Park, who marked all routes on Durmitor mountain.
Camping
Inside of Durmitor National Park camping is permitted on camping dedicated spots only.
Major huts are in good condition, but with no service. Still, open to the general public. Hikers/climbers are supposed to bring all the jummy stuff with them.
On Durmitor exist
camp
in
Ivan Do
and few ~
mountain huts
and
bivouacs
:
~
Hut
with few small shepherd's houses in
Lokvice
valley
~
Hut
in
Skrcka Lakes
valley
~
Bivouac
in
Velika Kalica
valley
~
Hut "Mushova koliba"
on the road from Zabljak to Obla Glava (2303 m) peak, near
Ledena Pechina (Ice Cave)
- empty simply hut from wood, without service, simple conditions...
~In
Ivan Do
camp price for camping is
4 Euro
per day.
Also, in
Zabljak town
you can
rent
private room or
apartment
. Price for 2-beds apartment with kitchen and bathroom: 10-12 Euro (
5-6 Euro
per person).
In some villages on mountain, for example in
Bosaca village
, you can rent a 2-beds apartment for price 6-8 Euro (
3-4 Euro
per person) with free milk products every day (1 liter of caw milk).
Red Tape
No fees or extra fees for entering the National Park.
No permits needed either.
Usual rules of behaviour for NPs do apply.
Mountain Conditions
Durmitor (Zabljak town) 5-7 days weather forecast