Overview
One of the Best lines in Wad Rum! Any route finding, any warries about protection, easy approach - just pure climbing. The route is situated inside provincial Barrah Canyon at north part of Abu Judaidah West Face. It's facing north, so even in hot days there is cool shade. One more distinctive feature of the route - very harmonous and logical line, as under a ruler. Since A.Howard, W.Colonna did first ascent in October,1986 the route become classic!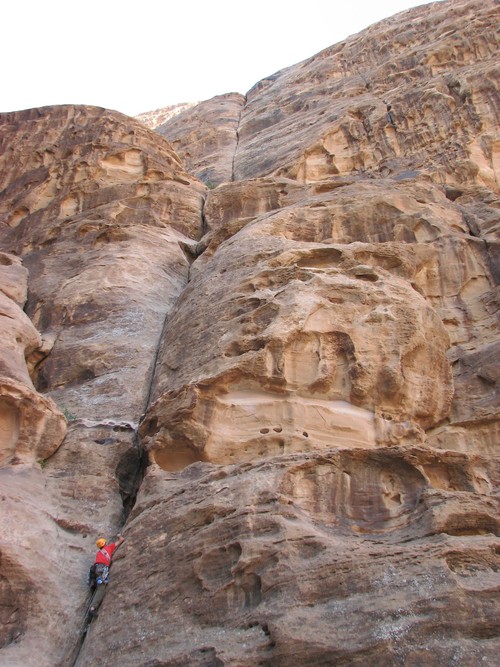 Approach
First of all it is necessary to reach Barrah Canyon. By jeep from the Rum village it will take about 30 minutes and 25JD (one way). You can order the jeep at Ali's Place, opposite the shops on main street of Rum. The route is very popular, so every driver will take you first to the Merlin's Wand...
Route Description
1st pitch 5+/35m
: it starts with easy slab climbing and then turns to the powerfull open book with small crimps. First belay you can set inside big "heart" or you may use belay station 3m higher. Very sustained pitch, may be soft 6a...
2nd pitch 6a/15m
: short overhang with interesting 6a crux leads to the large terrace. At the shelf you can set the station with your own gear or to find belay on slab 4m to the right of the crack
3rd pitch 6a+/20m
: from shelf follow the crack (not to the left - other route...). Delicate crux at the end, very nice moves on overhang and above. Belay just after the crux on stationary station
4th pitch 5+/40m
: very pleasent, long and exposed pitch on the face. Keep belief in good station at the end - it's not visable till last moves
5th pitch 5/40m
: pleasent finish of the route - face, slab and even easy overhang at the very end. Belay from the tree
Descent
Descent by the route with 4 abseils - about 1 hour. All belays on the places. Attantion, ropes are jamming (most of all on 4 pitch), so be ready to climb one more time! First belay 5m to the right of the tree at the slab - be carefull! Last one from the big shelf, exectly 50m (don't forget knots on the rope ends)!
Essential Gear
Standard set of trad and personal gear. 2x50m ropes. Most usefull - set of nuts, middle and big cams. Also tricams may give good protection and don't forget slings!