Overview
Pixie Rock is a rock formation in the Indian Cove area located in the northern most part of "Wonderland of Rocks" in Joshua Tree National Park.
Even though Indian Cove is very small, it offers many rock formations for any taste. There are a number of very short top roping rocks to a few formations high enough to be climbed in two pitches. One of the shortest rock formations is Pixie Rock.
True to its name "Pixie Rock" is very small, yet it receives a lot of attention. Most of the attention is due to a climb called "Silent Scream." Besides featuring this popular climb, Pixie Rock is situated in a very pleasant little clearing close to the entrance to Indian Cove area. The park service has done a great job of putting an attractive little fence around it to keep the visitors from trampling over native plants. Many climbing parties visit Pixie Rock to hold climbing classes or to top-rope the routes.
Unlike many of the Indian Cove formations, Pixie Rock is not located behind a campsite. Not to worry about having to ask for permission to cross any campsite. You may, however, receive many spectators since Pixie Rock is very close to the main road.
Climbs of Pixie Rock
The earliest documented climbing activity on Pixie Rock dates back to early 1970s when a route called "Who's First, 5.6" was climbed by Bill Squires and Craig Parsley. In the next few years several more climbs were established, all under the 5.10 range. Then, in 1982, Alan Nelson and Mike Beck top roped a climb on the steep right side. About a year later this climb was bolted and climbed on lead by Glenn Svenson and Michael Pfundt. They named the climb "Silent Scream" and rated it 10a. Wow, 5.10 had come to Pixie Rock. The popularity of Pixie Rock exploded and on several of my trips to Indian Cove I noticed climbers waiting in line for their turn on Silent Scream. It did not take long for climbers to realize the potential for steep climbing on the right side. The extra attention resulted in "Silent But Deadly" rated 10d. For a period of time there seemed to be a controvery about whether "Silent But Deadly" was more difficult than 10d, and actually a 5.11. But, at the end of the day, the guide book author settled for 11b.
A personal note: I top roped "Silent But Deadly" in 1992 and thought it was 10d/11a. I do realize that top roping a climb, as opposed to leading it, tends to reduce the mental factor in difficulty rating.  
| | |
| --- | --- |
| | Climbs of Pixie Rock |
| A | Lascivious Conduct, 11c |
| B | Scream Chuck, 5.7 run out |
| C | Vaino's Lost In Pot, 5.7 Run Out/ X=extreme danger |
| D | Who's First, 5.6 |
| E | Rhythm Of The Heart, 5.8, X, extreme danger |
| F | Silent Scream, 10a, bolts |
| G | Silent But Deadly, 11a, bolts |
| H | Pixie Stick, 10a, top rope |
Special Note: National Park Service has placed a sign depicting the climbs on Pixie Rock. Unfortunately, the route information on this sign is incorrect. I made an attempt to bring this matter to the attention of the rangers, but their office was closed. Knowing how many climbers climb on Pixie Rock, I'm sure someone else must have alerted the park service of this error.
Environmental Considerations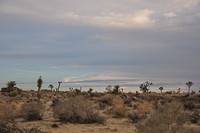 Please tread lightly. The Access Fund has gone to great lengths posting trail marker for approaches to many of the more popular crags. Do you best to stay on these trails, and where you are forced to use a different path, choose the ones that rain can mend in time. Drainages make for good trails where there are no established trails.
Avoid stepping on native and fragile plants, and do not feed the coyotes. Coyotes are very much used to people and often hang around picnic areas and camp grounds in hopes of getting a hand out. It's better to let them live their natural life.
Camping
There are nine campgrounds in Joshua Tree National Park. At the entrance to the park you are always asked if you would care to have a map and a brochure. The brochure will have plenty of information on the campgrounds and the map will guide you to many of the pleasant hikes throughout the park. You may even get the latest information as to availability of campsites. During the peak season (mid winter through spring) finding a campsite may become a major task. It is highly recommended to use the following link to get more information in advance.
Joshua Tree Camping
Noise considerations,
When you are camping with friends and sitting around the fire, it is easy to forget that there are other people trying to sleep in the nearby campsites. It is important to put yourself in their shoes. Keep the noise and music to a minimum and certainly not too much past 10 p.m. Your neighbors will smile at you in the morning instead of giving you dirty looks.
How to get there
Indian Cove is located roughly nine miles east of the town of Joshua Tree on highway 62. The sign directing you to Indan Cove is obvious. Turn right, going south, here. If you go as far the town of 29 Palms, you have gone too far. It's about three miles from here to Indian Cove Campground. Drive south on this road to a ranger station and the enterance to the park. You will be checked at the gate for your America The Beautiful card, or will be charged an enterance fee. Driving past the gate will bring you to the Indian Cove Campground. Pixie Rock is to your right just before entering the campground.