Overview
Of the thousands of rock towers in Joshua Tree, arguably none qualifies more as a beginner formation as Playhouse Rock. I can think of only a few other formations such as
Quail Springs
AKA "Trashcan Rock" or
Pixie Rock
that come close, but none have the degree, quality and diversity of the routes you find on Playhouse Rock.
The appropriately named Playhouse Rock could have easily been named "Schoolhouse" Rock. This is where many climbing classes choose to set up shop. The new comers to the sport of rock climbing learn the ropes here. No pun intended, but true nonetheless. The students learn to do the knots, to belay, to rappel and to climb. In the more advanced classes, the students learn about setting up anchors and placing protection on lead. If you are at the Playhouse Rock to climb and you run into a class, it is a good idea to stay as far as possible from them.  
Playhouse Rock is low angle, east facing, without any obstructions, and it receives the warm morning sun. During the cold season it doesn't take long for this formation to warm up nicely. This being a very popular formation, if there are other parties waiting to get a chance on the rock, it's a good idea not to spend too much time there, or at least be willing to share your rope with them.
Photos taken from left to right
Topo and History
The history of climbing on Playhouse Rock dates back to the mid 1970s, however, the major route development did not take place until many years later. It seems that the early pioneers had better things to keep them busy than to develop just another insignificant looking hunk of rock. I am, in my little part, just as guilty as the rest of the old time climbers. I climbed on the nearby formations such as
Hemingway Buttress
, "IRS Rock" and
Dihedral Rock
for decades and drove right past the Playhouse Rock without so much as a glimps at it. But now that I'm much older, I understand the significance of having such a beautiful and accessible formation for educational and recreational purposes.
Beside being a great formation for rock climbing classes, Playhouse Rock is an ideal rock to use for your rest day or easy day. You can easily lead a route such as "Final Act, 5.4" to set up top rope for more challenging routes such as "Balancing Act, 5.10." Playhouse Rock is a low angle, well-featured rock formation and the route possibilities are numerous. The routes may seem too close together, but that may be a good thing for what this rock is used for.
Select Routes
| | |
| --- | --- |
| | Select Routes of Playhouse Rock |
| A | Balancing Act, 10b, Top Rope |
| B | Final Act, 5.4, standard rack |
| C | Curtain Call, 5.6, Standard Rack |
| D | I'm So Embarrassed For You, 5.7, Standard Rack |
| E | Beck's Bear, 5.7, Standard Rack |
| F | Stucca By a Yucca, 5.7, standard rack |
| G | The Playwright, 5.6, standard rack |
Environmental Concerns
Please tread lightly. The Access Fund has gone to great lengths posting trail markers for approaches to many of the more popular crags. Do your best to stay on these trails, and where you are forced to use a different path, choose the ones that rain can mend in time. Drainages make for good trails where there are no established ones.
Avoid stepping on native and fragile plants, and do not feed the coyotes. Coyotes are very much used to people and often hang around picnic areas and campgrounds in hopes of getting a hand out. It's better to let them live their natural life.
How to get there
From the west enterance to Joshua Tree National Park, drive about eight miles to a large paved parking area with a bathroom. This parking is about two miles past Quail Springs parking, and it has its own sign, "Hemimngway" indicating that you have arrived. Looking toward the west you will see the elongated Hemingway Buttress at a few minutes walking distance.
There are at least two trails heading out toward different nearby formations and an Access Fund trail marker leading toward the Playhouse Rock is very obvious. One of these trails heads directly south, that's the one you want.
Camping and noise considerations
There are nine campgrounds in Joshua Tree National Park. At the entrance to the park you are always asked if you would care to have a map and a brochure. The brochure will have plenty of information on the campgrounds and the map will guide you to many of the pleasant hikes throughout the park. You may even get the latest information as to availability of campsites. During the peak season (mid winter through spring) finding a campsite may become a major task. It is highly recommended to use the following link to get more information in advance.
Joshua Tree Camping
Noise considerations
When you are camping with friends and sitting around the fire, it is easy to forget that there are other people trying to sleep in the nearby campsites. It is important to put yourself in their shoes. Keep the noise and music to a minimum and certainly not too much past 10 p.m. Your neighbors will smile at you in the morning instead of giving you dirty looks.
Fees and Food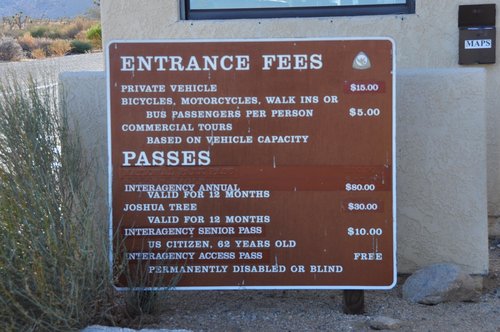 My wife and I have had Thai food in many different restaurants and cities. This Thai place beats them all. In November when the number of visitors to Joshua Tree reaches its peak, this restaurant puts on a Thai Buffet, all you can eat for 16.00$/person. But, you must get there early, or be prepared to wait by the door for a table.