Overview
Situated 1 ½ miles from
Mount Emma 10,525'
and a little over 1 1/3 miles from
Peak 10727
(the highest point on the massif/ridge), is a not-so-minor crest on the west side of the massif/ridge. This unnamed point is quite appealing when it comes into view. Initially it appears similar to Leavitt Peak, albeit quite a bit lower.
On USGS maps, it is referred to as Point 10,659. There a massive drop off on its east face that is quite impressive. It is very accessible, like its neighbors, and makes for a fun side trip if hiking Mount Emma or Peak 10727, or both.
Point 10,659 has a prominence of about 265', making it not its own peak, but merely a point. It looks like its own peak from a distance, and is separated enough from its neighbors to warrant its own page. The views of surrounding peaks are astounding, and it is a wonderful place to take in the views and grab some lunch.
Camping is available at Obsidian Campground and sites are first come, first serve. There is access from the Campground to Emma Lake and to Walker Mountain 11,563' to the southwest.
Given its located in the eastern extension of the Sierra Nevada range, hiking season here generally begins in June and lasts through October.
Getting There
From the north: At the junction of Highway 108 and Highway 395 continue south for about three quarters of a mile and turn sharp right on forest road 066 (Little Walker Road).
From the south: From Bridgeport go north on Highway 395 for about 16.5 miles and turn left onto forest road 066 (Little Walker Road).
Continue south on this dirt road, passable to all vehicles for about 3 ½ miles to Obsidian Campground at about 7,700'. You can hike from here and cut up to the road, adding about 3 miles round trip if bushwhacking up to Stockade Flat, or continue up the windy 4WD road that switchbacks 3.3 miles to the actual trailhead at Stockade Flat 8,590'. The 4WD road isn't horrible, and probably accessible via a high clearance 2WD. The issue with the road is there are some decent size rocks in spots. Any SUV could easily make it up.
Route
Either start at Obsidian Flat and hike towards the road to Stockade Flat, or drive up to Stockade Flat. Driving up to the higher trailhead is probably better, because it allows for more exploration of the high country.
From the trailhead at Stockade Flat, head about a mile or so to Emma Lake.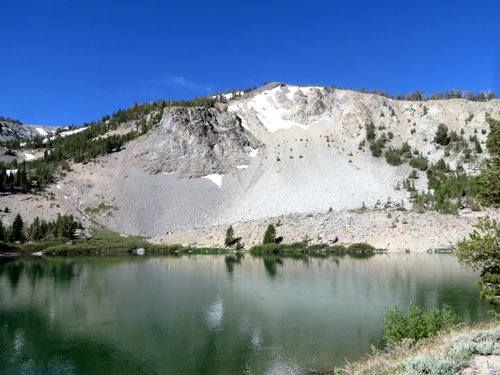 Once at Emma Lake, head to the right side of the lake and keep going to a ridge. That ridge goes southwest around to the hill rising above the lake to the West. That hill is just a bump on the ridge. Head steeply up the forested side of the ridge and reach the crest of the ridge. The ridge continues steeply up slope until you are above the trees. Point 10,659' is in view to the West. The summit is reached after about 2.8 miles.
Peak 10727 can be added with another mile for which the descent route to Emma Lake is described on the Peak 10727 page. Emma Peak can also be added if doing a loop. All three can be done in about 7 2/3 miles.
Red Tape
The trailhead is in the Toiyabe National Forest and no permits are required. Camping cost $12 per vehicle at Obsidian Campground.
External Links
Obsidian Campground