Overview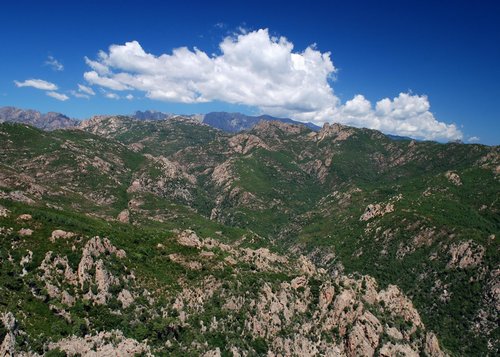 Located in South-East Corsica (island on the mediterranean sea belonging to France),
Punta d'Ortu (695m)
is the first mountain on the GR20 trail starting in
Conca
and finishing
Calenzana
(most people hike from the Calenzana to Conca).
It is made of three summits, the higher one being the most western at 695m. The rock is of volcanic origin, and of rather poor quality.
The ascent is very easy with only
a few grade II steps
and offers a wonderful view on Mediterranean Sea, and the inner Corsica towards the
Aiguilles de Bavella
.
Yet, very little hikers ascend it as the path is not well marked and through thick low spiky bushes (called "maquis") on some parts.
Punta d'Ortu can be climbed
all year round
. If you go in summer, start early as it is usually hot in Corsica.
Punta d'Ortu is part of the
Parc Naturel de Corse
(Natural Park of Corsica), as a consequence people must not camp, or leave rubbish behind them.
Here is another mountain of Corsica I added on SP :
Capu a u Tozzu
Getting There and Staying
No public transportation to Conca. The big town nearby is
Porto-Vecchio
, 22 kms south.
You can reach the village either :
- by car (taking roads N198 and then D168)
- by bus to Sainte Lucie de Porto Vecchio (on N198 - 15 kms) and then hitch-hike along D168, for 7 kms. A lot of cars pass by.
You can camp in Conca at :
Camping Aqua E Sole
Tel : +33 4 9550 1575
For food supply, it is better to buy everything in Porto Vecchio or Sainte Lucie de Porto Vecchio, as Conca is a very tiny place, with hardly anything there.
Ascent of Punta d'Ortu - West ridge
In Conca walk on the road for 10 minutes to the area called
Radicale
(389m) where the GR20 starts.
From the trail start, you need to hike-up for 20 minutes on GR20 to
Bocca d'Usciolu
(pass at 587m).
About 30m before before the pass there is a path starting on the right, in the middle of high bushes. The beginning is fairly easy as the bushes are low and the trail can be seen. After 5 minutes, you need to be more cautious on what to follow as there are a few small up and downs. The best thing to do is to from one rocky bump to another to keep the right direction.
After 20 minutes, you will end up at the bottom of a rocky part with no more bushes. The trail is not specifically marked, but logical. Walking first then a 1
0m wall with grade II climbing
will give you access to the cross below the main summit at 695m. It takes about 10 minutes to go through this rocky part.
Return is done by the same way you came up
.
It is possible to go through the three summits, but descend on the estern flank would take through thick spiky bushes.
General information
Clothing :
As the sun can be strong, where a hat and sun cream even though the ascent is only 1h long.
Long trousers are highly recommend, as you go through spiky bushes. My experience with shorts on, was painful !
Map :
The most accurate is undoubtedly the IGN Top 25 with a 1:25.000 scale.
4254ET - Porto Vecchio
Book :
If you decide to hike on the GR20 trail, the best book is :
A travers la montagne Corse
printed by the Fédération Française de Randonnée Pédestre (ISBN : 2751401732)
Weather :
Meteo France on
Conca