Overview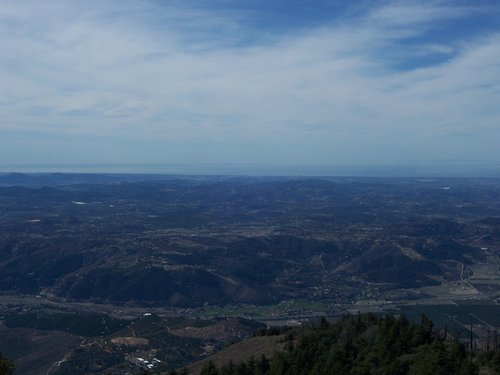 Boucher Hill is a nice little summit in Palomar State Park. It has a unique lookout tower on the summt. The tower was once air traffic control tower that was surplus from the air force. The is great views of Santiago Peak to the northwest, Cuyamaca Peak to the southeast, and of the Pacific Ocean including the Coronado Islands. This summit also has a very dense fragrant stand of Cedar trees making the summit a cool place to hike around. The Temecula Wine Country is nearby making this a great bonus addition if your in the area for other pursuits.
Getting There
Take I-15 Freeway to Temecula taking the SR 76 exit. Go east on SR 76 to its junction with S6 and go left. Go left and after about 5.5 miles you reach a fork with SR 76 straight and S6 on the left. Turn left and take S6 north for 6.5 miles reaching the junction with S7 at Crestline. Take S7 west on the left for another 3-4 miles reaching the entrance for Palomar State Park. Pay the entrance fee and continue straight then taking the second left where four roads meet. Straight ahead is the Nate Harrison Road you wan the paved road to the left of it. Drive a quick .5 miles through Cedar forest to the summit towers and lookout area.
Red Tape
You just need to pay a entrance fee at the gate. I believe it was four dollars. The day I was there it was a self issue premit that you just place in your window, but make sure you have exact change.
Alternate Route
From the park entrance drive to the Cedar Grove Campground. Parking is limited. If there is none you may just want to park along the road outside of the park and walk in free of charge. Go to campsite Number 9 and walk across the little meadow for about .5 miles to the Nate Harrison Grade Road. Cross the road and take the Boucher Trail for a little over a mile to the summit towers.
Roundtrip is 3 miles amd 600 feet of gain.
Camping
For information on camping at
Palomar State Park
.
For more information on camping and other related things go to
TotalEscape
.
External Links
For more information on
Palomar State Park
.
Boucher Hill is on the
Hundred Peaks List
.
For more information on Temecula's wine country go to
Temecula Valley Winegrowers Association
.