Overview
Chipman Peak is a seldom visited summit located in the
Lone Peak Wilderness Area
of the Wasatch Mountains. The length and elevation gain from all approaches make this peak a challenging objective for most hikers.
From the summit are outstanding views of the rugged Little Cottonwood Canyon ridge, the Lake Hardy basin to the west, and much of Utah County to the south.
USGS Quads:
Dromedary Peak, Utah (1:24k)

Draper, Utah (1:24k)

Timpanogos Cave, Utah (1:24k)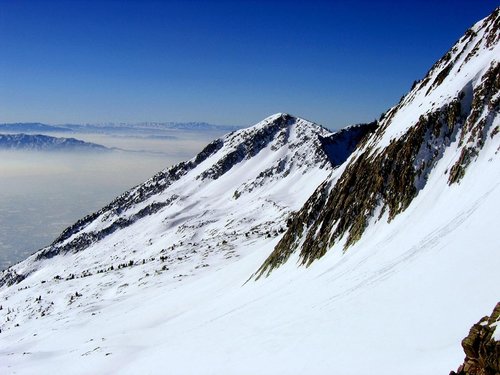 Is Chipman Really A Peak?
The elevation gain from the saddle between Chipman Peak and Lightning Ridge is only ±175 ft., so strictly speaking Chipman Peak is not officially a separate peak as defined by the '300-foot rule'. However, since it lies a considerable distance (0.93 miles) from the nearest named summit, South Thunder Mountain, it was decided to include Chipman Peak as a distinct peak on Summitpost.

Also taken into consideration was the fact that Chipman Peak is located on a spur ridge perpendicular to the main ridge between South Thunder Mountain and the Pfeifferhorn, therefore it is not automatically climbed as a 'pass-over peak' when traversing the ridge between these other two summits.


Routes Overview
Chipman peak is located on a short spur ridge extending south from lightning ridge, roughly midway between the Pfeifferhorn to the east, and South Thunder Mountain to the west.

Chipman Peak is probably most commonly climbed as part of the Beatout hike, which typically begins with an ascent of the Pfeifferhorn via Red Pine Canyon, followed by a 2-mile ridge traverse to South Thunder Mountain. An ascent of Chipman Peak during the Beatout hike becomes a relatively trivial matter of making the short 0.2 mile boulder hop south to the summit of Chipman.

A similar approach but in reverse direction would involve first ascending South Thunder Mountain via Bells Canyon, then making a 3/4 mile traverse south-east from the summit of South Thunder to Chipman. This approach would involve considerably more elevation gain due to the lower elevation of the Bells Canyon trailhead.

Either of these approaches to Chipman will involve 10-12 miles, ±6,000 feet of elevation gain/loss, and much class 3 scrambling with routefinding.

An even longer traverse to Chipman Peak could be be created by following the ridge east from Lone Peak and/or Bighorn Peak. An ascent of South Thunder Mountain would not be required from this approach.

Two other possible approaches to Chipman Peak exist to the south; Chipman Canyon, and Dry Creek Canyon. Route descriptions for these approaches will be added in the future.

Red Tape
Chipman Peak is located in the Lone Peak Wilderness Area. The following regulations apply:

No motor vehicles, mechanized equipment, hang gliders, or bicycles

Group sizes not to exceed 10 persons

No camping within 200 feet of lakes, trails, or other sources of water

No camping for more than 3 days at one site

Do not short cut trail switchbacks

Properly disposing of garbage, debris, or other waste

Open fires are not permitted in the Red Pine and Maybird Gulch drainages

No fees or permits are requried for the majority of the common approaches used to ascend Chipman Peak. The exception would be an approach originating in American Fork Canyon, which requires a $3.00 entrance fee to enter the canyon.

When To Climb
Spring through late fall for hikers and scramblers. Year round for ski mountaineers.

Camping
The nearest spot for good camping would be in the Lake Hardy area, which is located approximately ½ mile to the west. Bells Canyon (to the northwest) and Red Pine Canyon (to the northeast) also contain abundant camping possibilities.

Mountain Conditions
The 7-day forecast below is for the Wasatch Front valleys - expect considerably colder and more severe weather in the mountains.