Overview
Ellis Peak is located on the border of the land managed by the Tahoe Basin Management Unit and National Forest on the west shore of Lake Tahoe, just west of the Homewood Ski Area. Its close proximity to Highway 89 allows for year-round access. The peak provides fantastic views of the Desolation Wilderness, Lake Tahoe, and the surrounding National Forest. Compared to other peaks along Highway 89, Ellis Peak offers better views of Lake Tahoe and greater solitude.
The summit can be reached via class 1 terrain from Blackwood Canyon Road year around. However, because Blackwood Canyon road is not plowed winter ascents must begin at the Blackwood Canyon Sno-Park on Highway 89.
The peak can be climbed in summer or winter in a day. Summer back country camping opportunities in the area are limited, but the area would serve as a good introduction to snow camping.
Ellis Peak is on the
TAHOE OGUL PEAK LIST
.
Getting There
| | | | | |
| --- | --- | --- | --- | --- |
| Barker Pass | Trail | Class 1 | 1465 ft | 3.5 miles |
| Blackwood Canyon Sno-Park | Cross Country | Class 1 | 2610 ft | 5.4 miles |
BARKER PASS
(39.072° N, 120.231° W): Located on the north side of Barker Pass Road, approximately 7.1 miles west of Highway 89. Follow the trail east for 3.0 miles until the summit comes into view. The summit is 0.5 miles north and 500 vertical feet from here.
BLACKWOOD CANYON SNO-PARK
(39.113° N, 120.158° W): Located on the west side of Highway 89, approximately 4.8 miles south of Tahoe City. Follow Blackwood Canyon Road west for 2.3 miles to Barker Pass Road. Follow Barker Pass Road for 1.85 miles. The summit is 1.25 miles south and 1770 vertical feet from here.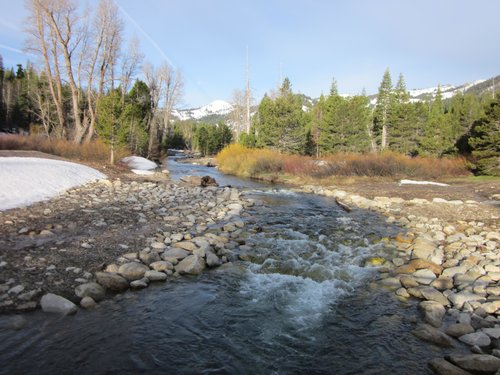 Red Tape
The eastern approach to Ellis Peak is regulated by the
LAKE TAHOE BASIN MANAGEMENT UNIT
and thus is free from most of the regulations that inhibit wilderness areas. No permit is required for day hiking. Parking on Blackwood Canyon is free. During the winter parking at the Blackwood Canyon Sno-Park requires a
SNO-PARK PASS
.
Camping
Developed campgrounds can be found at Meeks Bay, D.L. Bliss State Park, Emerald Bay State Park, and Bayview. Fees and facilites vary.
When To Climb
Highway 89 is open year around allowing all season access to peak. While the Blackwood Canyon Road is not plowed in the winter, the Sno-Park adjacent to Highway 89 is. The peak is generally snow free from July through September.
Mountain Conditions
Lake Tahoe is subject to a variety of weather conditions, including heavy snowfall in the winter. Weather forcast can be found
HERE
.
The avalanche advisory can be found
HERE
.