Overview
Vârful Ineu -
Ünőkő -
Kuhhorn
Ineu is the second highest peak of the Rodnei Mountains /Munţii Rodnei, Radnai-havasok, Rodnaer Gebirge/ after Vf. Pietrosu /Nagy-Pietrosz/ and the tallest mountain in the eastern region of Rodnei Mountains.

Similarly to other mountains of the main ridge, Ineu's northern walls are steeper, while the southern ones are moderate. In fact, Ineu is one of the few areas in Rodnei mountains which feature morphology that originates from prehistoric glacial activity: its sharp N ridge and its dramatic NW face rise high above a small cirque.

The summit (ornamented with large wooden cross) offers great panoramic view on the entire main ridge of Rodnei Mountains and the surrounding areas. In good weather you can see well into Ukraine.


The etymology of the name has different versions. As a local Romanian fellow told to SP member visentin: Ineu means in old Romanian "the strongest one". The Hungarian Ünőkő and German Kuhhorn both translate literally to "Cow rock/peak". While Ineu sounds very similar to Ünőkő, it is hard to tell the exact origin of the word.

Under the east wall, two glacial lakes can be found: Lala Mare /Nagy-Lála-tó/ (0.56 ha, 1.6 m) at 1815 m and Lala Mică /Kis-Lála-tó/ (~0.5 ha) at 1920 m. Lala Mare is actually the biggest natural tarn in Rodnei Mountains. There are three further small ponds around the peak.


Ineu is also a water divide. Creeks of the northern slopes (Bila and Lala) run to Bistriţa Aurie /Aranyos-Beszterce, Goldene Bistritz/ (Siret watershed), while those of the southern slopes (Cobăşel, Izvorul Băilor) run to Someşul Mare /Nagy-szamos, Grosser Somesch/ river (Tisza watershed).


Routes
The shortest access routes are from the southern side of Rodnei Mountains, but Ineu can be approached from east and west, too. Take care hiking in foggy weather: Rodnei Mountains are rich in wide grassy meadows, and the signs are not always frequent enough - it is not hard to "derail" from the trail in poor visibility conditions. Be prepared to meet sheep flocks as well, especially around Pasul Rotunda. While sheep themselves do not pose threat, brown bears (who like sheep for obvious reasons) and sheperd dogs (whose role is to protect sheep from bears) can be dangerous. Dogs can only be stopped effectively by the sheperds, keep this in mind. As for bears, do not camp around Pasul Rotunda, and make enough noise while hiking in or near wooded areas.
Southern access
1)
from
Şanţ
/
Újranda, Neu-Rodna
/ (595 m)
Follow blue cross, through Cabada Diana (hut, 1250 m) until Ineu's "sister",
Vf. Ineuţ
/
Lála-csúcs, Kleines Kuhhorn
/ (2222 m, the fourth highest peak of Rodnei Mountains), where it merges into red stripe, the
main ridge trail
. This takes you right to the mountain, which is actually quite near.
Length: 12 km
2)
from
Rodna
/
Óradna, Alt-Rodna
/ (525 m)
a) Follow blue dot, through Salvamont Curăţel (refuge, 1510 m) all the way up to Ineu.
Length: 14 km
b) Follow red triangle, through
Valea Vinului
/
Radnaborberek
/ (settlement, hut, 700 m) to Salvamont Curăţel (refuge, 1510 m), where it merges into blue dot, which guides you directly to Ineu. Somewhat longer than the previous option.
Eastern access
1)
From
Pasul Rotunda
/
Radnai-hágó
/ (1271 m)
Follow red stripe from Cabana Alpina/Rotunda (hut, 1275 m) towards west. This is actually the
main ridge trail
, which takes you all the way to Ineu, via
Vf. Ineuţ
/
Lála-csúcs, Kleines Kuhhorn
/ (2222 m, the fourth highest peak of Rodnei Mountains). A small detour can be made at Şaua Gajei (pass, 1721 m) towards the two Lala lakes, following the red dot sign down into Lala valley (it is worth to do this despite the elevation loss, the lakes are beautiful).
2)
From
Gura Lalei
(car road 18)
Follow blue dot in the Lala valley (Valea Lala) up to the beautiful Lala lakes and further to Şaua Ineuţului, where it merges with red stripe. Ineu will be on your right.
Length: 12 km
Weastern access
Follow the red stripe (the
main ridge trail
) coming from
Vf. Gărgalău /Gargaló/
(2159 m) through
Vf. Omului
/
Ember-tető
/ (2134 m),
Vf. Cişa
(2036 m) and
Vf. Coasta Netedă
(2060 m). Length of the route depends on where you join the main ridge trail, and the same goes for elevation gain/loss (the Gărgalău - Ineu section has a number of humps to climb up and down).
My recommendation
If you can devote a few days to explore Rodnei mountains, perhaps the best way to do it is to backpack along the
main ridge trail
, which is a really nice journey, with reasonably good access to public transportation at both endpoints.
Getting There
Main ridge trail
This is covered in detail on the own page of the
main ridge trail
.
Getting to Rodna or Şanţ
By train
From
Cluj-Napoca
/
Kolozsvár, Klausenburg
/ or
Vatra Dornei
to
Ilva Mică
/
Kisilva
/ (both rapid and passenger trains, frequent traffic). From Ilva Mică to Rodna (end of railway) only passenger trains run, few times a day. Şanţ is a 8 km walk from Rodna (or you may try hitch-hiking as well). For up-to date information about available trains I recommend using the DB website to check actual situation (see
External Links
section below).
By car
From
Cluj-Napoca
/
Kolozsvár, Klausenburg
/ take road 1C to
Dej
/
Dés, Desch
/, from there road 17 to
Beclean
/
Bethlen
/. Then road 17D through
Năsăud
/
Naszód
/ to
Rodna
or further to
Şanţ
(road quality is ok until Şanţ). The easiest way of planning your trip is to use a route planner (one of them is listed in the
External Links
section below).
By bus
Bus services in Romania are operated to a great extent by numerous small private companies. The best thing is to ask about the possibilities wherever you are at the moment.
Getting to Gura Lalei or Pasul Rotunda
This is quite a remote place, only accessible by car on road 18 from
Borşa
(west) or
Vatra Dornei
(east). A few kilometers east from
Pasul Prislop
/
Borsai-hágó
/ (1416 m), there is a forest road south towards Pasul Rotunda. This is road 17D towards Şanţ. Lacking asphalt cover, it is better suited to rovers than "ordinary" cars, but if driven carefully, the latter can use it as well. Where the road reaches the pass, you will find a big white building. This is a mountain hut ("Cabana Alpina" or Cabana Rotunda), with modest conditions. Leave the car here and get your feet on the trail.
Car issues
The remark about
parking
on the
Rodnei Mountains
parent page is a bit overcautious. Of course you shall not leave anything "tempting" in the car (better not to leave anything there at all). If you sleep in somewhere in Rodna or Şanţ, ask the owners of the place about where they recommend parking and where not (probably you'll have the opportunity to leave the car in a closed yard). If you plan or have to park somewhere in public place, leave the car at a busy spot. Foreign licence plate is not uncommon in the area - lot of Romanians who work in Western Europe have cars with Italian, German and other foreign licence plates. But, of course, there is no guarantee ever... (thanks to SP member
visentin
for sharing his personal experiences with me)
Red Tape
Ineu is part of
Munţii Rodnei National Park
(see
External Links
section), and more specifically,
Reservaţia Bila-Lala
. There is no entry fee.
Respect the mountains by taking your garbage back down with you (there are some pieces from earlier "visitors" as well, if you would like to do an extra favour...).
When to Climb - Mountain Rescue
Best season is end of summer - beginning of fall. In winter, areas with steep slopes can be dangerous because of avalanches. I have no winter experience here, but I'd recommend the southern approaches, as these trails go on ridges. Expect that the marking of the routes will be covered with snow.
Phone numbers for
Salvamont
(Romanian mountain rescue service)
-
National Salvamont dispatcher
: 0-SALVAMONT (0725826668)
See also the
Mountain Conditions
and
Mountain Rescue
sections of
Rodnei Mountains
parent page.
Camping and Huts
Camping
is only allowed in some designated places in Rodnei Mountains, please respect this rule. One of the designated campsites is right at the feet of Ineu, in the area by
Lala Mică Lake
. This is a wonderful setting, with a spring nearby. However, it is recommended to fix your tents well - in windy weather gusts can be quite strong!
Huts
you can find a little bit farther:
1)
at Pasul Rotunda
Cabana Pasul Rotunda - also called Cabana Alpina (1275 m) is held by a forester and his wife (tel.: +40/(0)727/372794).



according to SP member visentin, there is another wooden hut about 500 m east from the pass on the red stripe sign. This is a friendly, but not official hut, and may not be open all the time. For more information contact Yves Hoza ornithologist [yves_hoza(at)yahoo.com, +40/(0)263/377862, Anies, 387, Bistriţa-Năsăud, Romania], who is an expert of the area and organises stays for tourists interested in animal watching.
2)
in Blaznei Valley (Valea Blaznei)
Cabana Diana and Cabana Corbu (1240 m) are situated south from Ineu, in the vicinity of Şanţ village. It is also possible to camp by these huts for a small fee.
Weather Conditions
Below you can find a weather forecast for
Ineuţ
peak, situated just south from Ineu, by
viewweather.com
:
Actually, the data of the meteo station at
Iezer Lake
(1760 m, below
Pietrosul
mountain) is available online
here
(on the right side of the page, under "
IEZER
"). It is not right at the spot but close enough and has a higher elevation.
Maps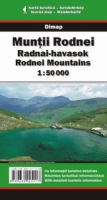 Paper maps
Munţii Rodnei/Radnai-havasok/Rodnei Mountains
(1:50,000) by
Dimap
, with guiding text on the backside in English, Romanian and Hungarian. Can be ordered online directly from
Dimap
.
Munţii Rodnei/Rodnei Mountains
(1:50,000) by
Bel Alpin
, with guide. Can be ordered online
here
for £8.00.
Online maps
A powerful free online map is being developed by the
Open Maps Project
for the area of Central Europe. If you are not familiar with the area or want to skip the zooming job, you can get a quick close-up view of Ineu's area by following
this permalink
.
Miscellaneous
Dominican monastery ruins
If you happen to visit Rodna (which is likely if you visit Ineu), it is worth to have a look at the ruins of the old dominican monastery. It was built after the first invason of the Tatars (1241) to replace the former church built by Saxon settlers. It did not stand for long, however: in 1285, the Tatars striked into Rodna again, and destroyed this new building as well. Though no efforts were made afterwards to rebuild it, one of its walls still stands high as a reminder of that era.
General
For further travel information about Romania,
check out this page
.
External Links
homepage of the
Rodnei Mountains National Park
(in Romanian only)
Munţii Rodnei page
on
carpati.org
:
only in Romanian, but with good huts ("
Cazare
") and trails ("
Trasee
") info, plus an extensive photo gallery ("
Fotografii
")
Munţii Rodnei page
on
alpinet.org
:
only in Romanian, but has news section ("
Ştiri
"),
topo map
(with a list of GPS coordinates - "
Puncte GPS asociate
") and some
huts info
Ineu
on
Peter Budai
's Rodnei Mountains website (in Hungarian)
Eric Visentin
's
Ineu page
YouTube videos
:
trip report
about a hike to Ineu from Pasul Rotunda
Train search
:
DB search engine
style="display:block"
data-ad-format="autorelaxed"
data-ad-client="ca-pub-6523272176520096"
data-ad-slot="7132222476">