Overview
Jawbone is another prominent granite buttress rising over 1,500 feet above the upper portions of Domingo Baca Canyon of the Sandia Mountains. It is the most notable rock formation to the south when viewed from the Sandia Peak Tramway. Separated from the crest by a saddle, it has a prominence of roughly 150 feet.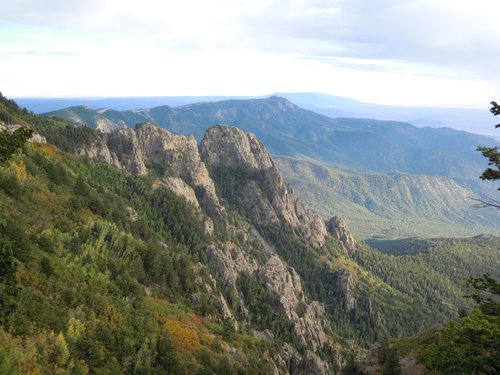 Getting There
Take the Tijeras exit off of I-40 east of Albuquerque and drive north on Highway 14 to San Antonito. A left onto Road 536 (Sandia Crest Road) will take you an additional 12 miles to the Ellis trailhead or 14 miles to the Sandia Crest Parking Lot. Either way, hike south along the crest to the tram. From there, continue south until appropriate to travel southwest towards the Jawbone.
Route
The easiest route to the summit is Jawbone Ridge. According to old guidebooks, it is supposed to be a 5.3, but
is more like a 5.7+/5.8- with plenty of loose rock and poor protection.
Red Tape
Protected as part of the Sandia District of the Cibola National Forest and the Sandia Mountains Wilderness Area, Hail Peak has several restrictions. No motorized vehicles or mountain bikes are allowed on the trails and a $3 parking fee is required at all trailheads within the national forest or wilderness. They now accept National Parks and Federal Recreation Lands Passes in the parking areas.
When to Climb
The peak is climbable at all times during the year. The best period is between April and September, which is true for most peaks in New Mexico. Afternoon thunderstorms are common on this mountain, more frequently during the spring, summer, and fall. Due to the dry air, altitude, and intense sun that drain you of water it is important to pack plenty of it (a liter or 2 per person is usually sufficient).
Camping
There are no campgrounds on the mountain but camping is allowed as long as fires are not made. However, all climbs are done within a day so camping is unnecessary for most people.
External Links
For mountain conditions you can take one of the following links.
Sandia Peak Ski Area Weather
National Weather Service Forecast
It is also possible to e-mail, call, or mail the district ranger of the Sandia Mountains. His e-mail is jcandrew@fs.fed.us, his address is 11776 Highway 337, Tijeras, New Mexico USA 87059-8619, and his phone numbers are (505) 281-3304 [voice] and (505) 281-1176 [fax].