Overview
Latir Peak (12,708 feet) is the second-highest mountain in the Latir Group after Venado Peak. Despite not being the highest peak, it is still the most well-known of the entire group, and is the namesake of the surrounding
Latir Peak Wilderness
area. Latir Peak is the 12th highest ranked summit in New Mexico with 328 feet of prominence. The broad ridges and gentle slopes (all except the steeper loose western slopes) provide easy (Class 1-2) hiking routes to its large rounded summit.
The summit of Latir Peak provides solitude with astonishing views of surrounding mountain ranges and pristine wilderness. The sweeping views reach from the beautiful sub-alpine Latir Lakes below to the majestic high peaks of Southern Colorado and Northern New Mexico.
Trailhead/Route Information
Latir Peak can be accessed from either Cabresto Lake or Latir Lakes (private land access, $20/vehicle/day entrance fee). The access from Cabresto Lake (via Lake Fork, Bull Creek and Heart Lake Trails) is more popular. There is a
Forest Service campground
(open May to September) at Cabresto Lake with 9 campsites, picnic tables and toilets.
Directions to Cabresto Lake Trailhead:
Drive to town of Questa on NM-522. Turn east on NM-38 and turn left onto Cabresto Rd./NM-563 after 0.25 miles. Drive on NM-563 until it becomes gravel road, then turn right onto gravel Forest Service Road 134 (FS-134). Enter Carson National Forest and drive 3.3 miles to the junction with FS-134A. Turn left onto FS-134 and continue 2 miles to Cabresto Lake Trailhead. FS-134A is a primitive rough road, so high clearance 2WD or 4WD vehicle is recommended.
Aternative Route from NM-38
: If you missed the turn onto Cabresto Rd./NM-563, you can continue on NM-38 for an additional ~0.5 miles and turn left onto Kiowa Rd. After a mile of driving on Kiowa Rd., you will reach T-intersection with NM-563. Turn right following the sign to Cabresto Lake.
CABRESTO LAKE TH ACCESS UPDATE (10/19/2016): The access to Cabresto Lake TH via road FS-134A is open.
Latir Loop: Heart Lake and Bull Creek Routes from Cabresto Lake
There are two route variations (Heart Lake Route and Bull Creek Route) leading to the summit of Latir Peak from Cabresto Lake Trailhead (see Route Map). Both routes follow Lake Fork Trail (#82) from Cabresto Lake to the junction of Heart Lake Trail(#82) and Bull Creek Trail(#85). The Heart Lake Route then follows the right branch to Heart Lake and ascends switchbacks to the top of Latir Mesa. The Bull Creek Route veers left (NW), climbs along Bull Creek to the saddle between Cabresto and Venado Peaks and follows the ridge to Latir Mesa. Two routes converge near the summit of Pt. 12,692, 0.5 mile south of the Latir Peak summit. Ascending one route and descending the other makes a scenic
Latir Loop
(13.5 mi/3,800 ft. elevation gain RT). An excellent descriptions of the Latir Loop hike can be found in the guidebook
"100 Hikes in New Mexico"
by Craig Martin (Hike #20, page 83-86) and in the
Latir Loop trip report
by SP user scotthsu.
Bull Creek/Heart Lake Route images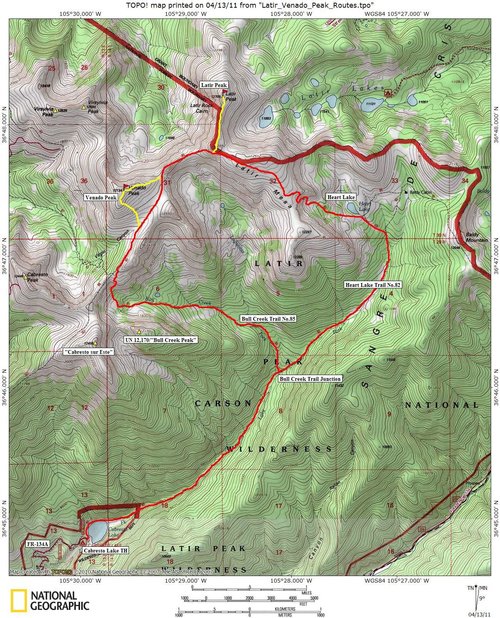 Red Tape
The access routes enter
Latir Peak Wilderness
. Wilderness regulations apply. No permits are required for both day-hikes and overnight backpack trips. Camping is not permitted within 300 ft. of Heart Lake and in the meadow surrounding Baldy Cabin. For more information, contact
Carson National Forest (575-758-6200)
The summit of Latir Peak and its north/northeast/east slopes are on the private land owned by
Rio Costilla Cooperative Livestock Association, which allows recreational access for a fee ($20 per vehicle per day).
When to Climb
Mid-June through October is considered the best time to climb. July-August are the typical monsoon season, with regular afternoon thunderstorms. A significant part of the routes ascending Latir Peak is above timberline, so it is best to plan your day to be off exposed slopes and ridges and back below the tree line before noon.