Overview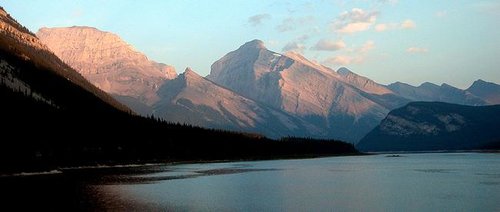 Named after a WWI Battleship involved in the battle of Jutland. This peak was a candidate to be the ski hill for the 1988 Olympics in Calgary. It lost out to nearby Mount Allen. Still is very popular as a climb then ski hill when conditions are right. The route of ascent is on the scree covered western slopes. Over the years there have been several schemes to develop it as a ski resort but nothing has come of it as of this date. With views of the Spray Lakes to the west,
Mount Lougheed
,
Rimwall
, to the east, Goat Mountain and parts of
Windtower
, the route for this summit is found in Alan Kane's
Scrambles in the Canadian Rockies
on page 93 which is a worthwhile purchase.
Elevation gain from the road 1,350 metres
Getting There
Head out of Canmore on the Smith-Dorrien/Spray Lakes road, past the Grassi Lakes and the Goat Creek day use parking. Continue on the unpaved Spray lakes road for about 27-28km. 4-5km past the dam you will see a sign for Spurling Creek. Continue along here till you see the Sparrowhawk Picnic area. Park in the small parking area. As with other sites in the area try not leaving things visible in the back of your car. There are two creek beds, choose the one the one further north as the other leads you to another place. Begin by following the trail through the woods along the creek bed. Continue upwards on the trail keeping left of a large ridge (Read's ridge). Head up and angle your way following the scree slope to below the summit cliff bands, then head south (right) around and up the east side towards the top. The return route is the same as up. First hour in the woods the rest on scree up to summit bands. The rest is a ridge walk on fairly solid ground with a couple of scrambles. 5-10 hours round trip depending on your fitness level.
Red Tape
No red tape. This is a 1/2 day - to day trip.
Don't leave items visible in the back of your car. Why tempt fate.
Slopes can be slippery if icy.
When To Climb
As a scramble from end of June on. Skiing in the winter depending on the snow conditions. Check with the park wardens. Spray Lake Ranger Station. (403) 678-5533
The Alpine Club of Canada (403) 678-3200, ext 1
http://www.alpineclubofcanada.ca/
weather office
or (403) 762-2088 for weather conditions
Camping
There are campgrounds in the area if desired
Spray Lakes West Shore Campground has 50 sites (403) 591-7226
Other campgrounds in the area.
Kananaskis accomodations
Further west the Engadine Lodge is a good base camp if you want some comfort at the end of the day.
Engadine Lodge
Box 40025 Canmore, Alberta T1W 3H9
Tel.: (403) 678-4080
Fax: 678-4020
E mail: lodge@mountengadine.com
Web address
www.mountengadine.com
There is also the Alpine Club of Canada lodge with rooms and excellent facilities for 19$ CDN a night. The Alpine Club of Canada (403) 678-3200, ext 1
http://www.alpineclubofcanada.ca/
Mountain Conditions
Spray Lake Ranger Station. (403) 678-5533
Alberta Tourist Visitor Centre (403) 678-5277
The Alpine Club of Canada (403) 678-3200, ext 1
http://www.alpineclubofcanada.ca/
weather office
or (403) 762-2088 for weather conditions