Overview
Mount Evan-Thomas is directly behind Grizzily peak. When you reach the col between Grizzily peak and Mount Evan-Thomas on the Grizzily peak scramble route, you turn right instead of left up to the easy scramble of Grizzily peak. You will not find this peak in the Scrambles book. Which makes for an interesting climb scramble. What to expect is not laid out for you in advance. That is what attracted me to this mountain. Judging from the trail to the ridge I am not alone. Once you get to this ridge however the route while obvious is not a trail. Some parties may want a piece of rope depending on their comfort level with exposure. There is a long ridge walk over the top, to the left, and sometimes to the right of the various points till you reach the main summit. Then you must ascend slopes which may be slippery if snow covered.
Getting There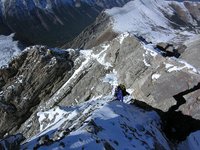 If your point of departure is Calgary, head west on the Trans-Canada Highway. Take the Kananskis Trail (Hwy 40) and travel south for about 40 km to the Fortress Mountain gas station. Here you are close to the trail head. Continue south for approximately 4-5 km to unsigned Ripple Creek, between Grizzly Creek and Hood Creek. Do a U-turn and park on the shoulder of the highway. The trail starts up the hill on the north side of Ripple Creek. The approach is the same as for Grizzily peak.
Red Tape and when to climb, conditions.
No permits needed.
Usually the summer months. From May till sometimes as late as November. Snow conditions would dictate climbing at other times.
Trail reports for Kananaskis
Barrier Lake Information Centre
Phone (403) 673-3985 (toll free in Alberta 310-0000)
E-mail: BarrierVisitor.InfoCenter@gov.ab.ca
Spray Lake Ranger Station. (403) 678-5533
Alberta Tourist Visitor Centre (403) 678-5277
Joining a club such as The Alpine Club of Canada is recommended when climbing in Canada. While it is not obligatory, useful information can be had at any of their Clubhouse in Canmore, or at their website which is open to everyone.
http://www.alpineclubofcanada.ca/
The Alpine Club of Canada (403) 678-3200, ext 1
weather office
or (403) 762-2088 for weather conditions
Camping
There are campgrounds in the area if desired.
Kananaskis accomodations
Spray Lakes West Shore Campground has 50 sites (403) 591-7226
There is also the Alpine Club of Canada lodge in Canmore with rooms and excellent facilities of 21$ CDN a night for members. The Alpine Club of Canada (403) 678-3200, ext 1
External Links
Add External Links text here.