Overview
Mutnovsky is a very interesting mountain with easily accessible crater where fumarole fields can be seen. While the crater and the fumarole fields are regularly visited by hikers (no special gear required), the peak of Mutnovsky is more challenging, especially due to the fast changing weather.
Mutnovsky Sopka is a composite stratovolcano with a large twin crater. These craters have crater lakes in them and very active fumaroles right at the glacier. Pumice beds, cones and lava flows can be found on the slopes of these craters. Explosive eruptions occurred in 1945-1952 and then again in 1960, producing mainly ash. Today on can see frequent steam eruptions resulting from the fumaroles under and next to the glacier.
Mutnovsky is also named Mutnaia sopka, Povorotnaia sopka and Sopka Mutnovskaia.
It is also worth while to climb Mutnovsky's direct neighbor,
Gorely
Getting There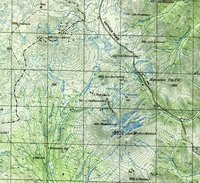 From Petropavlovsk Kamchatskij or Elizovo take a bus to Termalnij. The bus passes through the villages Nikolayevka (nice food market at the roadside!) and Paratunka. Paratunka has a number of resorts with accomodation and hot springs.
From Termalnij a gravel road leads to the Mutnovsky Geothermal Power station. There is enough truck traffic to allow hitchhiking. The gravel road follows the Paratunka River valley and leads over a pass near the volcano
Viluchinsky
.
The access to the north side of the mountain is easiest from the service road to the Mutnovsky Geothermal Power station follows a small dirt track (turn West at 52°35,45'N, 158°07,26'E). It is half a day's walk from the road to a suitable base camp area.
Alternatively you can have yourself dropped off at the turnoff from the service road by a normal taxi or drive to the base of the mountain by a 4WD vehicle. In addition, the foot of the mountain can easily be reached on a mountain bike.
To view the active volcanism at the Mutnovsky glacier, follow the gorge of the Mutnaja river, which comes from the Mutnovsky glacier. From the waterfall on there will be a footpath. The fumarole field inside the crater is at approx. 1400m.
Red Tape
A visa for Russia is required, it has to be registered within three days of arrival on Kamchatka. Registration can be done either at OVIR or at some hotels (e.g. Hotel Edelweiss in Petropavlovsk).
Mutnovsky lies within the Yuzhno-Kamchatsky Nature Park. Yet no fees need to be paid, and no permit is necessary, but this may change some day.
When To Climb
Mutnovsky crater and summit can be accessed all year round, however summer months (July, August, September) are best.
Camping
There is a hut run by volcanologists at the north-west side of the mountain an hour walk from the Mutnaja waterfall. It is open all year, but don't expect much comfort. Be self-supplied. Camping is possible either next to the hut or anywhere else you find a nice spot.
The Mutnovsky region is now under protection in form of a nature park. There are no restrictions yet with respect to camping, but this may change some day.
Mountain Conditions
"Mutnovsky" translates as "The Cloudy". Rapid weather changes are common. Often, there is thick fog, rain, and gusty winds. In September 2002 we were trapped inside the tent for four days, and also in September 2004 we experienced a severe storm.
Miscellaneous Info
General information about self-organized traveling in Kamchatka can be found here:
Kamchatka Website
style="display:block"
data-ad-format="autorelaxed"
data-ad-client="ca-pub-6523272176520096"
data-ad-slot="7132222476">