Overview
Osobitá, as its name tells ("the lonely one") is a lonely top in the northern part of the Western Slovak Tatra Mountains, about 17 km from Zakopane. It is not very high (1687m), but very distinct and far from the main Tatra ridge. Osobitá constitutes a distinct geomorphological unit which represents just by itself 12% of the surface of the Slovak Western Tatras. This moutain was mentioned as early as 1615 when Polish highlanders described the Polish Tatras (wider during this time) as extending "From Osobita to
Hawran
".
Osobitá is buit from crystalline rocks such as sandstone and limestone. There are the three distinct but close tops with heights of 1617, 1521 and 1587 m (the last two are separated by the pass "sedlo pod Osobitou". There many caves in this karst zone, not all yet been investigated. In 1997, the most famous are Bezdenna and Okolik. Here also, as in many other places in the Tatra Mountains, was a mining activity for iron. Now, from these times remain only few tunnels reaching dozens of meters deep.
In the past, the mountain was an important pastoral center, with five wide meadows. In the seventeenth century it could host up to 1500 head of sheep and cows. Later it decreased.
Osobitá separates 3 valleys: Zuberska Dolina, Blatna Dolina and Oravicka Sucha Dolina. No other summit of the Orava region is as clearly visible, and very early the mountain attracted a lot of visitors. The first recorded visit was made by Titus Chałubiński in 1870, the first recorded winter one by Mariusz Zaruski with companions in 1906.
At the beginning of the twentieth century, there was even a mountain hut at Mala Osobitá (1583 m). Since 1989, the top is no longer available for tourists, since this one is included in the nature reserve (458 hectares). Despite of this, a lot of people try to climb illegally Osobitá...
Getting There
From Krakow, Poland: Drive in the direction of Zakopane until Rabka, until the road that goes through Chocholow. Park the car at the entrance of
Dolina Chochołowska
. If you plan to make the slovak trail, cross to Slovakia at the road toll at Sucha Hora, to reach Oravice and Zuberec.
From Slovakia, reach Zuberec via Zilina and Dolný Kubín. To reach the Polish start, cross at Sucha Hora as mentioned previously.
Red Tape
It is impossible th reach the real top of Osobitá, which is located in the Natura 2000 zone, in order to protect fragile fauna such as eagles. Hence, strictly forbidden as mentionned previously. Including with a guide, or holding an UIAA licence !
Routes
There are two ways to reach Osobitá, from Slovakia and from Poland. Both are very easy and without difficulty, but the first one is as short as the second is very long.
None of them reach the real top of Osobitá, as mentionned previously. But the green trail that serves it goes almost on the top of Javorina, the second top of the mountain, on the other side of the pass Sedlo Pod Osobitou. The view is almost the same, not to say better because more open (from Osobitá itself, Javorina lies in front of the panorama to the rest of Tatras and mask it a bit).
* Slovakia, from
Chata Zverovka
:
This is a half-day hike, ideally made with children. Take the green trail to Sedlo Pod Osobitou, marked with 2h10 of ascent and 1h45 of descent.
* Poland, from the Chocholowska hut (
Schronisko na Polanie Chochołowskiej
), take the yellow trail leading to Grześ (Končisté Lúčne), 1h45 ascent 50mn descent. From Grześ , cross the border, which is now allowed since Schengen (more exactly June 15th 2008 which corresponds to the end of the slovak winter closure). Then, the green trail takes you along a long ridge walk until Sedlo Pod Osobitou, through a landscape of open pastures and dwarf pines. 1h50 and 2h for return. Do not attempt this trail during stormy weather.
Note that there are plans by both TPN and TANAP to connect trails at Brobowiecka Przełęcz (Bobrovecké Sedlo), which would make it slightly shorter.
Accomodation
* Campsites :
Camping is strictly forbidden in both National parks TPN (Poland) and TANAP (Slovakia).
However there is one campsite lead by the PZA (Polish alpine club) near the entrance of
Chochołowska
valley, and 2 or more campsites in the city of Zuberec (Slovakia, Rohacka Dolina)
* Mountain huts :
-
Chata Zverovka
(www.chatazverovka.sk), Rohacka Dolina (near Zuberec), Slovakia. This "mountain hut" is rather a hostel because accessible by road. For this reason, it is adviseable to book it as early as possible.
Note that the hut marked "Bývalá Ťatliakova Chata" on some old maps, upper in the Rohacka valley is not a hut anymore but a place where they sell refreshments in summer.
-
Schronisko na Polanie Chochołowskiej
(www.chocholowska.zakopane.pl),
Dolina Chochołowska
, Poland. This is a big hut and generally finding a place is not too hard. Take duvet and mattress anyway during sunny week ends when there is a lot of people. Note that it is possible to rent a bike to shorten a bit the approach in the valley
Dolina Chochołowska
, whose length is asphalt on most of the length, until the old houses. Can be done also with rollers !

Maps
The excellent online map of Western Tatras on the

Mapytatr
website: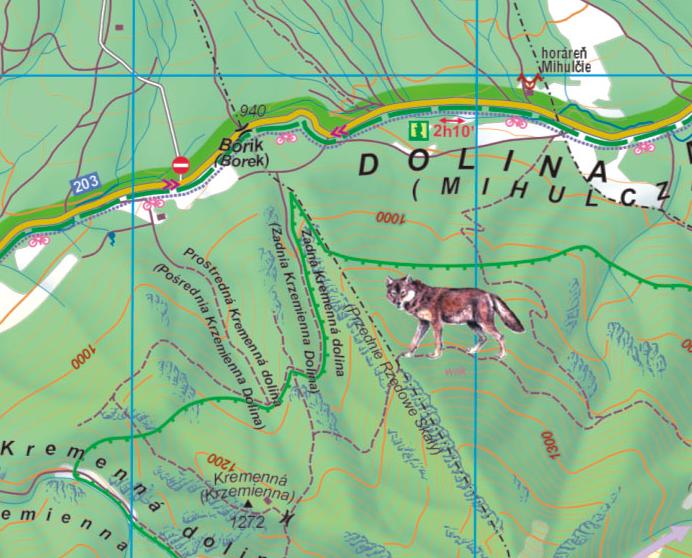 External Links
Osobitá on Wikipedia
, in Polish (I translated some of the informations in the overview section) :
http://pl.wikipedia.org/wiki/Osobita
English forum
on HIKING.SK :
http://hiking.sk/hk/li/forum-english_forum.html
Eric's page
about Tatras:
http://h.visentin.free.fr/carpates
style="display:block"
data-ad-format="autorelaxed"
data-ad-client="ca-pub-6523272176520096"
data-ad-slot="7132222476">