Overview
Sivý Vrch, "grey mountain" (Siwy Wierch in Polish), is the westernmost high mountain of the West Tatras, overlooking the
Chočské Vrchy
.
Is is made of limestone and has a complex shape with very rich and original vegetation, including the Dianthus Nitidus found nowhere else in the Carpathians. Lots of eagles are nesting too.
The Sivý Vrch masssif covers 3000 hectares and hosts not less than 30 caves, the longest being 250m long.
For the hiker point of view, the peak is not very spectacular, but the area very little frequented, and allow to savour the lonelyness in the mountains, in a beautiful landscape of wide pastures surronded by fine conifer forests.
Getting There
-
Zuberec starting point
:
From Poland, cross to Slovakia at the road toll at Sucha Hora, to reach Oravice and Zuberec. From Slovakia, reach Zuberec via Zilina and Dolný Kubín.
-
Jalovec starting point
:
From Poland, very long way... from Krakow, prefer the border point at Chyżne. From Silesia, choose Korbielow or Rajcza/Novot. Reach Dolný Kubín and circumvent Tatras. From Slovakia, via Dolný Kubín and Liptovsky Mikulas.
-
By public transports
, all points mentioned above are reachable by bus from Liptovsky Mikulas or Zuberec.
Red Tape
The hiker must know that offtrails in Slovakia is tolerated only for mountain-climbing when accompanied by a registered mountain guide, or holding a licence of UIAA club.
But not all zones. Natura 2000 zones are strictly forbidden.
Many zones around Sivý Vrch are Natura 2000, including the northern and western slopes, as well as the surroundings of the peaks Babky and Sokol more on the South.
The only place where offtrails would be of any interest, to escape the ridge in case of bad weather, would be between Chata pod Náružím and the valley Jalovecka Dolina. There is an existing trail in this very location, cloded to tourists for some reason. Use it only in case of emergency (storm, etc).
Routes
Sivý Vrch can be visited either from the north of from the south:
*
Loop from Zuberec
:
From Zuberec, leave the town via the yellow trail that takes you to the pass Sedlo Pálenica. Sivý Vrch is located a bit futher west on this ridge. You can return the same way, or, if you are fit and quick, make a very big loop until the peak of Brestová, and the blue trail in the valley Rohačká Dolina. In this case you can perhaps do the circuit in the opposite direction, and possibly take a bus in the morning from Zuberec to the hut
Chata Zverovka
.
*
Loop from Jalovec
:
From Jalovec, leave the village via the blue trail that takes you to the peak Babky. If you make this circuit, it would be a pity not to try spending the night in
Chata pod Náružím
. Either with the green or blue trails (the blue, via the Chata, makes a little temporary diversion), continue until Sivý Vrch. You can descend the same way, or give the valley Brobovecká a visit, which you will reach via the pass Sedlo Pálenica north from the top.
Accomodation
* Campsites :
Camping is strictly forbidden in both National parks TPN (Poland) and TANAP (Slovakia). However there is one campsite in Zuberec, "ATC Oravice", as weel as one at the entrance of the valley Račková Dolina, in
Pribylina
.
* Mountain huts :
-
Chata pod Náružím
(http://www.bobrovec.sk/obec/ubytko/ch_cervenec.html), sometimes also called Chata - Červenec, is a very fine hut located on the ridge near the mountain Babky, south from Sivý Vrch. This hut does not provide food, and can host only 30 people.
It also works only from Friday night to Sunday morning during the schoolyear, and every day only during the July and August.
If you plan to go and you want to make sure it will be opened, call the manager Ivan Ogáry on +421(44)5596964, +421 (902) 622 611, or +421 (902) 367 020, or the municipality of Bobrovec on +421(44) 5596501, or +421(44)5596601. There is a good link about this hut on
Hiking.SK
.
In case of emergency, if the refuge is closed, you can shelter in a hut nearby,
Bývalá kolibka na Červenci
-
Chata Zverovka
(www.chatazverovka.sk), is located quite far in the valley Rohačká Dolina. This "mountain hut" is rather a hostel because accessible by road. For this reason, it is adviseable to book it as early as possible. It can be an interesting accomodation for the first route described above.
Maps
The excellent online map of Western Tatras on the

Mapytatr
website: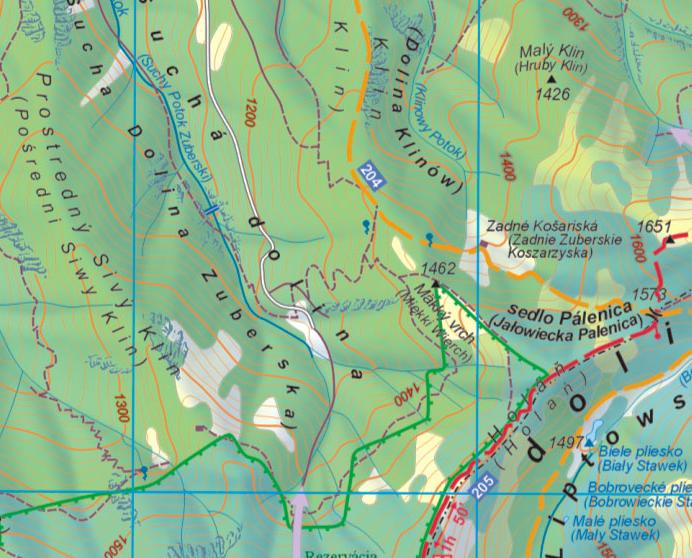 External Links
Siwy Wierch
on Wikipedia, in Polish (I translated some of the informations in the overview section) :
http://pl.wikipedia.org/wiki/Siwy_Wierch
English forum
on HIKING.SK :
http://hiking.sk/hk/li/forum-english_forum.html
Eric's page
about Tatras:
http://h.visentin.free.fr/carpates