Overview
Sass Becè m. 2534
Sass Becè 2534 m. is a rocky buttress located immediately to the South of Pordoi pass 2239 m. belonging to the Catena di Padòn, the mountain range which forms the Northern end of Marmolada group and extending itself amongst the Pordoi Pass, the high Cordevole and Val Pettorina. Inside Padòn chain the interest in climbing is limited to the Mesola "via ferrata" and to some interesting itineraries on Sass Becè South and East walls, as well as a fun climbing on the West Ridge, attended for the good rock quality and quick approach.
Getting There
The starting point to approach Sass Becè is Passo Pordoi m. 2239.
Road access to Passo Pordoi
The shortest approach is by A22 "Brennero Motorway"
- From Trento - From A22 Brennero Motorway exit Egna-Ora and take the road SP 232 to Val di Fiemme, then SP 238 to Val di Fassa, getting to Cavalese, Predazzo, Moena, Pera di Fassa and Canazei. In Canazei take the road SP 242 to Passo Sella rising with several hairpin bends and reaching a crossroads. At the junction turn to right towards Passo Pordoi, getting to the pass.
- From Bolzano or Brennero - From A22 Brennero Motorway Ponte Gardena-Waldbruck and take the road SS242 through Val Gardena, getting to Ortisei, Selva di Val Gardena and Passo Sella. The road descends towards Val di Fassa reaching a crossroads. Turn to left towards Passo Pordoi, getting to the pass.
Access to Sass Becè from Passo Pordoi m. 2239
From Passo Pordoi take the path n. 601 towards Viel del Pan shelter reaching a wide saddle (signpost) below Sass Becè South face. Here leave the main path and follow a narrow path skirting the wall and descending to the West, getting the base of West ridge. 35 minutes from Passo Pordoi.
Route: West Ridge
Sass Becè West Ridge description
Difficulty: III and IV UIAA
Length: 200 m.
Pitches: 5
Exposure: W
A fun and pleasant climb up a ridge with good rock. From the summit there are great views over the major summits of Sassolungo and Sella groups. Starting of the route below a grey slab (sling inside a hole).
Pitch 1 Easy rocks to the base of the slabs, climb the slab and slant to right to a stance on blocks 2°, 4°-, 50m.
Pitch 2 Slabs and a corner on the right of a flake. Stance along the ridge under a black slab 3°+, 4°-, 45 m.
Pitch 3 Climb the fine black slab to the left, then to the right to catch a corner. Up the corner till its end. 4°, 40 m.
Pitch 4 A rounded spur, then a grey slab. Stance under a little overhang. 2°, 4°-, 30 m
Pitch 5 To the left climb a crack, then up easy rock to the summit of the pillar 2°, 3°, 30 m
Descent: head to South-East and follow a steep track on grass and easy rocks descending to reach a shoulder. To the right there is the first rappel anchor. 3 rappels (23 m - 20 m – 25 m) to the South to reach the base of the wall just close to the approach saddle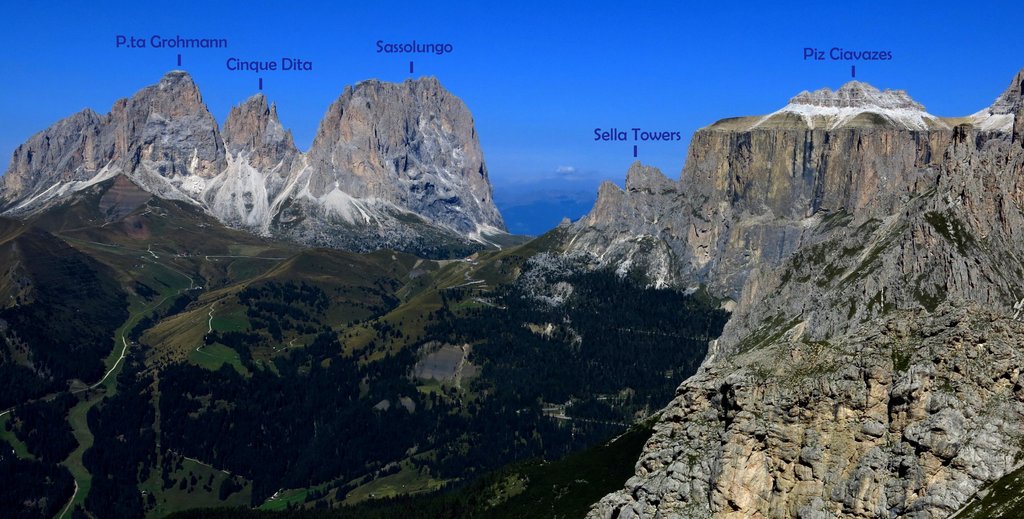 Red Tape
There are no particular problem in climbing and hiking. No fees no permits required
When to Climb
Summertime (from June to September)
Where to stay
Several accomodation on Pordoi Pass, Canazei and Fassa Valley
Bibliography
"Arrampicare in Val Gardena e dintorni – Le vie più belle nelle Dolomiti" Vol. II Mauro Bernardi – Athesia Edizioni
"Marmolada" Bepi Pellegrinon
Map: Kompass n.59
Meteo forecast