Overview
Sunset Mountain is located in the Vallecito Mountains within the Anza Borrego State Park. The peak's central location affords it great views of the area. The peak can be climbed from all sides as a day hike. No route exceeds class 2 and the bushwacking is minimal. There are good backcountry campsites on both sides of the peak. The peak should be avoided in the summer months due to extreme temperatures.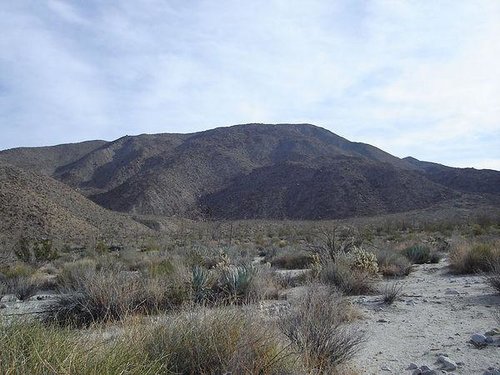 Getting There
| | | | | |
| --- | --- | --- | --- | --- |
| Pinyon Wash | Northwest Ridge | Class 1-2 | 2000 ft | 3.5 miles |
| Harper Canyon | Northeast Ridge | Class 1-2 | 2500 ft | 6 miles |
Both routes are located off highway 78. To get to Pinyon Wash travel approximately 4 miles east of the junction with S3. Turn south into Pinyon Wash and travel down the main road to the base of Sunset Mountain. Four wheel drive is not needed under normal conditions.
To get to Harper Canyon travel 2 miles east of the junction with Borrego Springs Road. Head south on the dirt road. When you arrive at a junction take a right which will lead you to a second junction. Take a left at this junction and follow the road to its end. Four wheel drive might be needed, or at the very least moderate ground clearance and some careful driving.
A map of the region can be found
HERE
.
Red Tape
There are no permits required for hiking the peak or backcountry camping. Fires must be in metal containers, you must bring your own firewood, and there is no shooting in the area. Camp in established spots.
Camping
There are backcountry campsites in both Harper Canyon and Pinyon Wash. There are also developed campgrounds at Borrego Palm Canyon and Tamarisk Grove. Reservations for these may be made by calling Reserve America at (800) 444-7275.
External Links
Weather conditions can be found
HERE
.
The Anza Borrego State Park main page can be found
HERE
.