Overview
Untzillatx or Untzillaitz is, like
Anboto
, a mountain in the Natural Park of Urkiola, is a prolongation of the mountain alination of Anboto-Alluitz-Astxiki
Secundary peaks of Untzillatx
Untzillatx, apart of the principal summit has also lots of secundary peaks like:
-
Torre de Urrestei
(Urrestei tower)
-
Fraileburu
-
Saukuko Gane

-
Altzerrekie
-
Elosumendi
(The only grassy peak of Untzillatx)
(Links in spanish)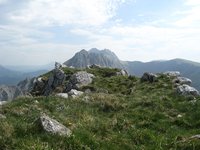 Red Tape
No permits requiered. Untzillatx is in the Natural Park of Urkiola.
Principal routes
There are two pricipals routes to reach the summit:
- Normal route from
Mañaria
(link in spanish)
- From Atxarte by the
"Gran Diagonal" (Big Diagonal)
The normal route from Mañaria is an easy walk, but the "Gran Diagonal" is a route that requieres to be acostumbrated to scrambling(II) (U.I.A.A)
[img:451092:alignleft:small:]
External links
AEMET
Weather in Durango (The village more near to Untzillatx)
Untzillatx by Mendikat
Climbing
In Untzillatx base is the climbing school of Atxarte. Atxarte is one of the most famous climbing school in the basque country.
All the south face is reciently equipated with parabolts for sport climbing.