Overview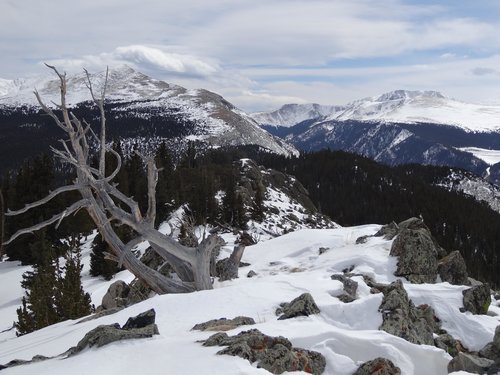 Alpine Peak is a nifty little peak that serves up amazing views for relatively little effort. A large elk herd was roaming the southeast slopes of this mountain on the day of my visit. This mountain combines well with Independence Mountain and Griffith Mountain if one summit isn't enough for you. Thanks to lack of a formal trail to the summit, this is a great mountain for peace and solitude, especially in winter when you are unlikely to encounter other visitors.
Rank:
1523th highest peak in Colorado
Prominence:
452 ft
USGS Quad:
Georgetown
Planning Map:
Trails Illustrated #104 Idaho Springs | Loveland Pass
Rank & Prominence: Lists of John
Getting There
There are multiple ways to reach the summit of this peak. Many begin at the West Chicago Creek camp area and ascend the southeastern slopes of the mountain. To reach the West Chicago Creek Campground, take Colorado Hwy 103 to West Chicago Creek Road.
While there are no foot trails, occasional animal paths will ease passage through grass and forest, and route-finding overall is fairly easy. During months with no snow the peak could be approached easily from Hwy 116 (Cascade Creek Rd). If you are mindful not to tread on private land, Alpine Peak could also be approache from Hwy 361 out of Georgetown (note that this is likely a steeper option.
Route Overview
There is no trail to this summit, but navigation is relatively easy to the top from Chicago Creek Campground to the southeast. A compass or a GPS is recommended to avoid getting turned around in the trees. There are a few rock piles to go around, but most of the footing is smooth. The surrounding scenery is lovely and the route passes through several nice aspen groves. See the attached GPX file for more details. Roundtrip Distance: 3.6 miles | Elevation Gain: 2,000 feet
For some additional route options, consider these external trip reports:
Alpine Peak



Red Tape
This area is a strange patchwork of National Forest lands, Denver Mountain Parks land and private property. Certain paths and old roadways, however, seem to be respected recreational rights-of-way. Please help ensure future access to these trails by behaving yourself. There is no fee visit this area and permits are not required for parking or foot travel.

Please follow LNT (Leave No Trace) principles:

1.Plan Ahead and Prepare
2.Travel and Camp on Durable Surfaces
3.Dispose of Waste Properly
4.Leave What You Find
5.Minimize Campfire Impacts
6.Respect Wildlife
7.Be Considerate of Other Visitors

When to Climb
| | | |
| --- | --- | --- |
| Click for weather forecast | Alpine Peak is a year-round peak and in fact winter is the ideal time to visit. Heavy snows in winter and spring could result in temporary closure of approach roads. Expect very dense crowds in this area in the summer. Bring ample flotation (snowshoes or skis) in winter and prepare to bust trench through soft snow in the trees. | Click for weather forecast |
Camping
West Chicago Creek camping area is located three miles off Highway 103 along West Chicago Creek in an aspen and lodgepole pine forest setting. There are 15 sites available, all sites are suitable for small RV camping and tents. Facilities provided include restrooms and water. Each site contains a tent pad, picnic table and fire grate. Some first come, first serve sites may be available. Sites may be available on a first come first served basis outside the reservation season. There are no electric/water/sewer site hook-ups at this campground. Firewood is available for sale at the campground. There are no off road vehicle trails in the area and no OHV's allowed in the campground. Easy access to hiking trails in the Mount Evans wilderness. The Forest Service closes the campground for winter.