Overview
Rank:
Unranked
Prominence:
170 feet
USGS Quad:
Boulder
Planning Map:
Trails Illustrated #100 Boulder/Golden
Rank & Prominence: Lists of John
Getting There
From US 36 in Boulder
•Head west on Hwy 119 (Canyon Road)
•Drive approximately 6.3 miles to Sugarloaf Road and turn right
•Continue 0.9 miles on Sugarload Road then turn right on Betasso Road
•Follow Betasso Road for 0.6 miles to the Betasso Preserve
•Parking for Bummers Rock is on the right
Route Overview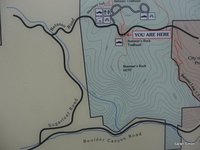 There are several rock climbing routes on Bummers Rocks ranging from YDS 5.8 to 5.12. I encourage fellow SP members to add technical rock routes on Bummers Rock to augment this mountain/rock page.
For more information about rock climbing on Bummer's Rock, refer the following book:
Rock Climbing Boulder Canyon
~ By Richard Rossiter
Walk-Up Route Overview
•
Roundtrip Distance:
0.8 mile
•
Elevation Gain:
134 feet
•
YDS Class:
2+
Follow this simple, wide trail to the base of a pile of boulders, then ascent the boulders (YDS Class 2+) to the highpoint.
Red Tape
•Dogs must be leashed
•No bicycles
•Do not set permanent rock protection – this includes new and replacement placements
•Open space is open from sunrise to sunset
•Park in designated parking spaces only
When to Climb

Click for weather forecast
•Summer: Warm and dry, sometimes somewhat hot. Expect warm sunny mornings and afternoon thunderstorms, plus crowds.
•Winter: Winter days can be sunny, dry and warm, or sunny and clean and bitterly cold, or completely snow-covered.
•Spring: Variable, but snow can be deep following heavy storm events.
•Fall: Variable, but typically dry, cool and sunny.


Click for weather forecast
Camping







Per the Betasso Preserve website:

Camping is prohibited in all Boulder County parks and open space. The designated campground at Boulder County Fairgrounds Park in Longmont is the only exception.

If you are not a resident of the Boulder area, either visit for the day or plan on utilizing ample lodging options in town.







External Links